When one TWOC writer began shopping at Alibaba's Hema Fresh supermarket, little did she know that she would soon become reliant on its "New Retail" strategy
A year ago, when I went to Alibaba's new Hema Fresh supermarket to purchase their 99-kuai fresh Boston lobsters (around 15 USD), both the shop and live lobsters were a novelty. Little did I know that Hema was more than a neighborhood supermarket—and its "New Retail" strategy would soon become my way of life.
"New Retail" was how Jack Ma termed his Hema project during the 2016 Yunqi Computing Conference. Claiming that e-commerce was merely a flash in the plan, Ma described New Retail as "the integration of online, offline, logistics and data across a single value chain." Essentially, the main concept of "New Retail" is using artificial intelligence (AI) and modern technology to better fit the needs of consumers.
Hema Fresh certainly fit mine better. After downloading the Hema app, I discovered that I was within one of their store's free, 30-minute delivery ranges. The food was typically cheaper than other grocery options in Beijing– with cans of Coke often a whole kuai (15 cents) less, some imported wines were almost half price, and my favorite yogurt was 4 RMB (60 cents) less than the local 7-11. Moreover, the Hema store offered Western staples that are often hard to find in China, at (relatively) affordable prices—fresh arugula, kale, Parmesan cheese, cinnamon, and wholewheat tortillas.
During Spring Festival, when Beijing turns into a ghost town, I was impressed how Hema continued with its free delivery service. Soon enough, I began relying on Hema constantly: If I woke up and discovered that I didn't have enough food for breakfast; if I was cooking and realized I forgot an ingredient; even if I had an ice cream craving.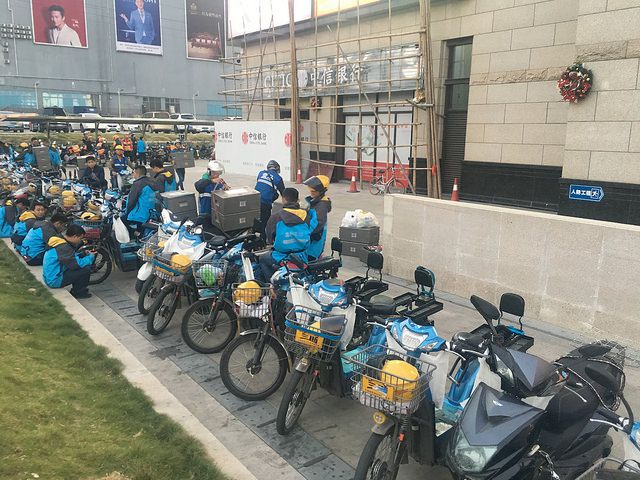 As I was relieved to discover, I am not the only one with a growing reliance on Hema. A few weeks ago, some friends organized an impromptu dinner party, where it was clear that they did not have enough streaks to go around – that is, until the Hema delivery man arrived with fresh cuts of Australian wagyu beef. "Hema just opened up a shop in Shuangjing and I use it all the time. It just makes life so much easier," one gushed.
Hema's Shuangjing expansion is a part of the company's grand strategy to have 30 stores in Beijing by the end of 2018. By that point, it hopes that all of metro Beijing will fall within its 30-minute delivery period. Within five years, Hema hopes to have 2,000 stores throughout China. (It already has stores in Shanghai, Hangzhou, Shenzhen, and nine other cities) In the meantime, the company is experimenting in Beijing and Shanghai on how to provide 24-hour, round-the-clock delivery within 30 minutes.
While many companies are now pursuing Jack Ma's "New Retail" strategy, there is no other store yet which merges the "online" and "offline" quite like Hema: a person can pick out live seafood at Hema, then have it cooked for them as they watch —or continue grocery shopping. (Next time, this person could just order it on the app, and have a fresh-cooked lobster delivered to the home or office.) Second, there is something endearingly futuristic about the physical store: "Smart" conveyor belts crisscross the store's ceiling, fulfilling online orders. For those who shop in the store, payments are made exclusively through Alipay or Taobao at self-serve scanning locations with large computer screens.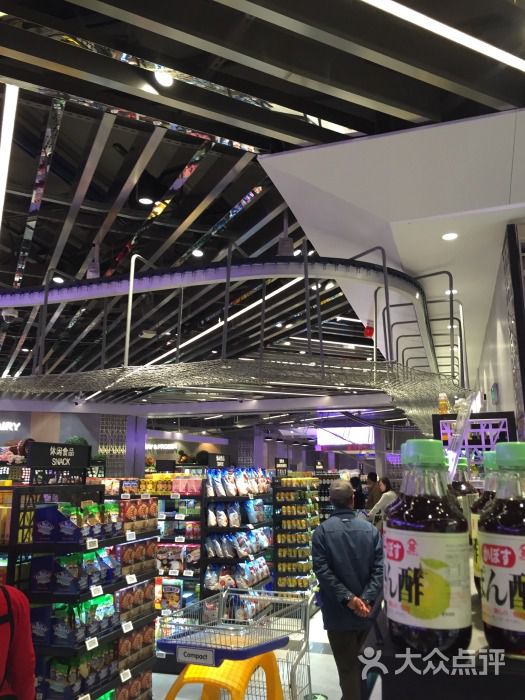 Finally, Hema provides something lacking in the modern grocery market: Cleanliness and transparency in a country rife with food-safety problems. Infamously in 2008, 300,000 Chinese children were sickened by contaminated milk powder, a fatal scandal which shook the nation and prompted parents to pay high premiums for imported baby products. Although the melamine affair occurred nearly a decade ago, China still faces many challenges: According to Reuters, China recorded over 500,000 food safety violations in 2016 alone. Earlier this year, new regulations banned over 1,400 baby formula products from being sold in China until they could pass additional safety inspections.
In contrast, each listing on the Hema phone app provides a detailed background of its origin, as well as suggestions on how to prepare the food. In the physical store, these details can be accessed by scanning the products' QR codes. The company also recently launched a publicity campaign, in which employees use scissors to "snip the corners of the plastic bags in which fish are sold live from the store's tanks," supposedly to show-off the products' freshness.
Hema is transforming the way many Beijingers shop. While there is no doubt that "New Retail" is providing benefits to consumers, the question remains whether Hema will ultimately provide benefits to China' economic ecosystem as a whole. Alibaba (and its subsidiary Taobao) was known for unleashing a whole wave of low-level entrepreneurship, allowing sellers to compete for customers all over China on Alibaba's e-commerce platform. But Hema Fresh—in spite of its many benefits—looks as if it may do the exact opposite.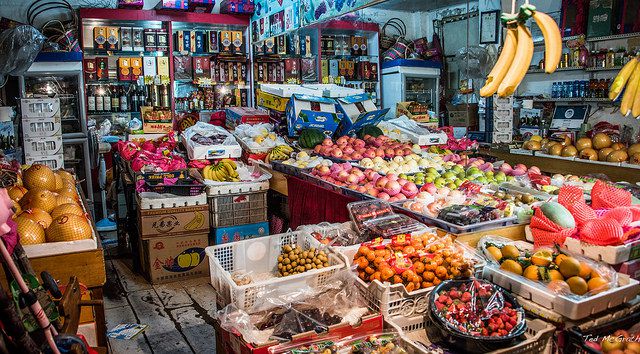 According to an article from The Economist, 85 percent of Chinese consumers still buy their products at physical stores, rather than online. Moreover, the five largest supermarket companies control only 27 percent of the grocery business. In other words, most Chinese prefer to shop at vegetable markets or corner stores. But with Hema's cheap prices, free delivery, and intimate knowledge of their customer base through artificial intelligence, how will such small, local shops compete?
---