Sun Jiahui seeks an earthly paradise in Guangxi
When I left for Guangxi Zhuang Autonomous Region in spring, friends urged me to finish my tour with the city of Guilin, rather than start there. "Save the best for last," they said.
There's a saying, "The mountains and waters of Guilin are the best under heaven." The phrase conjures up images of blue skies, clear waters, and rocky cliffs. I wondered if the city could live up to this vaunted reputation. Personally, I am skeptical of exaggerated tourist diaries and filtered photos, so I decided to embark on the road (slightly) less traveled.
My first destination was Nanning, Guangxi's capital. Nanning's nickname is the "Green City" because of its abundance of subtropical foliage; Guo Moruo (郭沫若) once wrote of the city as  "half green trees, half buildings."
The locals are clearly very proud of their beautiful ecological environment. On the way to the hotel, my taxi driver asked, "The air is much better than Beijing, right?" My confirmation prompted a wide smile, and he began to identify all the flowers and trees as we drove past: "The blossoming plants are kapok trees…we call our city flower [the Chinese rose] 'big red flower'…the mango and almond trees look alike this time of year, because both their fruits are still green."
The myriad plant life reminded me of the limerick "Eighteen Strange Things of Nanning." The first two things are, "Every season, there are always flowers and grass/Every corner of the city is dotted with fruit trees." Those verses seem as true now as they ever were. "You should buy an apartment here. It's much cheaper than in Beijing," my driver suggested. "The environment is much better. Make money there…buy a house here."
With the thought of resettling in Nanning far from my future plans, I embarked on my second destination:  Mingshi Pastoral Scenic Zone (明仕田园) in Chongzuo, a border city abutting Vietnam, about 210 kilometers away from Nanning. Its Chinese name tianyuan (田园) literally means "field and garden," a term in Chinese culture implying an ideal environment for misanthropic, purity-seeking hermits to find solitude in the pastoral life. While a symbol of peaceful reclusion in ancient China, I wondered if Mingshi would provide the ideal escape from the everyday hustle and bustle of modern urban life.
Ironically, when I researched Mingshi, few sites mentioned the seclusive culture of this tianyuan; instead, most focused on the geographical similarities with the better-known Guilin. One site even offered a mythological story, which sounded more like a PR fabrication than an actual folk tale: A long time ago, a "devil dragon" from the South Sea traveled to Guilin. Obsessed with its beautiful landscape, the dragon shrunk Guilin with magic and stashed it away in his pocket (the dragon was apparently quite fashion-forward). He planned to bring Guilin's beauty under the sea, but was thwarted by the Jade Emperor, and executed by the God of Thunder. When the dragon perished, the mini-version of Guilin's mountains and waters fell from his pocket down to earth, becoming the Mingshi Pastoral Scenic Zone (it's not explained how they got the original Guilin back).
Guilin tends to dominate the Guangxi tourist scene, and one senses that other sites find it hard to differentiate themselves. However, in 2014, Mingshi received a unique opportunity when The Journey of Flower, a TV series about a romance between two attractive immortals, was filmed in the scenic area. When the show became a hit, local authorities seized the chance for some easy self-promotion, launching the slogan, "Mingshi Pastoral Scenic Zone, where the immortals live."
If one can manage to ignore the huge billboard of this four-year-old historical costume drama, it would be easy to mistake the natural landscape as a true fairyland.
Wherever I turned, there were undulating green mountains surrounded by clear water. Alongside the river were picturesque cottages, decorated with fern-leaf bamboo hedges; rustic bridges arched over the river, as small rafts slowly passed underneath, from one farmhouse to another. Time seemed to be suspended in this place, as were my feet; fearful of disturbing the tranquility, I subconsciously slowed my pace.
As Guangxi is the home of the Zhuang ethnic group, there's a plethora of opportunities to experience their rich customs and culture within Mingshi. At the Mingshi Mountain Villa, I was treated to the famous "Zhuang Chieftain Banquet" by waiters in traditional clothing carrying desk-sized trays with ten elaborate local dishes, formerly reserved for nobility. When taking a raft on the Mingshi river, the local guide asked me to call her "A Mei (阿妹)," the favored form of address for the young Zhuang women; the boatman likewise asked to be called "Brother A Niu (阿牛哥)."
Welcoming us was a middle-aged couple, who stood shoulder-to-shoulder to deliver a beautiful folk song in the Zhuang language. "A Mei" told us that singing is a way for the Zhuang to express emotions; this couple fell in love through singing and have been together ever since. Fairytale or folklore? Either way, I was touched.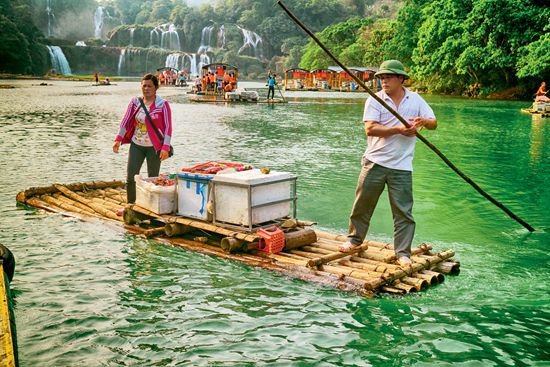 Half a day is certainly not enough to fully appreciate the beauty of Mingshi but, as I was not one of the immortals, I had to continue my journey up the Guichun River. Detian Waterfall, located in Daxin county, is the largest transnational waterfall in Asia, and about 50 meters away from the No. 53 boundary tablet between China and Vietnam. When taking a raft to approach the falls, you literally flow from China to Vietnam (then back to China again), allowing you to briefly dip in a toe in overseas waters without a passport.
In flood season, this waterfall can swell over 200 meters wide and more than 70 meters tall, as waters gush down its three-tiered cliff with tremendous force. Spring and early summer, however, is the dry season, and there are only narrow bands of water falling down the rocks, forming different streams before converging into the Guichun (sometimes called the "patriotic river" because, no matter how far the water winds south, it will eventually return to China).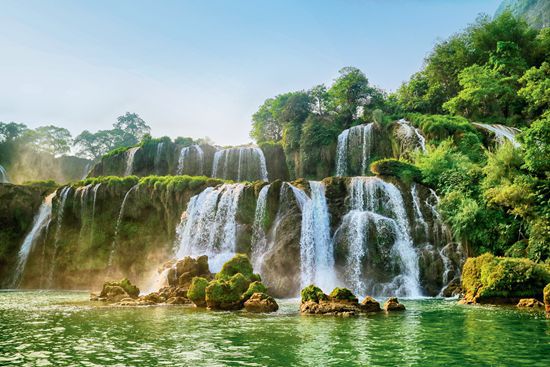 From a viewing platform, I could look over the border at Vietnamese vendors selling their products: coffee, rubber shoes, and medicinal ointments seemed to be their bestsellers. They spoke Chinese and accepted RMB as payment, and, from that vantage point, seemed almost indistinguishable from people on the Chinese side.
"Though the scenery here has a few things in common with Guilin, there is something really different," my tour guide, Zhao, reminded me. "This is the southern border of our country, where we experienced conflict with Vietnam in 1979. It's not Guilin—but it has something special."
I did not sense a "border atmosphere" until I started heading to the Tongling Grand Canyon, where the bus was stopped by guards. Two young soldiers entered and required everyone to show their ID; a matter of only a few minutes, but enough to make me realize we were indeed journeying along a geopolitical fault line.
Tongling Grand Canyon, located in the city of Baise, is a completely enclosed crevice. Its stature, though, is monumental: almost 1,000 meters deep and more than 200 meters wide. The canyon is composed of a group of gorges—Nianba, Tongling, Gulao, Xinling, and Xinqiao–and has been described as "a beautiful scar on the Earth."
The most impressive scene here is the Tongling Great Fall. At over 188 meters, the Tongling Great Fall is the highest single waterfall in Asia. During rainy season, visitors cannot even get close, as water splashes and churns chaotically in all directions. During dry season, however, I was presented with a narrow, smooth white flume hanging silk-like from this fissure in the Earth, dropping into a deep pool.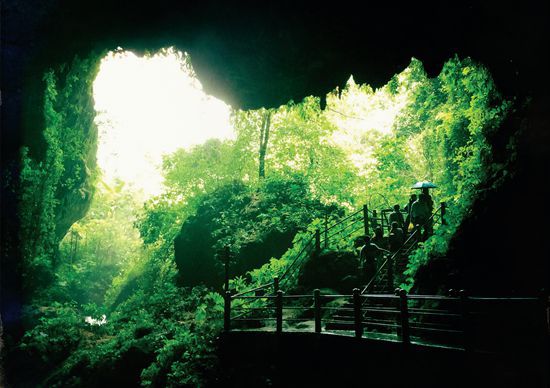 Tongling Grand Canyon is full of unusual trees, none of which I'd ever seen before; many are believed to have unique health benefits in Traditional Chinese Medicine. Naturally, along the path meandering through this arbor, hawkers were out in full force, all offering these "specialized medicines." I overheard one pronouncing the canyon as the "Kingdom of Traditional Chinese Medicine."
As my trip neared its end, though, I began to regret not planning my itinerary more thoughtfully. I'd been greedy, trying to visit as many places as possible, but not leaving enough time to truly enjoy any of them. Guilin, the "Forest of Sweet Osmanthus," was my last stop—and I had only a couple of hours left to visit.
With time so tight, I needed to hit the sweetest spot among all its acclaimed attractions. Finally, I decided upon the Xingping Ancient Town, in Yangshuo county—there is a saying, "Yangshuo's mountains and waters are the best in Guilin," and the painter Xu Beihong (徐悲鸿) wrote, "The beauty of Yangshuo is in Xingping." Indeed, it should be emphasized that the beauty of Guilin lies not in the city of this name—a fairly average prefecture-level conurbation—but the surroundings: the karst mountains and winding rivers that have inspired poets and painters for centuries.
Most tourists take a raft down the Lijiang River to appreciate the breathtaking scenery from the water, or board one of the many "pleasure cruises" that are something of a misnomer in terms of service and standards, but I had no time for such pleasures, and contented myself with the view from the Xingping Dock.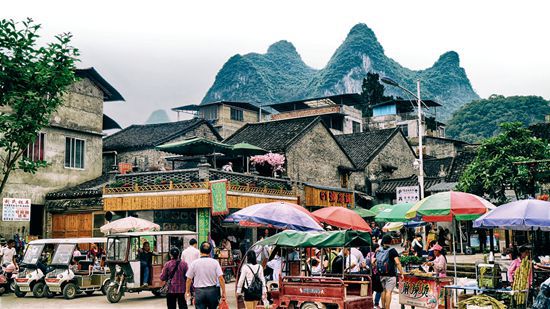 Much of that view was taken up by tourists taking photos. Iconic scenic spots often demand iconic poses, and in Guilin almost everyone is holding a 20 RMB bill in front of the camera, for the simple reason that the same view of the Lijiang River is pictured on the back of the bill.
Xingping itself has a 1,700-year-old history going back to the Three Kingdoms era. Strolling along the one-kilometer Xingping Ancient Street, historic markers can be found everywhere: ancient residences, old banyan trees, the Qing dynasty Guandi Temple, and Chairman Mao's portrait on the walls of small stores. That is not the whole picture, though. Modernization is inevitable in every "Old Town": Wireless networks cover teahouses and cafes, and most restaurants offer varieties of Western food. Vendors sell traditional handicrafts in front of the old brick walls, but customers pay via Alipay or WeChat by scanning their QR codes.
Wandering through this town—awkwardly caught between the ancient and modern—I fell into a strange melancholy. It is hard to decide if Guilin's scenery is truly the "best under heaven." The saying gives too much space to interpret Guilin according to one's own expectations. How can nature compete? Maybe to some extent, it reveals the truth of traveling: It's always tinged with regret, either for having never seen a place—or for being there at all.
---
All Under Heaven is a story from our issue, "Modern Family." To read the entire issue, become a subscriber and receive the full magazine. Alternatively, you can purchase the digital version from the App Store.
---