In spite of problematic representation, it's the small details in Crazy Rich Asians that will resonate with Chinese diaspora viewers
It is difficult to explain why a lighthearted romantic comedy, brimming with glamour and opulence, can bring tears to the eye.
Based on Kevin Kwan's novel of the same name, Crazy Rich Asians is most notable for being the first major Hollywood movie in a quarter-century to star an all-Asian cast in a story about contemporary East Asians. Talented actors from across the Asian diaspora portray the story of Rachel Chu (Constance Wu), who travels to Singapore to meet her boyfriend Nick Young's (Henry Golding) extremely wealthy family, including his disapproving mother (Michelle Yeoh).
The plot is nothing new—girl meets boy, boy's family looks down on girl, girl fights to be accepted. What's more interesting is how the conflict becomes a scaffolding with which to interrogate psychological rifts within the Chinese diaspora: Asian and Asian American, individual freedom and family harmony, new rich and old money, duty and happiness.
Set in New York, London, Singapore, and Malaysia, Crazy Rich Asians dissects cross-sections of this diaspora—Rachel, raised by a single mother in Queens, New York, versus Nick and his family, the sub-strait of Singapore society that rents out islands for parties and buys exotic flowers that bloom only at midnight for their guests. Not just "Beijing billionaires and Taiwan tycoons," explains a character at a party, but the kind of people who had money when they left China in the 1800s.
It is important to note who this movie is made for, and the canon that it challenges. While the traditions of regional cinema are strong enough at Asian box offices that Crazy Rich Asians is just another drop in the bucket, the film incited soul-searching and uproarious debate in the US, catapulting diaspora issues into the international spotlight (the movie made 94.6 million USD in the US and Canada, and just 7.3 million in other regional box offices by the end of August).
For ethnic Chinese born and raised in Western countries, the poignant parts of Crazy Rich Asians aren't what you'd expect: The broken hearts are almost a sideshow to utterly mundane scenes where street food is slurped, mahjong tiles flipped, and dumplings wrapped. The syncopated pitter-patter of the Chinese kitchen knife, mincing vegetables on a wooden cutting board, mirrored the uneven heartbeat of intimate worlds never before seen in English-language cinema.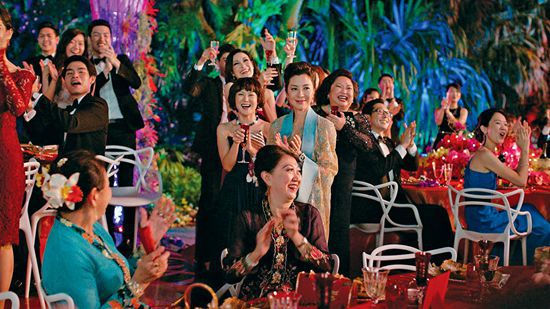 A whole generation has grown up since the last time Hollywood embarked on the major production of a contemporary Asian-American story: 1993's The Joy Luck Club, a heart-wrenching intergenerational story of women who fled war-torn China and raised daughters in the US in the 1970s and 80s. Before that, the first ever Asian-American story produced by Hollywood was 1961's (now largely forgotten) Flower Drum Song, about a young undocumented immigrant being forced into an arranged marriage to a nightclub owner in San Francisco's Chinatown. In both Hollywood's only previous major productions, the Chinese were portrayed as seedy and morally suspect, or simply desperate and poor.
It is a moment of amazement, then, to walk into a US movie theater and see Chinese people driving fancy cars with the windows down, or downing cocktails on the beach in the full treatment of a Hollywood rom-com. This time, the stereotypes are flipped: Goh Wye Mun (Ken Jeong), father of Rachel's friend Goh Peik Lin (Awkwafina) scoffs over dinner, "There are a lot of starving children in America." Rachel, impressed by Changi Airport's butterfly garden, muses aloud, "JFK is just salmonella and despair." The movie reflects a pivotal moment in global power dynamics, in which the elite in many Asian countries no longer feel it necessary to move to another hemisphere in order to pursue success and a comfortable life.
For all its jewels and raucous parties, though, the film doesn't unreflectively glamorize the Singaporean one-percent. Nick's mother, Eleanor Young, is introduced while at Bible study in which she reads a line chastising materialism, even as she and her posse embody the height of luxury. The pressures of fame and fortune jeopardize Rachel and Nick's relationship, and chip away at Astrid Leong-Teo's (Gemma Chan) marriage. When Rachel admires Astrid's corporate lawyer career, the latter coolly replies, "Nah, just good old-fashioned nepotism." At a culminating point, laughing faces at a party are portrayed as gaunt and ghastly. The film also reflects Singaporean-Chinese systemic racism, in which the only South Asians appear in service roles and two armed guards frighten East Asian women simply by their presence.
However, no single movie is going to fix over a century of underrepresentation in Hollywood, or offer a full picture of the complexity of the billions of lived experiences of Asian people. Crazy Rich Asians doesn't tell every story, but tells one, and imperfectly. Even so, there's something to feel warm about the beginning of Asian and Asian American stories on the silver screen.
"We don't have the luxury of failure," Constance Wu told the audience at a film discussion in New York. "You can't represent everyone, but if you make one, and you make it really well, they will make more."
---
'Crazy Rich' in the Details is a story from our issue, "The Masculinity Issue." To read the entire issue, become a subscriber and receive the full magazine. Alternatively, you can purchase the digital version from the App Store.
---