On the birthday of the 20th-century feminist writer Ding Ling, TWOC celebrates her unapologetic life and unconventional views on love
"Yesterday an intellectual lady/ today a military general (昨天文小姐/ 今日武将军)," wrote Chairman Mao in a poem welcoming the wartime writer Ding Ling (丁玲) to the Red Army base area at Yan'an in 1936.
The first well-known litterateur of her era to join the Communist revolution, Ding Ling is regarded today as the forerunner of Chinese feminist literature for her 1928 masterpiece Miss Sophie's Diary (《莎菲女士的日记》), a seminal work on the psychology, sexuality, and interior lives of Chinese women.
Due in part to her politics, however, Ding's social activism and unapologetically adventurous personal life have been rather sidelined, particularly compared to those of contemporaries like Xiao Hong (萧红) and Eileen Chang (张爱玲)—though author Xu Zidong (许子东) once wrote that Ding's life was better than any biopic.
Ding, whose birth name was Jiang Wei (蒋伟), was born on October 12, 1904, to a gentry family in Linli, Hunan province. Upon her father's death, 3-year-old Ding was raised at her maternal uncle's home in Changde, Hunan, by her mother; she later wrote about her first teacher and role model in the 1930 novel Mother.
As a child, Ding was betrothed to her uncle's son, but protested the engagement, and finally succeeded in breaking it off at age 18, after criticizing her uncle in local newspaper. Later that year, she went to Shanghai, and enrolled in a girl's school, founded by May Fourth intellectuals, with her good friend Wang Jianhong (王剑虹). With the encouragement of revolutionary Qu Qiubai (瞿秋白), Ding became a Chinese Literature student at Shanghai University.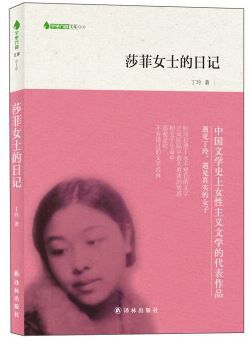 In 1924, following Wang and Qu's marriage, Ding moved to Beijing, where she audited courses at Peking University. Generations of later literary critics have suspected Ding of harboring feelings for one or both parties of the marriage, and it's speculated that Miss Sophie's Diary drew inspiration from this turbulent period—which also saw Wang's early death, Qu's re-marriage, and the death of Ding's only brother before the year's end.
Ding's career, though, was on the rise. In 1927, she published her first novel Mengke (《梦珂》), followed by Miss Sophie's Diary in 1928.
Hailed as a talent on her debut, Ding also soon became notorious for her unconventional love life. In Beijing, she cohabited with a young editor, Hu Yepin (胡也频), but represented their relationship as "platonic." In 1927, she fell in love with her Japanese tutor Feng Xuefeng (冯雪峰), and the trio engaged in an infamous love triangle—all three cohabited for a time, and Ding later recalled fearing that Hu might kill himself—before Feng left the ménage.
In 1930, Ding gave birth to a son. The same year, Hu, now a Communist Party member, was arrested by the Kuomintang (KMT) government; he was executed in February 1931. Later that year, Ding wrote several letters to Feng, expressing her hardship, along with her love for him (believing Ding to be dead, Feng published them in 1933 under the title "Non-Love Letters"). However, with Feng married at the time, Ding began cohabiting with—and later married—her interpreter Feng Da (冯达).
Already a prolific writer concerned with the generational hardships of fellow women, peasants and the marginalized classes of China, Ding joined the Communist Party in 1932. But the next year, she and Feng Da were secretly arrested, and most of her friends and readers assumed she'd been executed. In fact, she had been imprisoned in Nanjing, where she gave birth to a daughter, but left behind both her child and husband behind to escape to Yan'an. As she would later write, "I grew up in a small town, and was not very familiar with peasants and workers. I wrote about them and made them my protagonists, but it was all imagined…the peasants in 'Water' have neither flesh nor blood…it was not only after I went to Yan'an that I could write with substance."
At the Party base, Ding continued her reputation as an iconoclast. Though she served as director of the Chinese Literature and Arts Association in Yan'an, and produced many novels on the Red Army and conditions in the countryside—even winning the (then) prestigious Stalin Prize in 1951 for The Sun Shines Over Sanggan River, her most famous work of this period—she also incurred the criticism of Mao for writings that satirized the lack of real commitment to gender equality (in terms of marriage, divorce, and housework) displayed by many of her fellow male Communist Party members.
Meanwhile, Ding continued to raise eyebrows by pursuing Chen Ming (陈明), a subordinate also 13 years her junior; ridiculed over their age gap, Chen married another woman in 1940, then divorced his pregnant wife two years later to marry Ding, now aged 38.
After years of rebelling against social conformity and sticking up for the downtrodden, though, Ding was branded "right-wing" and sentenced to 12 years of labor in the Great Northern Wilderness (北大荒) in 1955; this stint was followed by another five years' imprisonment during the Cultural Revolution. It was not until 1979 that a rehabilitated Ding was finally allowed to return to Beijing.
Despite her hardships, Ding remained unabashed of her choices until the end. In her 1980 article "Writers are political" (《作者是政治化了的人》), she maintained that "literature and art shall serve politics," a position that had been largely abandoned by China's literary community at the time. As for love, on her deathbed in 1986, Ding asked for "one more kiss" from her partner of 25 years, Chen Ming.
---