From promoting luxury brands to upping the footfall in shopping malls, commercial influences are prompting questions about the future of art in China
Fashionistas visiting the Today Art Museum this summer had the opportunity to fork out 50 RMB for the privilege of viewing "When Elegance Meets Art," an exhibition featuring over 400 pieces by the French jewelry company Van Cleef & Arpels. Inside, they painstakingly posed for the perfect shot with a ruby pendant, pored over descriptions of each piece's history, and checked out the items like they were browsing a catalog.
Chinese art museums are increasingly relying on commercial exhibitions like this to keep their doors open. Meanwhile, market forces are driving luxury malls to use art exhibitions to lure shoppers through their doors and make their stores profitable.
Strapped by a tax code which offers few incentives for charitable contributions, and unable to rely on art-loving philanthropists, museums must get creative to maintain revenues. Luxury brands offer "rental income" for many museums, "Rui," a contemporary art professional in Beijing, told TWOC on condition of anonymity. These exhibitions are almost completely organized and curated by the brand, rather than museum staff. "Essentially, brands want to rent spaces in internationally recognized museums in order to enhance their images," explained Rui.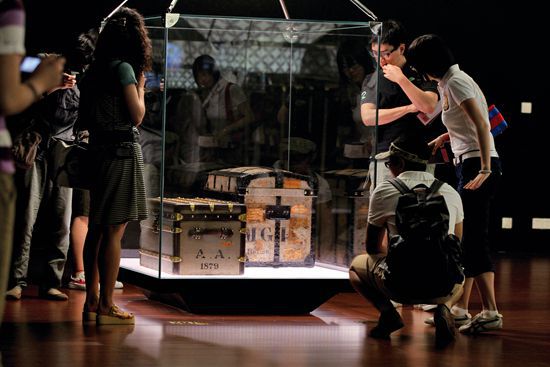 Sonia Xie, deputy editor of the Art Newspaper China, elaborated on the benefits of these partnerships, explaining that they "improve and promote the tone and voice of the brand, as ordinary people consider museums and galleries to be distinguished, intelligent, and elite places."
Although ostentatious displays of new money helped define China's rising economic clout over the last decade, the luxury market has foundered since Xi Jinping began his presidency with an anti-corruption campaign in 2012. In 2016, the Federation of the Swiss Watch Industry announced that global sales had fallen by over 14 billion RMB, attributed to a massive drop of sales in China.
However, an equally important factor was changing tastes and demographics. As well-traveled, educated consumers began to disdain the flashy labels on which many European designers had focused their mainland marketing strategies, art museums could offer an obvious and effortless opportunity for brands to signal sophistication to more discerning shoppers.
Partnerships between museums and brands have proliferated in recent years. In 2014, Dior hosted its "Miss Dior" exhibition at Shanghai's Sculpture Space; the next year, Gucci hosted an avant-garde exhibition entitled "No Longer/Not Yet" at the Shanghai Minsheng Art Museum; and in 2016, Bottega Veneta hosted "Art of Collaboration" at the Ullens Center for Contemporary Art in Beijing. The trend has even expanded to non-luxury brands seeking an image boost: last year Chinese electronics company Xiaomi sponsored the "Future of Today" exhibition at the Today Art Museum.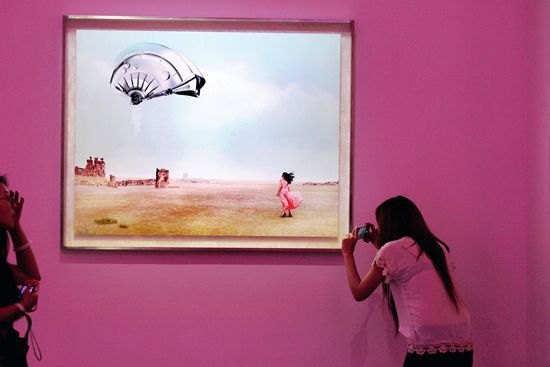 The reason why this is all possible, suggests Xie, is that "the art industry in China is still at an early stage of development. The Chinese audience is completely undemanding, making it extremely easy to do a profitable exhibition."
Yet there is also a great amount of optimism for the future. China's art market is already said to be the second largest in the world, at an estimated 13.2 billion USD. In 2017, Qi Baishi's Twelve Landscape Screens (1925) joined the "100 million club" when it fetched 140.8 million USD at a Poly Beijing auction, becoming the first Chinese painting to achieve this feat. Modern Chinese artists are also highly sought after: Artprice's list of the "Top 50 living artists at auction" includes 11 from China.
One manifestation of China's maturing art market can be seen in the unusual venue of malls. Banking on art as a powerful marketing tool to drive shoppers through their doors, many are jumping at the opportunity to host art exhibitions and installations.
Beijing's Parkview Green Mall is both a luxury mall and a haven for art lovers. Founded by a real estate magnate and art collector from Hong Kong, the mall is stocked with 500 pieces from his personal collection, including what's advertised as the "largest collection of Salvador Dali outside of Barcelona." Installations including a giant shark and seductive pig in a revealing dress are free for window shoppers to peruse. The mall also has designated gallery spaces featuring up-and-coming artists, whose works are perfunctorily viewed by bevies of selfie-taking shoppers.
Cutthroat competition has forced malls to differentiate themselves, providing increasingly elitist experiences. In 2014, the K11 Mall in Shanghai hosted the first-ever exhibition of Monet paintings in China. (K11 also operates "art malls" in Guangzhou, Wuhan, Shenyang, and Hong Kong.)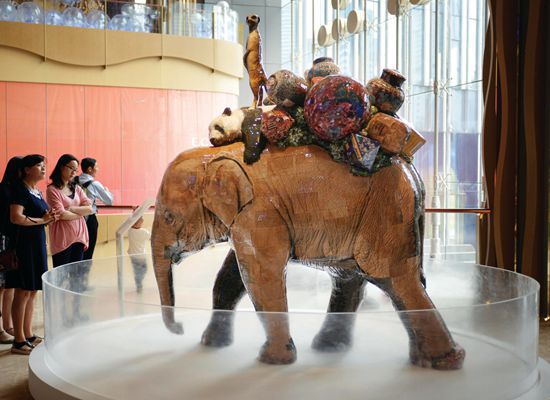 "The K11 malls are following the playbook of European museums," says Rui. "They have no permanent collection, but they have an entire curatorial team organizing traveling art exhibitions. In that way, even though K11 is a mall, they act like a museum by providing access to high-quality art."
The line between art and luxury has become increasingly difficult to detect in China—and its state-run museums aren't helping. After three years of renovation, Beijing's National Museum of China at Tiananmen Square reopened in 2011 with two commercial exhibitions: "Voyages," dedicated to the evolution of Louis Vuitton, was followed by Bvlgari's "125 Years of Italian Magnificence" a few months later.
Although the rest of the museum was free to enter, LV charged 30 RMB for viewing "Voyages," a decision criticized by People's Daily for being "too commercial." The irony of Chinese visitors paying to peruse LV bags at a newly unveiled symbol of nationalist pride—the centerpiece of which was a display of propaganda entitled "Road to Rejuvenation"—was not lost on many observers. To avoid further controversy, prices were slashed to 10 RMB for the Bvlgari follow-up.
When Dior hosted an exhibition the following year, the brand's name was removed from the title, reflecting the newly austere sentiments of the Chinese government. In spite of what might seem like a conflict of interest, Xie notes that many state-run museums now present jewelry or fashion exhibitions on a yearly basis, citing the 2017 Chaumet exhibition at at the Forbidden City's Palace Museum. "When people flock to admire the rare jewelry masterpieces, they are more likely to visit some of the other less popular shows at other exhibitions halls in the museum," she hypothesizes.
As the line between art and luxury becomes increasingly blurred, it prompts the question: Can commercialized luxury brands and China's nascent art market coexist in a symbiotic relationship, or will this relationship of convenience ultimately be detrimental to the future of art in China?
Xie is optimistic about the future of the art malls, arguing that it is a business model that makes sense, as "art exhibitions and public art installations bring in more mall visitors and therefore increase consumption." However, she notes that one major challenge is the lack of art education in China: "As long as the exhibition is 'Instagram-able,' people will love it—and if it is easy to understand, then it is a blockbuster!"
---
Of Malls and Museums is a story from our issue, "The Masculinity Issue." To read the entire issue, become a subscriber and receive the full magazine. Alternatively, you can purchase the digital version from the App Store.
---