Chinese Rocky defends title, university students become college students, sick leaves are refused, and there's a (rare) happy ending to official's power abuse—it's Viral Week
Viral Week is our weekly round-up of the weekend's trending memes, tracking the rumor, humor, and gossip that Chinese netizens are chatting about. It's a tonic to the gin bath that is the news.
This week, teachers and students are getting into all kinds of trouble, and a Chinese Rocky story surprises the food-delivery world. But first…
Leave off
Remember those days (i.e. today) when you woke up to a depressing sky full of smog, and all you want to do is find some excuse to stay home from school or work? Well, a Sichuan University teacher is wise to such "tricks"—maybe too wise. On October 19, when a student begged leave to attend his grandfather's funeral, the teacher curtly replied, "You can go; that's your duty. But I will deduct points from your final exam due to your absence; that's my duty."
Accordingly the teacher deducted 10 points (out of 100) from his exam grade, and told the class, "If four of your family members die this year, you may fail this exam." Predictably, this enormous lack of empathy got the teacher pilloried on the internet, and his department soon intervened, ordering the teacher to write a "self-criticism text" and apologize to the student.
Unfortunately, the task of getting a day off gets no easier after graduation. Last week, another netizen shared WeChat screenshots of the trouble he had to go to to get sick leave:
Unfortunately, picturing his arm in a hospital bed didn't convince his boss, who then asked, "How can it prove that it's your hand? Where is your face?" So, the man had to try again:
"How can you prove this was taken today?" the suspicious boss wanted to know. So this sick employee tried one more time, sending a picture of himself, looking glum, in bed, holding up his watch and attached to a drip: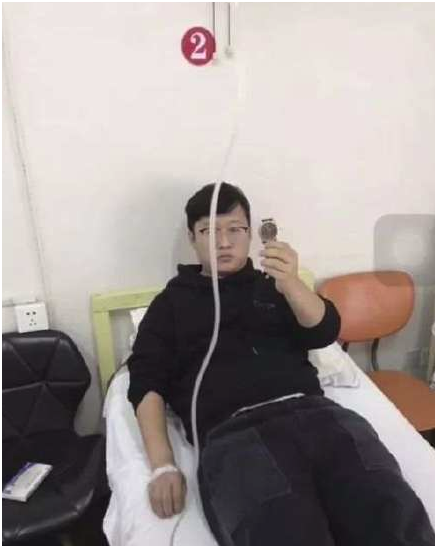 He got the leave.
Power abuse story with happy ending
Though President Xi Jinping's anti-corruption drive is coming up to its sixth anniversary this November, China's long history of "public power abuse" remains a troubling beast to tame, as demonstrated by a few recent cases where well-connected individuals used local police to carry out private acts of vengeance.
Fortunately, a primary school teacher's illegal detention recently ended in the dismissal of the vice-chief of the police station in Zhuzhou, Hunan province. On October 18, Ms. He had made one of her third-graders stand in front of the classroom  as punishment for being tardy. However, the girl's policeman father became enraged when he heard the news, drove to the school, and effectively kidnapped Ms. He, detaining her for seven hours.
Following a WeChat message posted by Ms. He after her release, authorities investigated the matter, and announced that the chief had been removed from his position and "transferred" from the public security bureau. It's not the public lynching many had hoped for, but netizens are taking what they can get.
Students downgraded
In China, teachers and parents often emphasize college education as a sole means to success, encouraging students to study hard for the gaokao. However, not only is college not a magic bullet, some students do not even get to stay there after giving everything to get in.
Recently, 18 undergraduates of the prestigious Huazhong University of Science and Technology were downgraded to "junior college students" (专科生, a  term for students studying for three-year vocational degrees) for failing their required course credits. Wu Yan, head of the Department of Higher Education, Ministry of Education, said he supported the decision on October 17, because the quality of undergraduates affects the work force, but added that some students were "wasting time" on games and romantic relationships. Troublingly, many media outlets, other universities and corporations agreed with the university's draconian rules.
Netizens, predictably, thought differently:
Rocky road to victory
A rags-to-riches story took Weibo by storm this weekend as Pear Video posted a video on the story of Zhang Fangyong, who successfully defended his WBA world featherweight title on September 29 after working as a food deliveryman for Meituan.
Like millions of his rural peers, Zhang, born in 1993, grew up as a "left-behind child" on the outskirts of Chongqing, with his migrant parents working in Yunyang county, China's largest noodle-manufacturing center. Disillusioned at the prospect of weaving noodles for a living, Zhang found hope in the story of Wu Jian, a female weightlifter from Yunyang who managed to change her fate by becoming a world champion.
In 2014, Zhang settled in Kunming and worked in food delivery to support his training until he was crowned WBA world featherweight champion on January 2017, realizing his decade-long dream of becoming a professional boxer. Among his many struggles, Zhang broke his nose during one match, but was unable to afford doctors' bills, so he simply wrenched it back in place himself—a botched job that left his nose crooked for life. Hopefully, he now can afford to pay for cosmetic surgery…
---