Male bonding and machismo help grease the wheels of a billion-dollar food fight
Driver Zhang cuts an impressive figure online. His rating on Ele.me (meaning "Hungry?"), a food-delivery app, is 91, meaning almost all his 1,511 fast-food deliveries were made on time—no mean feat given Beijing's often-maddening traffic, relentless construction (and demolition), and often convoluted building-numbering systems. His average delivery takes half an hour, from order to arrival. These along with other statistics are prominently displayed on the deliveryman's Uber-style profile, a potent status of both Zhang's success and his precarious position.
From down-votes to disagreements, every one of Zhang's customers wields a degree of power over his job. It's worth remembering this when a driver, running late, calls to ask to be registered as having arrived, even when the map shows him still lost, three blocks away. Tardiness comes with consequences, including fines and bad feedback, impacting a driver's overall rating.
Zhang works for Fengniao ("Hummingbird"), the patented delivery system developed by online takeout platform Ele.me. With blue uniforms and branded scooters—in contrast to rival firm Meituan delivery's black-yellow livery—Ele.me's drivers can be spotted in their thousands in cities across China, like the vanguard of some moped army. The red-jacketed ranks of search giant Baidu's delivery arm are called "Baidu Knights," and their profiles decorated with medals, such as "gold knight," for service in the line of duty.
"These deliverymen are young and hot-blooded, many not well educated, and dressed in different uniforms, so it's easy for them to feel aversion towards their counterparts," industry observer Liu Peng told Caixin in February.
This antagonism is further enabled by a plethora of economic and social forces—caught between unforgiving managers and impatient customers, the migrant men who make up China's delivery workforce can form a strong kinship with their fellow "knights" and "riders," particularly other migrants from the same region.
Joining a company is like being part of a gang, Liu told TWOC. "You have your own emblem. If you join Ele.me, you're part of Ele.me…their suzhi [quality] level is not very high, so there are fights," says Liu. "And the more you fight with others, the more your own people are united."
Companies are engaged in fierce competition to deliver food fastest, cheapest. Stress levels are high, and enmity can brew between rival riders who have to share routes, roads, often even the same elevators. Spats easily arise—usually over turf, or tit-for-tat disputes––as depicted in one viral video from Zhangpu, in southeast Fujian province. The film, shot in February, shows drivers from Ele.me and Meituan slugging it out with poles, after a platoon of Ele.me staff attempted to storm Meituan's headquarters over "the right to deliver in this territory," as one brawler yells in the video.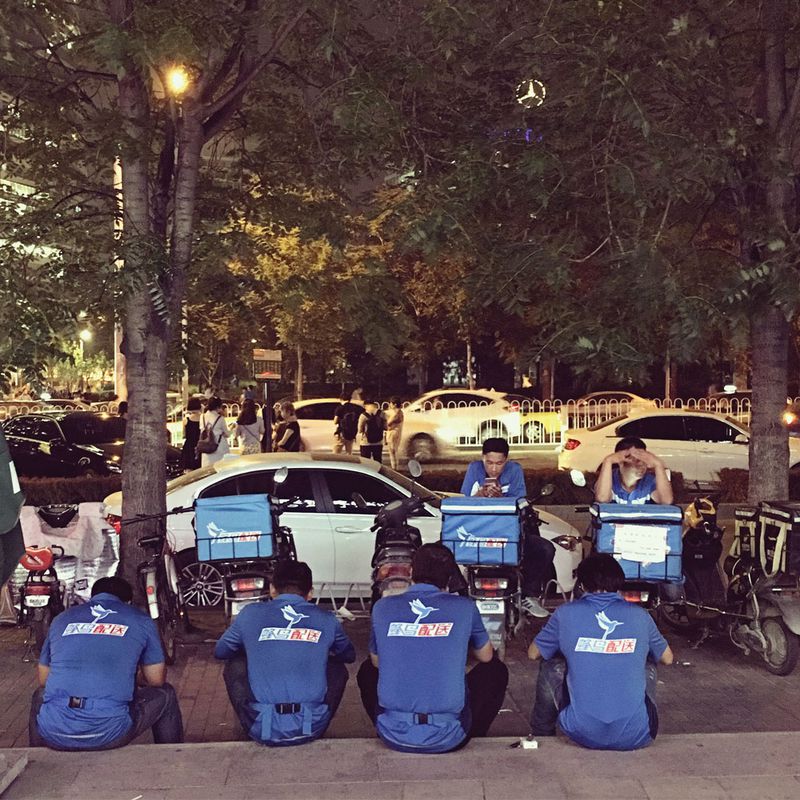 Millions of netizens viewed the brawl in fascination; for many, it was a first glimpse of the intense dynamics behind their lunch orders. After a police investigation, the two sides met to conciliate and agree not to use "unsavory violent methods to capture the market" and create a "more positive environment for competition," according to a statement by Meituan.
Certainly, delivery companies are hoping for a positive environment to make money—and it's big money. Last year, the food delivery industry as a whole raked in 176 billion RMB, according to estimates by a market research company cited by the People's Daily Online, a 361 percent increase over a year earlier. While they specialize in food—anything from sushi to Sichuan cuisine—the bigger apps offer other ingredients for a good night in, from cigarettes and alcohol to sex toys and morning-after pills.
Market leader Ele.me holds 34.6 percent of the market share, with Meituan and Baidu delivery at 33.6 percent and 18.5 percent respectively. Together, the trio dominates the market and their scrappy competitors.
According to some on the front lines, though, these numbers mask a business fraught with setbacks and loss. "Money?" asks Wang, a deliveryman for one of the big three, discussing the state of the industry with colleagues. "The company is about to collapse! There are no more orders. You start at 10 a.m. and work until midnight and you might earn 100 RMB in a day. There's no base salary."
When business is good—usually if a driver takes around 1,000 orders a month—it's possible to make as much as 10,000 RMB but, as China Daily reported, these kinds of salaries are far from representative. Around half of China's deliverymen earn between 2,000 and 4,000 RMB, 28 percent earn up to 6,000 RMB, with a tiny minority making upwards of 8,000 RMB, according to the newspaper  (the average salary is 6,070 RMB a month, rising to 9,227 RMB in Beijing, according to a nationwide 2016 survey by zhaopin.com, a jobs website).
Fengniao offers its employees insurance, deducting the cost from their wages at 2 RMB a delivery day, but no residency permit or hukou, so workers usually leave their children to be raised and educated in their home provinces. Almost all drivers lack legal awareness of their rights and responsibilities in case of a dispute—or worse.
Last December, the Beijing News cited traffic accidents as the biggest danger of the job; one driver claimed at least four of his colleagues had been killed on the road over the past year. Beyond the risk of injury, there's also the possibility of hitting a car or pedestrian and becoming indebted indefinitely. Cases like these have periodically made waves in media, generally accompanied with a tragic backstory, though CNN reported in February that one guilt-ridden 17-year-old who voluntarily confessed to scratching a BMW in Zhengzhou, Henan province, was rewarded 10,000 RMB cash by the driver for his honesty.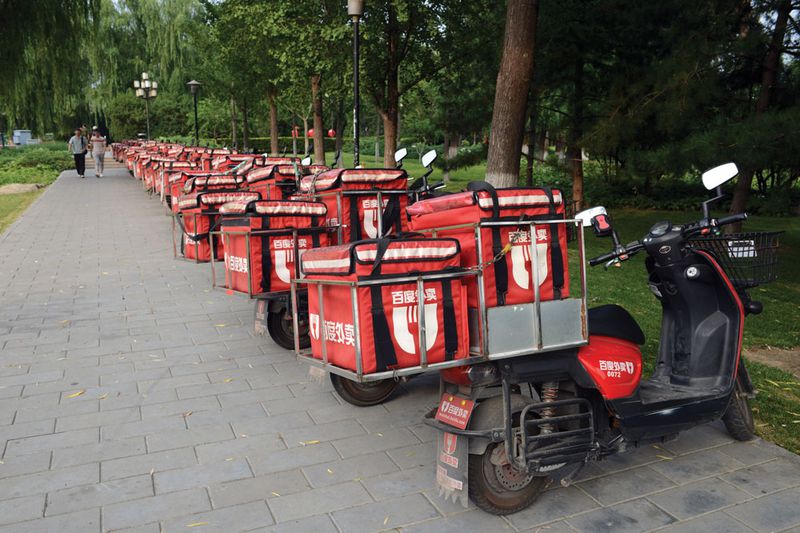 "All crows under heaven are black," driver Wang says: Despite the industry's hyper-competitiveness, there's little point trying to look elsewhere. Wang feels no great kinship with his colleagues; even if his peers don't help out, he says, that's fine as long as they don't cheat each other.
Some of Wang's colleagues are more sanguine, if equally pessimistic about the future. "It's a job you can do without a lot of skills," Lin, in his 30s, remarks. "Of all these kinds of jobs, your only other option is to dagong"—referring to low-skilled manual labor, factory work or service jobs. "When you dagong, you work 12 hours and you have to take orders from someone. When you deliver food, you get to be on the move, and work when you take a [food] order; you earn more if you take more, less if you take less."
Still, Lin plans to change jobs. "The company is not doing well this year," he says. "I think it's time for me to move to a different field…they don't cover food or lodging, so after you pay your rent and feed yourself, there's not much left anymore."
Last year, not for the first time, both Ele.me and Meituan were criticized by state broadcaster CCTV for allowing illegal restaurants to use their platform to sell meals, prompting an investigation by food inspectors in Beijing, Shanghai, and Chengdu, followed by an apology from Ele.me. Blacklisted restaurants are often able to relist under a different name, however, and with a sustained crackdown in Beijing on illegal food vendors, the idea of operating incognito online is an attractive one for unlicensed businesses.
Both Lin the driver and Liu the analyst believe there are labor troubles brewing, as a sector swelled by promotions and marketing adjusts to the market. "It's a demand created by subsidies," says Liu. "But since the end of last year, the market is contracting; it's stabilizing itself, so now there's internal competition for orders." Driver Lin has seen it first hand: "Last year, everybody was switching over to food delivery from other jobs. Our company was doing very well, giving all these discounts," he says, taking a break outside. "Take a look at the streets there—everyone's a food delivery guy. It's gotten to the point now there are more deliverymen than orders being placed."
If what they say is true, mergers, refinancing and takeovers are likely to occur, along with possible layoffs. Yet the industry is sure to continue its expansion, while it is these employees, constantly striving to improve their speed, who may well be left behind.
The names of drivers have been changed to protect their identities.
---
Wheel Life China: The Fast and the Furious is a story from our issue, "Wheel Life China." To read the entire issue, become a subscriber and receive the full magazine. Alternatively, you can purchase the digital version from the App Store.
---