A culture of shame and blame, often led by public figures, impedes efforts against domestic violence and sexual harassment
After actor Jiang Jinfu turned himself in to Japanese police on Wednesday for beating up his girlfriend, model Haruka Nakaura, netizens had plenty of anger to express—much of it toward Nakaura, who created the public outcry by uploading photos of her injuries to Instagram last week.
"[Jiang] doesn't seem like the type of person to commit domestic violence," wrote one armchair expert on Weibo. "There is probably something wrong with his girlfriend." Or perhaps it was a conspiracy? "He is probably being blackmailed to say all this," someone speculated. Others "dug up [Nakaura's] photos from the past, and pointed out she likes to go out," Taoligeriler, co-founder of the Vagina Project, which stages local productions of Eve Ensler's The Vagina Monologues, tells TWOC.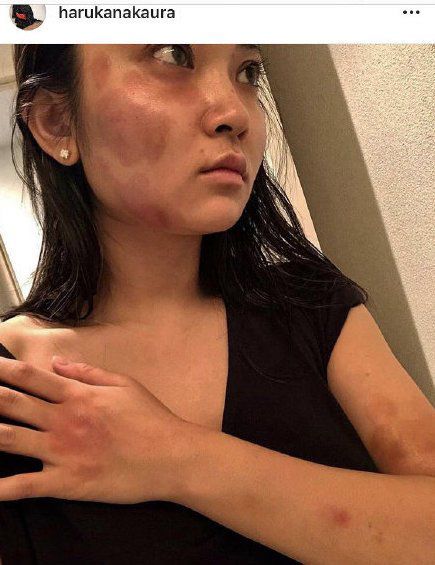 Public shaming and victim-blaming are just two of the serious obstacles against addressing gender-based violence in China. The country's tepid version of the #MeToo movement has led to some high-profile arrests, but also pushback and the inevitable censorship (once a state TV host was accused, the ranks closed).
Despite a relatively recent law, domestic violence remains underreported, or dismissed. Sexism is "a universal culture, but in China, people are emboldened to voice stereotypes [of women] out loud," Feng Yuan, co-founder Equality, a Beijing-based NGO, tells TWOC. "For example, if you go out with someone in the evening, or if you drink with someone, that means that you have given [men] permission, or a subtle invitation."
Anonymous internet users, though, aren't even the main offenders. Several public figures have openly aired sexist remarks. On November 18, as the Jiang scandal was catching fire, education mogul Yu Minhong told a Shanghai conference that women were to blame for the degradation of China's conscience—then dug himself deeper with an "apology" that essentially re-stated his theory. In May 2017, Ding Xuan, executive vice-president of the Hebei Province Traditional Culture Research Association, told university students that a woman's greatest gift was her chastity, and that "men are the sky and women are the earth below them."
Plenty of educators seem to agree: In 2016, a Shanghai textbook infamously described women who have sex before marriage "degenerates." There is a thriving private market for "feminine virtue" courses, which preach ideas like "Women are supposed to live at the bottom of society" and "are supposed to do more housework, without talking much."
In 2016, a study from the University of Pennsylvania showed that "rape myths shifting the blame from perpetrators to victims are pervasive and generally accepted in China." The researchers blamed a culture of face, or fear of diū liǎn (丢脸). "In some cases, the victim's own family members take the side of the perpetrators," says Feng.
"Body shaming" is also a regular feature of China's cyberspace, with trends on social media such as the A4 challenge (consisting of women holding up a A4 sheet to measure their waist); the iPhone 6 challenge, (women holding up an iPhone 6 to measure the length across their knees); the 100 RMB bill challenge ( women wrapping a banknote around their wrist to measure its circumference), to name a few.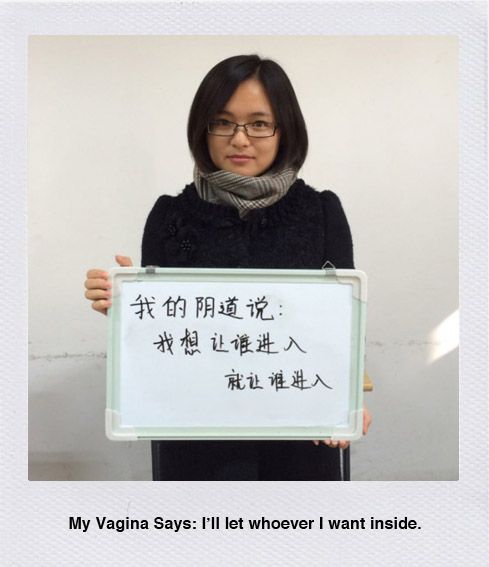 Some frustrated women have tried "reverse" slut-shaming men, such as during a 2016 female-on-male sexual harassment case in Shandong, writing "Skimpily dressed just to seduce women, no wonder you were harassed!"  However, "You cannot assume that a person is assaulted for being a bad person," says Taoligeriler.
A more productive approach, according to Taoligeriler, is to strengthen regulations, along with better education. "As this topic is being discussed more and more, I believe that more companies and universities will implement stricter regulations regarding sexual assault," she says. "In China, they do not directly address sexual issues in the university guidelines, but they could strengthen the teachers' ethical constraints directly to…indirectly decrease sexual harassment."
Although the internet is where much of the worst discourse runs rampant, it can also play a greater role in awareness building, says Feng. "Now more and more people, especially survivors, can see each other through social media…When you see each other you feel that you are not lonely. [Hopefully] young people will have a stronger sense about their rights, their self-autonomy."
Something positive may yet come out of the Jiang Jinfu scandal, Feng argues: "Celebrities attract peoples' attention. The news provoked a public discussion, and this discussion can facilitate a better understanding of domestic violence for the general public."
Equality's helpline is open daily: 151 1790 5157
---