China may have as many as 459 million gamers, but the industry is plagued with design and regulatory problems—and now a freeze on production
Imagine being an anti-hero protagonist having to fend off cops, triads, and real-estate developers; negotiate the PLA's no-fly zones; and dodge rickshaws, delivery scooters, angry cabbies, constant construction work, chaotic food carts, and crowds of dancing grannies.
Pretty realistic, for an everyday commute in a Chinese city (minus the triads, maybe)—but in the gaming world, it's a far-off fantasy that's even less plausible than being the Monkey King or a Three Kingdoms warlord. Though China would be a great setting for a big-budget open-world game like the Grand Theft Auto series (as shown by games like Kane and Lynch: Dog Days and the acclaimed Sleeping Dogs), overzealous regulators and an overtly materialist model are strangling quality and creativity in the country's nascent game industry.
Take the October 26 release of Red Dead Redemption 2. A watershed for global gaming, this seven-year, 140 million USD project by Rockstar Games has so far produced a 97 score on Metacritic (aggregated from over 94 professional reviews). Having recouped 750 million USD in its first week of release, RDR 2 is likely to reap billions more over the next few years and has already warranted dozens of blogs, essays, and think-pieces in praise of its complexity, quality, and realism. (Going further back in history, Rockstar's GTA V, "the most profitable entertainment product of all time" according to an April report by Market Watch, clocked 90 million unit-sales and 60 billion in revenue)
Yet the GTA phenomenon bypassed China almost completely, and it's almost certain that, despite already being hailed as game of the year, if not decade, RDR 2 will have the same impact on the mainland—which is to say, very little, beyond the kind of underground fanbase who will patiently await the modding opportunities of the PC version.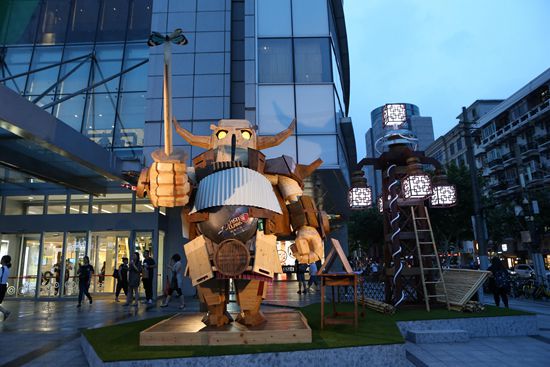 China is no longer virtually cut off from the global gaming market the way it once was—so why do critically acclaimed games like RDR and GTA, and other franchises like Call of Duty, Assassin's Creed, Forza, and Far Cry have so little influence on a market with a huge taste for Western entertainment? And why is it so hard to make good games in China?
The question seems even more vexing when one considers that the largest company in the gaming market is Chinese—although you might hardly even know it. Tencent, the conglomerate that owns WeChat (and with it, virtually every Chinese phone user's most intimate data), is the largest video game company in the world. Its online platform WeGame, which bears an uncanny resemblance to global rival Steam, has about 270 titles on its roster since its launch last year.
Tencent also has a 12 percent stake in Activision, and publishes both Activision's and EA's games (including the Assassin's Creed series) in China; a minority stake in Bluehole, developer of "battle royale" game PlayerUnknown's Battleground (PUBG); and 40 percent of Epic, who makes Fortnite. It made quarterly profits in 2018 of 3.65 billion USD, compared to EA's 566 million USD.
This means that Tencent makes money even when rival hits, like PUBG and Fortnite, go head to head—Fortnite, which is currently the most played game in the world, was accused of plagiarizing PUBG. The accusation is difficult to dispute, but Tencent didn't care, as it had stakes in both—along with the developers of other mainland mega-hits like Clash of Clans and League of Legends, both "Massive Multiplayer Online Role-Playing Games" with wearily similar appearances, gameplay, and engines.
But for all the cash and attention they generate, games like Fortnite and Pokemon Go enjoy little cultural cachet. Like the movie Avatar (which became a cultural phenomenon when first released in China, as elsewhere), they seem inescapable for weeks, before being gone and forgotten, rarely to be missed. A prestige product like GTA V, on the other hand, has remained a cultural and commercial touchstone even years after release.
One reason for this lack of "cred" is the lack of diversity in games. Traditionally, the government has never warmed to their import, believing video games to be bourgeois distractions that promote dangerous social values. When the Playstation and Xbox began their marketing campaigns, Beijing slapped a ban on the import and sale of foreign consoles, which lasted 14 years, and was designed to protect children from the physical and mental problems that games were believed to inflict.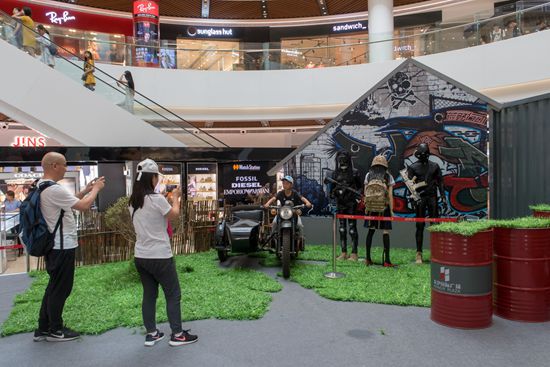 The only consoles that were allowed, other than the huge variety of knock-off versions in electronics markets, were domestic Guangdong producers Xiao Bawang ("Little Tyrant," although their official English name is Subor) produced units like the "Study Machine," which promised parents it wasn't a console but a "tool of education." With the assistance of Jackie Chan in the advertising department, Subor sold millions of its "edutainment" units to parents who probably had no idea their children were merrily cracking the consoles to play forbidden fare like Super Mario or Street Fighter. By 2017, though, consoles still made up only 0.7 percent of the gaming market, compared to around 40 percent in the US and Europe.
Today, consoles are allowed, but the restrictions on content haven't relaxed. If anything, they've worsened: Major overseas titles have been banned for featuring China-based scenarios whose appearance didn't please the authorities (Battlefield 4; Kane and Lynch), by "distorting history and damaging China's sovereignty and territorial integrity" (Hearts of Iron), and "smearing the image of China and the Chinese army" (Project IGI2: Covert Strike; Command and Conquer Generals: Zero Hour Expansion). The adrenaline-pumping plots of a few recent titles—the full-scale invasion of the US (Call of Duty: Modern Warfare), its revisionist takeover by Nazis (Wolfenstein 2: The New Collosus), or the rise of a cop-killing gangster (various GTAs)—have also been deemed wanting in "core socialist values" by the Chinese authorities.
After a puzzlingly vague condemnation that PUBG's winner-takes-all gameplay defied "China's traditional culture and moral principles," some developers tried modifying their content to escape censure, with many re-categorizing their titles as "military exercises" rather than "battle royale." Most cringe-worthily, an overzealous NetEase changed the plot of Operation: Wilderness to make clear that the game was a peacekeeping simulation, then inserted propagandist banners all over the map (even the loading screen urged players to "Strengthen your understanding of your mission, strive for peaceful options! Waiting for other combatants to join the training session").
Then there are geopolitical considerations beyond the accountability of even the most risk-averse dev: Last year, China responded to the installation of a new missile-defence system by South Korea by launching an unofficial boycott on Seoul's soft power, from Lotte Supermarket (which has since thrown in the towel on the mainland) to new games from South Korea, whose pop culture output normally finds a ready audience here.
In China, the industry has responded to these creative strictures much like most Chinese moviemakers—by retreating to the comfort zone of ancient settings and seemingly risk-free fantasy plots. There are, for example, countless games set in the Three Kingdoms period or based on the classic fall-back text Journey to the West. Both settings are far enough in the past not to risk being accused of "historical nihilism," and are safe, familiar, and easy to adapt.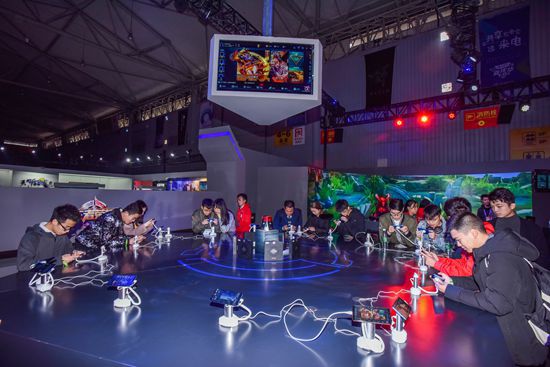 These creative restrictions are bad news not only for the players, but, in a less obvious way, for the government as well. A vast audience of overseas and domestic gamers ends up viewing the country through a hackneyed urban landscape of neon signs, dragon dances, roast duck, and red lanterns (as in the Hong Kong-based Sleeping Dogs). China's lackluster soft power derives no benefit from antiquated images of a chaotic country filled with roving armies, bloodshed, courtly conspiracies, and civil wars, as perpetuated by hit games like Jade Empire and Dynasty Warriors.
Restrictions on the content, distribution, and promotion of console games also mean that, while Tencent has a huge ownership stake in many companies, it is extremely unlikely to ever produce any of its own titles for the console market (and a company like Rockstar, which takes years to craft its titles, and is rare even in the US, could practically never exist in China). Instead, the dominant platform for games and developers in China is mobile, which tends to encourage makers to simply churn out endless variations of the same formula, and see what sticks.
This has led to a market saturated in copycats, with an average of 27 mobile games released every day, and a business ecosystem that strongly discourages innovation and depth. Mobile gaming in China is almost always based on the free-to-play, pay-to-win or "freemium" model, in which one can download the basic game for free, but must pony-up to properly upgrade characters or weapons, or boost one's stats or special powers in order to dominate poorer or more miserly opponents.
To many serious Western gamers, this manner of play is culturally anathema—it's buying one's way to the top, rather than seeking the sense of reward that comes from mastering the gameplay and grinding their way to an "honorable" victory. It's also not likely to encourage developers to invest in creating dense and groundbreaking fare like GTA V, Resident Evil or The Witcher 3: Wild Hunt, which win serious accolades and major money in overseas markets like Japan and the US.
Indeed, several top developers, such as Jenova Chen (who created the award-winning Journey) and Justin Ma (Faster Than Light), have emigrated to the US simply because they were unable to pursue their creative ambitions in China. "In China's game market, it's always money first, fun second," developer Thomas Wong told the gaming site Kokatu.
Lately, though, the ever-tightening controls over games are threatening even the commercially focused domestic developers. Over two days in August, Tencent saw 20 billion USD wiped off its market value after the Ministry of Education released a late-night regulatory notice that sparked a moral panic over the content of video games like Fortnite, their addictive quality, and even their toll on the eyesight of young players. Government officials have described some games as "poison"; others, like PUBG have had to remove key elements without "core socialist values." In August, WeGame had to pull the seemingly innocuous bestseller Monster Hunter: World a week after launch, citing unspecified customer complaints. Amid uproar over content concessions to China, meanwhile, French firm Ubisoft recently reversed a decision to censor Rainbow Six Siege)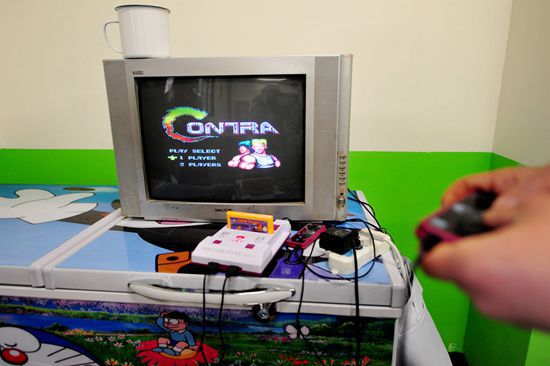 Still, WeGame's losses have spelled gains for its rival, the PC distribution platform Steam. Though sporadically blocked in China, Steam still attracts around 30 million players on the mainland, looking to try overseas titles that are not approved for import, like GTA V, or original versions of games that have been heavily edited before their China release—like PUBG, which sold 15 million copies on Steam in China.
The latter category also includes independent, innovative Chinese-made games that don't stand much chance either with unimaginative publishers or overeager censors. One example is The Scroll of Taiwu, which has become one of Steam's bestsellers, selling over a million copies since its release in September for around 58 RMB apiece (8 USD, by contrast with a major "AAA" title like RDR 2 that retails for around 60 USD). The surprise hit martial-arts simulation took three years to code, and was published specifically on Steam to avoid content restrictions and delays. Its success not only highlights the difficulties caused by state regulators, but the exciting possibilities for indie titles created for the Chinese market, but published and marketed outside that ecosystem.
Not that games have to be particularly controversial or edgy to be successful—other hit titles include Chinese Parents (《中国式家长》), a self-deprecating tribute to the Tiger Mom stereotype that has the player negotiating piano lessons and after-school tutors to raise the perfect virtual  prodigy (male only, at the moment), and Rings of Elysium, another battle royale multiplayer.
Still, it's a tricky area to negotiate, as censors are constantly shutting down or blocking overseas gaming sites that don't even produce particularly controversial content. Amazon's game-streaming service Twitch was growing a substantial user base in China before it was suddenly blocked in September. Meanwhile, Steam users in China cannot access "adult" games which are available elsewhere, and its discussion forums are blocked in China. This is presumably in dread anticipation of the authorized rollout of "Chinese Steam," a completely separate platform which gamers fear will lead to the extinction, in China at least, of the international version.
At the moment, the crackdowns and bureaucratic in-fighting are so severe that production is now at a virtual standstill. In March, it was announced that the State Administration of Press and Publication would take control of the approval process of the gaming industry, along with the Ministry of Culture. Although it was formally created in April, SAPP's gaming arm doesn't have its own website or even a list of public contacts, and has not yet issued any approvals, meaning new releases are effectively cancelled. (Tencent since rolled out new restrictions in November)
In 2017, there were over 9,000 titles released. This year, that number dropped to 1,931. Once the freeze is lifted, which may happen as late as next year, there is expected to be a vast backlog numbering thousands of games. The freeze is likely to hit indie developers particularly hard, with bankruptcies and takeovers feared likely in the next few months.
More pressing in the current climate are the concerns of Strauss Zelnick, CEO of Take-Two Interactive, which owns Rockstar and its output. Recently, in a webcast hosted by Goldman Sachs, Zelnick complained that Chinese companies are allowed to publish their games in the US, and buy American companies that do so, but not the other way round: "We, in order to go to China, have to have half our business owned by a local company" he said over a conference call, calling it a "completely odd and unequal situation."
The irony, though, is that Take-Two is partners with the world's biggest games publisher, Tencent, which has released games like Arena of Valor in the US but is likewise barred from promoting Take-Two's finest produce, like GTA, in China. "We're thrilled to be in business with [Tencent]," added Zelnick, diplomatically. "But we don't have a choice, to be clear."
---
Game Over? is a story from our issue, "Curiosities and Quests." To read the entire issue, become a subscriber and receive the full magazine. Alternatively, you can purchase the digital version from the App Store.
---