Foreigner-only bike refunds, unrattled by Yibin earthquake, money falls from the sky, and a serial wedding cheapskate—it's Viral Week
Viral Week is our weekly round-up of the weekend's trending memes, humor, rumor, gossip, and everything else Chinese netizens are chatting about. Think of it like a sudden, balmy sun streak in winter.
This week, money falls from the sky, there are hongbao big and small, and some Sichuanese refuse to let even an earthquake interrupt their meal. But first…
Foreigners-only refund
Bike-share app ofo has been struggling this winter, and many users have complained about the difficulty of getting their deposit refunded. Last week, Weibo user @zjt93 added fuel to the fire after revealing he got his refund very quickly—by pretending to be a foreigner.
The user, from Jiangsu province, sent ofo an email in English claiming to be a Californian living in China, writing: "Refund me, or I will consider to sue you." To his surprise, he got his refund the next morning, and ofo's support team even sent along an apology, also in English.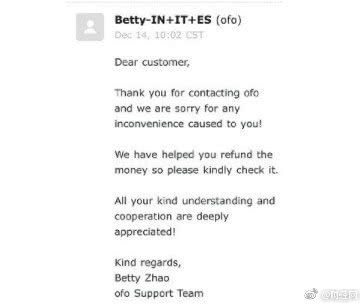 Predictably, netizens were outraged by the company's apparent preferential treatment (foreigners also reportedly get priority when reporting crimes to Chinese police). Reporters from Pear Video say they have contacted two PR representatives from ofo, both of whom claimed to know nothing about the incident.
Feeling philanthropic? 
Hong Kong residents were astounded to find out that money indeed does fall from the sky, at least on Fuk Wa Street in the Sham Shui Po neighborhood over the weekend. "Coin Young Master" (real name Wong Ching-kit), owner of Epoch Cryptocurrency, is believed to be the mastermind behind the stunt, in which Wong, à la Robin Hood, threw HKD 100 bills from the top of a building to be eagerly snatched up by passersby on the ground.
However, police quickly arrived on the scene and dispersed the crowds. AFP reported that Wong was arrested the following day for causing disturbance in a public place, and faces a possible penalty of HKD 5,000 and 12 months in prison.
Also on Saturday, Xu Jiayin, chairman of the Evergrande Group and China's third-richest man, returned to his hometown of Taikang, Henan province, to dine with his 96-year old father, meet old teachers, and inspect the 1 billion RMB's worth of donations he has made to schools and hospitals in the area. Xu also decided to give red envelopes (hongbao) worth 3,000 RMB to each family in the village—higher than the monthly salary for many in the area.
Serial cheapskate
Mr. Yang of Chongqing probably wishes he'd invited someone like Xu Jiayin to his wedding back in May—instead of his friend Mr. Li. As the Chongqing Morning News reports, the two men, along with six other friends, polished off four bottles of Wuliangye baijiu at Yang's pre-wedding dinner, but Li sent Yang a WeChat hongbao containing a paltry 6.66 RMB afterwards, and gave no other cash or gifts at the wedding (despite also staying in a five-star hotel at Yang's expense, and supposedly swiping two packets of brand-name cigarettes from the wedding itself).
Wanting to give his friend the benefit of the doubt, Yang attended Li's own wedding on December 8. There, to his astonishment, Yang discovered other guests who had received 6.66 RMB from Li at their weddings as well. In revenge, the guests elected to give 10 RMB each in hongbao to Li, who appears to have cut off contact with them at the time of writing. Yang wasn't too upset about cutting the tie, though: "This kind of friend belongs in the past," he told the paper.
Unrattled reactions
On Sunday, an earthquake measuring 5.7 on the Richter Scale hit Xingwen county, Yibin, Sichuan. Though the quake was felt as far away as Chongqing, 215 kilometers away, no deaths have been reported at the time of writing, and only 15 people were slightly injured.
While most netizens reported their alarm, some reacted with extraordinary calm. For example, Weibo user @金美嘎桑 recalled that his mother insisted the family finish their meal first, before running downstairs, while a student of Chongqing Technology and Business University told Pear Video that several classmates kept on playing computer games. This calmness has attracted various interpretations:


---