Knickers draw nickers, war film disappears, "OK" gets an employee fired, and students stuck in elevator miss gaokao—it's Viral Week
Viral Week is our weekly round-up of the weekend's trending memes, humor, rumor, gossip, and everything else Chinese netizens are chatting about.
This week, a war film is pulled, an employee is fired for messaging "OK," a knickers ad draws snickers, a broken elevator ruins lives, and various animals offend.
Failure to launch
Six students are seeking compensation from a Shandong hotel, claiming their lives "have been ruined" after they (and one food-delivery man) got stuck in an elevator and missed the English portion of the National College Entrance exams.
War casualty
Chinese war film The Eight Hundred was pulled from Saturday's 22nd Shanghai International Film Festival, supposedly for "technical reasons," but its real offense may have been its "one-sided narrative" of the Kuomintang's role in fighting Japan, according to the Global Times. It's unclear whether the film will still be released in cinemas on July 5 as scheduled.
Snickers over knickers
A silly ad for ThreeGun Underwear, made in collaboration with NetEase Cloud Music, has netizens "knickering" over its 80s look and over-the-top enthusiasm (see full video here).
"OK" not OK
A Changsha bar employee was "asked" to resign after replying to his boss with the "OK" symbol on WeChat, which was deemed "not respectful enough."
Stream of debt
A Heilongjiang man amassed over 320,000 RMB of debt by giving virtual gifts to live streamers, sending his mother to the hospital for shock—where she later died.
Zombie Corp.
A Shanghai biotech company appears to have gaming fans on its board, judging by the similarities between its logo and that of the Umbrella Corporation, the villainous bio-research firm responsible for the zombies in the bestselling Resident Evil series.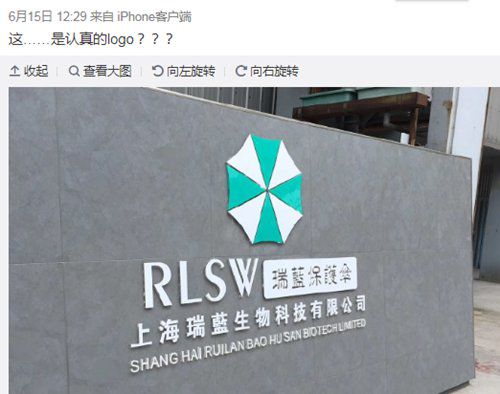 Sham shares
Beijing's internet police shut down a program that could forward Weibo posts in large numbers and fake "likes." The software allegedly helped idol Cai Xukun drive up his internet traffic and made 8 million RMB within six months.
Chickens might fly…
There was no fairy tale ending for a chicken that took a stand against factory farming by taking refuge on the 21st floor of an office building for eight days, before being recaptured by police.
…but pigs won't
An apparent confusion over the meaning of "Chinese pigs," referenced in an inflation analysis on African Swine Flu by UBS, has landed the Swiss bank in yet another controversy.
The outbreak has seen at least 1.2 million pigs culled in China, and last week, a proposed "natural vaccine" by Highsun Group sent the company's stocks soaring, but was rejected by the agricultural ministry.
Panda-ing to the judges 
"A Pu" (阿璞), the winning image of the recent Giant Panda International Image Design, has been mocked by netizens for being a "safe choice, looking dated, and sporting what appears to be a pair of kidneys on its face." Check out its official Weibo account to judge for yourself.
Cover Image from Pixabay
---