Once a blue-collar necessity, public bathhouses struggle to remain relevant in China's cities today
In Hong Kong, Mr. Ning shares a 100-square-meter apartment with his wife, but his digs in Shanghai are far more impressive. In addition to several springs, and one outdoor pool, the ground floor boasts a sauna and steam room, the option of massage, a (rarely used) gym in the basement, and, upstairs, a buffet, two screening rooms, and countless cubicles for "relaxation."
Ning is a regular at New Star, a popular Korean bathhouse chain, whose locations offer the itinerant 50-something businessman a resting place he finds far more welcoming and comfortable than the usual five-star hotel. "I come here every goddamn day, man," he tells TWOC. "This is my second home."
It's not often one finds such enthusiasm for a habit often associated the blue-collar lifestyle of the frozen northeast, or Dongbei. Many of China's best known bathhouses are located on the spring waters of Dongbei, whose bathing culture is regarded as both regionally specific and deeply out of style.
Indoor plumbing and the popularity of higher-end bathing options have rendered bathhouses largely redundant. Those who do frequent them often fear that their lifestyle is under threat from greedy developers, even as upmarket replacements, such as the spa-style bathhouse (洗浴), are thriving.
The debate falls across lines of geography, generation, and even gender (unlike beauty spas, Chinese bathhouse culture tends to be male dominated). Every September, when the new semester begins, northern cities welcome a fresh batch of undergraduates who embody the cliché that "southern students cry in the northern bathhouse." In return, these rookie students, who have apparently never stepped into a mildewed steam room in their lives, rebuke their northern cousins for being backward and lacking respect for privacy.
In truth, these north-south geographical and class divides in modern bath culture are more complicated. Historically, the popularity of the bathhouse had been spurred by urbanization and prosperity, often as an affordable solution to the problem of having thousands of migrants crowded into narrow lodgings without individual bathrooms.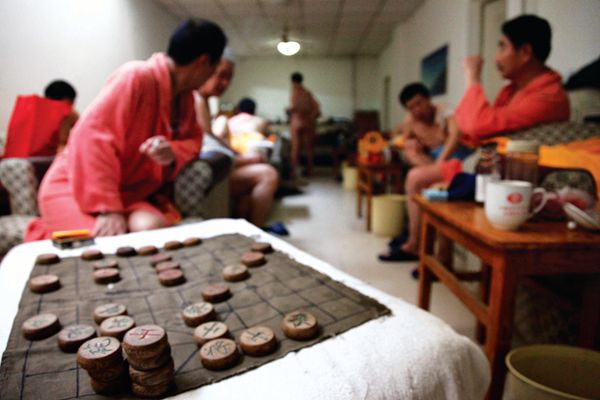 The provinces with the most amount of bathhouses today—Liaoning and Shandong on the northeast coast, Jiangsu and Zhejiang on the southeast coast, and Anhui—reflect this pattern. By comparison, the northwest (as represented by vast, sparsely populated Gansu, Ningxia, and Qinghai) have far fewer communal bathing facilities. Whenever China developed, bathhouses would spring up; once it prospered, they often became a source of pride—or shame.
During the Song, Ming, and Qing dynasties, the coastal area known as Jiangnan, "south of the [Yangtze] river," attracted the vast majority of China's migrants, who were driven to flee their hardscrabble lives in the country, seeking promises of wealth and entertainment in the era's mega-cities. Jiangnan cities such as Hangzhou, Ningbo, and Suzhou represented the peak of culture during this period, with whole lanes dedicated to eating, drinking, singing—and bathing. Hangzhou once boasted 3,000 bathhouses, each capable of accommodating over 1,000 visitors at a time, with some providing gender-separated facilities denoted as "mermaid" and dragon" sections.
What started as a necessity became a fashion, and nowhere perfected it better than Yangzhou, a Jiangsu city close to modern-day Shanghai that remains famous for its soup dumplings, tea, and bathhouses. This is encapsulated in a local riddle: "In the morning, skin wraps water; in the evening, water wraps skin."
During the 11th and 12th centuries, the wealth from Yangzhou's salt trade peaked, and its people acquired a reputation for proficiency in the vocations known as the "three knives" (barber, bathhouse pedicurist, and cook). Yet Yangzhou's economy declined along with the worth of salt in the late Qing dynasty, and its population was forced to take their trade to other parts of the country.
Yangzhou's reputation flourished, once its bathhouse owners and attendants took their culture abroad. It's still common for modern baths in cities like Beijing, Jiujiang, Wuhan, and Shanghai to advertise themselves as "Yangzhou bathhouse," even if it is nothing of the sort. An authentic Yangzhou bath demands that the bather be given green tea to stave off the cold and wrapped in a towel while they soak, then approached with six warm towels by a team of attendants deploying eight specific hand movements (padding, cabling, carrying, rolling, dipping, dropping, twisting, and squeezing) to rapidly dry the skin.
For added authenticity, the bathhouse will employ "potboys" who pour tea, fold clothes, and fetch food from outside, and musicians and storytellers who give traditional performances of pingshu (oral recitations) or Yangzhou opera. Afterwards, the attendant in charge of the wash mashes all the removed dirt into a small ball, which is offered to the guest as a souvenir of their stay.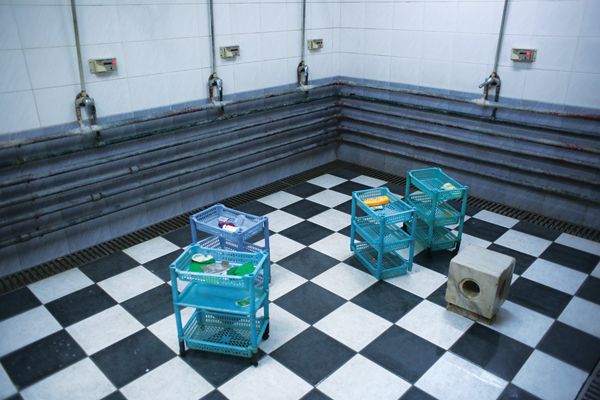 Today, only six of these time-honored establishments survive, but dozens of modern iterations have happily sprung up in their place. They employ over 5,000 "knives," serving 30,000 clients every day, and generating at least half-billion RMB in annual revenue—yet for generations, Yangzhou's most famous attraction was accused of corrupting its inhabitants. Early 20th century literary critic and nationalist Yi Junzuo blamed the city's sluggish post-salt economy on its laidback lifestyle, and criticized locals as being boths "lazy" and superior.
That hasn't stopped other cities from trying to recapture the sybaritic vibes of ancient Yangzhou and its baths. In 2009, the Anhui city of Ma'anshan attempted to shake off its steel-town reputation by proclaiming itself "China's Bathing City," pointing to its 90 registered bathhouses employing 10,000 staff, and generating 100 million RMB in revenue a year.
Instead, the moniker inspired mostly mockery due to the industry's seedier modern associations. While it's perfectly possible to have a chaste soak with friends, bathhouses are commonly associated with prostitution and corruption today. Luxury spas are notorious for their "side services," and even the most basic neighborhood washing house is assumed to have a discreet trade in sex on the side.
It was probably during the heyday of the "low-end" baths that its older gatekeepers suffered the most. In the Mao years, the bourgeois attitude that Yi had railed against fell deeply out of fashion. Yudechi, a notoriously high-end Shanghai establishment with more than 200 staff for six bathing areas, was nationalized in 1956; entrance fees were heavily subsidized, and during the Cultural Revolution, the swanky quarters on the third floor were converted into cheap lodgings.
While purveyors of classical culture were taking a hit, though, a new batch of bathing facilities was being established that would ingrain the idea of the bath as a northern habit. During the 1950s, millions of workers were deployed to 156 sites designated as key locales for spurring China's productivity, a third of which were in Dongbei. These self-sufficient factory towns offered cradle-to-grave services for their dense population of workers, from schools to cinemas, canteens, self- branded foods and essentials, newspapers, and of course, bathhouses.
Under the slogan "production first," life in the Northeast was a far cry from the leisurely Jiangnan of old; yet the bathhouses, for all their dinginess, provided not only an essential service but a rare relief from the daily drudgery. Bathing, even then, was not just a necessity but a pleasure.
"One of the most striking buildings in the town was the bathhouse," a former resident of one Heilongjiang town writes of her childhood on news site The Paper. "Although it had been rebuilt several times, the bathhouse always smelled like unwashed towels and fresh mold. The building's exterior was forever a greenish-yellow color, as though its cement bricks had somehow soaked up the water meant for bathing. Blackened, unrecognizable faces would go in one door and come out clean and fresh from another. It was almost as if the men were being purged."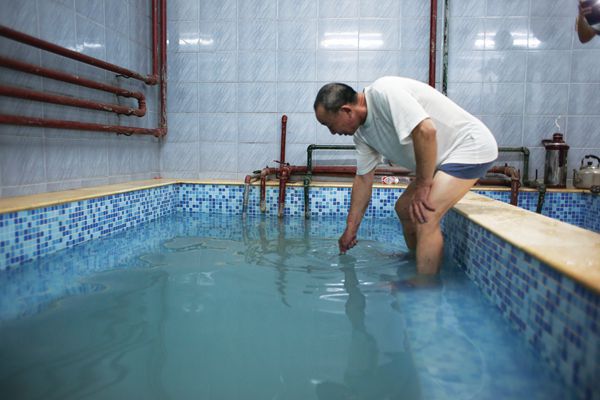 Communal baths were not only a necessity of factories and compounds. In 1983, only 17 of 102 cities in northern China had central heating and even now, it's estimated that only 60 to 70 percent of Dongbei homes have running water. Meanwhile, the re-emergence of migrant laborers in the 1980s replicated the patterns of urbanization and the demand for public washing facilities that occurred in earlier centuries.
However, by 1998, around 62 percent of China's population had access to an indoor boiler capable of running a shower. The growth of private plumbing and indoor heating, combined with changing tastes and habits, have all taken a toll. The notion of the bathhouse as a decrepit institution, serving a geriatric clientele, informs much of the debate about its future today.
Perhaps no work of popular culture illustrates this maudlin view better than the award-winning 1998 film Shower, whose real-life shooting location of Shuangxingtang (or Nanyuan) Public Bathhouse, in Beijing's Fengtai district, reflects the hard reality of what it means to run a popular establishment on the fast track to failure.
Built in 1916, Shuangxingtang is frequently held up as the last remnant of a bygone era, when whole families would celebrate the major festivals in its communal waters. In Shower, the bathhouse is portrayed a microcosm of a time, when people lived in communities rather than housing blocks, and the mayor bathed with his constituents. The bathhouses became a community center for elderly men seeking refuge from modern hassle: the cricket fighters who spend their days peaceably bickering; the impotent husband who fears his violent wife; and the benevolent owner, Master Liu, who diligently maintains the mildewed and steam-soaked haven for a dwindling community of diehard regulars.
These clients do not necessarily come to clean or bathe themselves (the real-life Shuangxingtang's 1,800 square-footage is split roughly between a bathing area and changing room, with wooden beds for napping, chatting, unwinding, or playing chess or cards). Rather, they like to stave off loneliness and old age, and enjoy the camaraderie with a fellowship of like-minded gossips and gamers. It is a world away from the manic pace of commuter life, or even the modern spa. "Taking a bath here is much more luxurious," one character in Shower declares. "There's so much laughter."
The authorities who make the life-and-death decisions regarding today's bathhouses have little time for sentimentality. The real-life Shuangxingtang's owner once applied to the Beijing government for cultural heritage status, citing its 100-year history and the success of Shower, but was apparently ignored (since the slated closure of nearby Nanyuan Airport was announced, the bathhouse's current status is uncertain).
The fate of facilities like Shuangxingtang, though, isn't entirely the fault of GDP-obsessed officials. In Shenyang, another northern city, old-timers who once regularly used communal showers tell TWOC they no longer bother with the "dirty" places that charge only 3 RMB—there are much better establishments a few streets along that only charge 10 RMB. The extra cost is considered to be worth it for these discriminating visitors, and it's telling that many of the traditional locations associated with Dongbei are considered unhygienic and unattractive even to their former patrons.
In their new favored spot, these men still spend all day draped in varying states of torpor, engaged in garrulous exchange, or absorbed in silent contemplation (this moment of transcendent bliss, in which the mind seemingly breaks free from the heat-reddened body to enter its own free-flowing state, is familiar enough to be called yudedako or "boiled octopus" in Japan; fellow adherents are known as "brothers in the skin"). Aside, swathed in steam, employees in shorts and shirts stand by, waiting to give patrons a standard rubdown.
Who will replace this aging base? And what to make, for example, of the Sichuanese bathhouse, forced to close in 2002 following accusations that its naked patrons were "disrespecting social ethics and morality?" In a sense, the bathhouse is as fluid and resilient as water. Once condemned as a bourgeois irrelevance, Yangzhou and its bathhouse business are now strident; in other regions, the culture is barely in infancy.
When Beijing-based Bao Architects established the Split Bathhouse in the arid village of Shanmen, Gansu, in 2010, it was because the villagers "are not used to bathing," as its founder told design site Co.Design. "The village doesn't have running water so they use wells, which sometimes can be a bit far away." Residents had been using the same water for bathing as for cooking, and washing was simply an occasional necessity. Bao's solar-powered bathhouse, which blended local resources with modern architecture and design, was acclaimed for providing environment-friendly solutions to a host of rural issues—and one unexpected perk was the positive impact on Shanmen's social life.
The building quickly became a locus for communal pride and joy. "[That] the villagers would care and cherish their equipment meant that they would do anything to sustain it and manage it well," the architect explained. "From outside of the building, the sound you would hear the most is laughter." In Shanmen, and potentially thousands of villages like it, the value of the bathhouse extends beyond just nostalgia or tradition; it represents a future in which the cycle of the Chinese bathhouse, far from being in decline, may be starting anew.
---
Washed Up: Can Public Bathhouses Survive in Today's Cities? is a story from our issue, "China Chic." To read the entire issue, become a subscriber and receive the full magazine. Alternatively, you can purchase the digital version from the App Store.
---