Join TWOC for a conversation on the life-changing college entrance exam right after the Cultural Revolution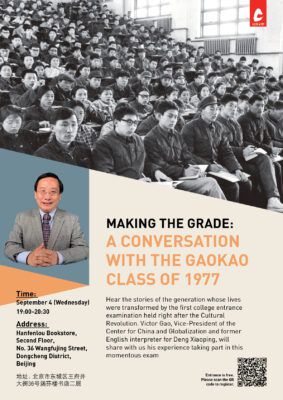 "In August 1977, came astonishing news: a Symposium on Science and Education, presided over by vice premier Deng Xiaoping, had agreed to resume the gaokao."
-Sun Jiahui, "Class of 1977"
China's college entrance examination (gaokao), introduced in 1952, is a well-known summer ritual. But in June 1966, when the Cultural Revolution began, the People's Daily declared the gaokao should be "thrown onto the scrap heap" along with other "feudal" and "elitist" practices. When exams resumed in the winter of 1977, 10 years' worth of college hopefuls, from young teens to "sent-down youths" in their late 30s, competed in the toughest gaokao in Chinese history—only 5 percent, or around 273,000 examinees, were able to pass.
Join us for an enlightening conversation about the generation whose lives were transformed by the historic gaokao of 1977, featured in our issue "Wild Rides." Victor Gao, Vice-President of the Center for China and Globalization and former English interpreter for Deng Xiaoping, will share his personal experience as a member of the "Class of '77" and his opinions on how the gaokao has shaped modern China.
Entrance is free. Please scan the QR code in image or click here to RSVP.
Time: September 4 (Wednesday) 19:00-20:30
Address: Hanfenlou Bookstore, Second Floor, No. 36 Wangfujing Street, Dongcheng District, Beijing
地址:商务印书馆涵芬楼书店二层 北京市东城区王府井大街36号
About the speaker:
Victor Gao is the Chairman of China Energy Security Institute; Vice President of the Center for China and Globalization; Vice Chairman of China Beidou Industrial Promotion Organization; and a member of many professional organizations of the Board of Directors of several listed companies in Hong Kong.
He has extensive experience in government, diplomacy, securities regulation, legal, investment banking, PE, corporate management and media. Victor was Deng Xiaoping's English interpreter in the 1980s.  Later, he served as the China Policy Advisor at the Hong Kong Securities and Futures Commission in 1999 and 2000.  Victor's prior investment banking experience included senior positions with Morgan Stanley, CICC, and Daiwa Securities. Over the years, Victor Gao worked on many major M&A, IPO, CB, Bond Issues and other corporate advisory assignments with a combined value in excess of 100 billion USD, including in TMT, oil and gas, automobile, banking, insurance, building materials, consumer goods, aviation, satellite communications, and new and renewable energy.
Victor holds a J.D. from Yale Law School, a M.A. in International Relations from the Political Science Department of Yale Graduate School, an M.A. in English from Beijing University of Foreign Studies, and a B.A. in English from Suzhou University. He is a licensed attorney-at-law in the State of New York. Since 2004, Victor has been the Chairman of the Yale Law School Association of China.
---