A Catholic mountain wedding prompts an unexpected road trip through Sichuan and Yunnan
Panzhihua cannot be found on maps older than 1965. The southern Sichuan mining hub was developed in a rush to exploit massive deposits of iron ore, titanium, vanadium, and cobalt. Despite being the only city in China named after a flower (the red kapok blossom, which Mao Zedong allegedly saw on a visit to the area), it rarely makes it into travelers' itineraries.
A friend's wedding changed that for me, but first there was the question of getting there. Having missed my 6 a.m. flight to Panzhihua from Beijing, I discovered that the next flight to the city of 1.2 million was two days away—a day after the wedding. Instead, I booked a flight to Kunming, the capital of neighboring Yunnan province, where a distant relative of the groom, "Brother White Lake," had agreed to pick me up for the drive across the provincial border.
The GPS said the drive would take close to six hours, but Brother White Lake insisted that it would be no more than three and a half, and that Baidu Maps knew nothing about the countryside. As we sped along the nearly empty highways of Yunnan, one of the least populated provinces of China, I watched the sun set over the nearby mountains, the thrill of unknown adventure heightening my senses.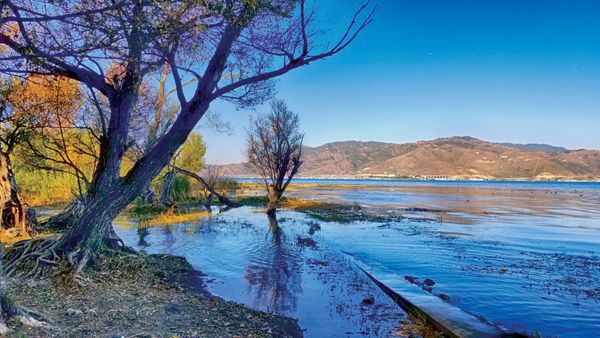 By the time we arrived in Panzhihua, night had already fallen, and we took refuge at a hot pot restaurant with the bride and groom, Angie and River, who now make the city their home. If Panzhihua's resources have been a blessing to the region, cracks have started to show: Not only does the area now face environmental challenges, managing its mineral wealth involves an undertow of violence and corruption. In 2017, the head of Panzhihua's Land and Resources Bureau walked into a government meeting and opened fire, injuring the mayor and local party secretary before turning the gun on himself.
We would not remain in Panzhihua for long, though. By 7 the following morning, Angie was at her childhood home, getting dressed for the ceremony an hour and half away in River's hometown in Dechang county. The peace was suddenly interrupted by insistent knocking and shouting. River stood outside with a group of male friends in suits. "Let me in to see my bride!" River shouted at the top of his lungs. Angie's family members congregated at the windows. "No, we won't let you in!" they shouted back, laughing.
The groom proceeded to throw red envelopes, stuffed with money, through the window bars as family members scrambled to grab them. "It's not enough!" her family cried. This mock violence went back and forth a couple more times, and escalated—until River and his groomsmen broke down the door and rushed into the house, elatedly throwing red packets at everyone they saw.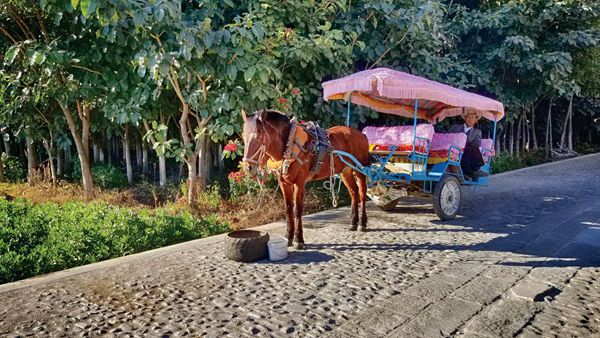 Although Dechang's population is mostly Han Chinese, it is located inside the Liangshan Yi Autonomous Prefecture, where the Yi minority makes up nearly 2 million of the area's 4.5 million inhabitants. Many live in notoriously dangerous mountain areas. In 2016, the "cliff village" of Atule'er in Zhaojue county achieved infamy after photos of children climbing down 50-meter vertical vine ladders to go to school were posted online.
Dechang, by contrast, was a tamer cluster of buildings on a flat plateau alongside a small waterway, surrounded by rolling mountains full of fields. Walking and electric bikes are clearly the most efficient means of transportation inside the county's perilously thin dirt roads with sudden hairpin turns. The processional cars had to move slowly until we reached a small white building that stood at the center of the cluster: a Catholic church.
As soon as the cars started arriving, villagers in the church's courtyard set off welcome firecrackers, filling the air with dense gray smoke. Bright red lanterns and balloons decorated the church's façade, and colorful balloons and paper cuts hung from the ceiling, contrasting sharply with the white statue of the Virgin Mary over the entrance. Over the din, Mendelssohn's "A Midsummer Night's Dream" blasted triumphantly on the church's sound system.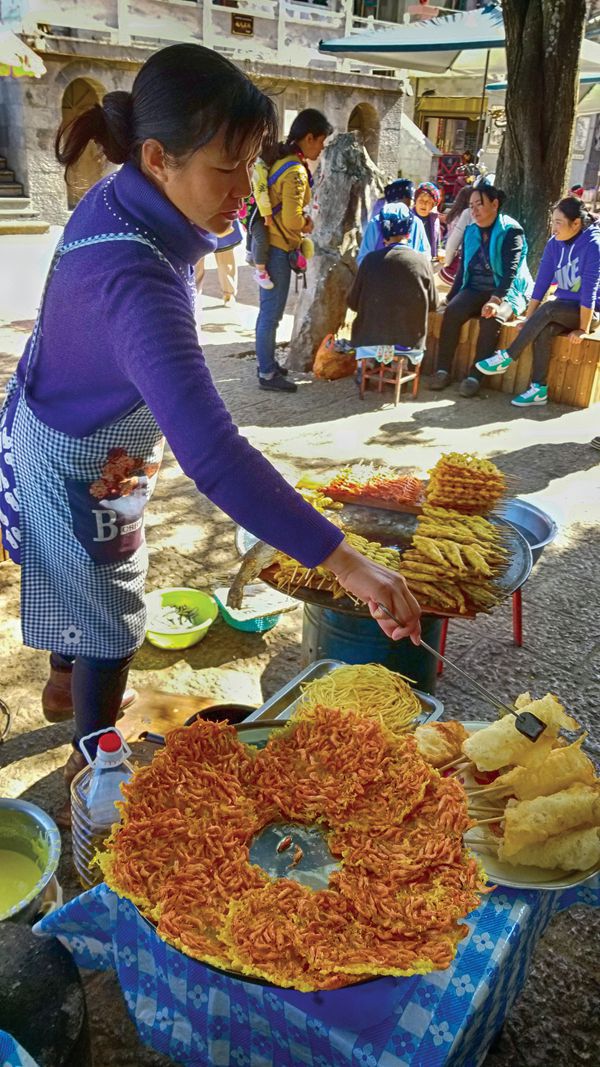 The ceremony, conducted by a local Catholic priest, was the first-ever wedding inside the church. Most locals, though, seem to more comfortable in the church's open-air activity hall, which is where we headed afterwards for the banquet. Throngs of people not invited to the ceremony were waiting outside.  "River's father is very popular here and there just is not enough space inside for all the guests," Angie explained. "These people are banqueting in waves. As soon as they've eaten their fill, they will leave to allow space for others."
Behind the hall, local women were still cooking in buckets and barrels over makeshift stoves to accommodate the crowds. I learned that each dish on the table had been prepared by a different family to celebrate the newlyweds. "We purchased the ingredients, but we don't have to pay for any catering," Angie noted. "Try this! All of these greens came from the garden of my husband's grandmother. For the last few days, she has been harvesting non-stop to prepare for the banquet."
Dechang has yet to transition from an agricultural community, and has no industry to speak of. Wanting to show off more of the area, River called up an old neighbor, who picked us up in his four-wheel drive after the wedding and headed straight up one of Dechang's verdant slopes. "We recently discovered that the altitude of our Dechang mountains and our soil composition mean that we are a prime location for avocado trees," the neighbor explained.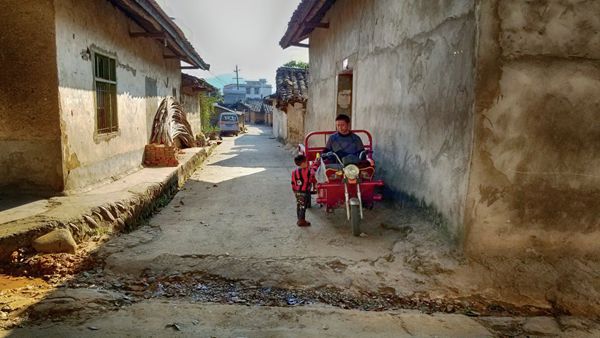 He pointed down to hundreds of saplings, young avocado trees that only went up to my knees. "Within three years, these trees should produce avocados of their own. When they do, it will be a big boost for us. We will probably end up specializing in avocados and tearing down all of these other crops. And then tourists will come visit Dechang to see China's avocado capital!"
Asked if he liked avocados, he made a face: "I hear that people in big cities eat them a lot and are willing to pay for them." As I thought about how foreign avocados must taste to Sichuan's spicy and numbing cuisine, River's neighbor unexpectedly grabbed a machete and started cutting down sugarcane stalks, passing me and the newlyweds a piece each. Our attention was drawn away from the budding South American imports by the difficult and messy task of eating this favorite rural childhood treat: tearing off the meat with our teeth, chewing for the flavor, and spitting it back out.
Over the next day, the city-slickers, including the bride and groom, were growing restless from country life: There was nothing to do but play table games, lavish attention on babies, take walks, eat barbecue, and drink beer. When Angie and River suggested a mini-honeymoon to Dali with their closest friends, I quickly jumped on the chance.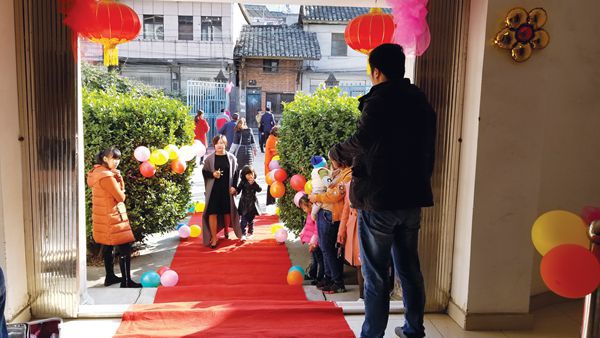 We decided to take a road trip to Dali in Yunnan province, which one well-intentioned villager told us would take only four hours. It turned out to be nearly twice as long, perhaps because we were traveling on a winding, two-lane mountain roads shared with massive, slow-moving farm equipment, and had to take short cuts on unpaved paths.
Having one Yunnan-Sichuan border crossing under my belt, I was a bit taken aback when the car came to a grinding halt at a checkpoint and men with machine guns and police dogs inspected the car, asked to see everyone's identification, and interrogated us about our travels. "This border crossing is very dangerous because there are lots of traffickers that are transporting drugs from Southeast Asia," River interjected. Known as a hotspot for opium production, the infamous "Golden Triangle" of Laos, Myanmar, and Thailand is estimated by authorities to account for nearly 90 percent of heroin and methamphetamine seized in China.
A city of about 600,000 residents within the Dali Bai Autonomous Prefecture, Dali is split into Dali Town and Xiaguan. To preserve the ancient town with its unique Bai architecture, the government seat and most of the modern infrastructure are located a 30-minute drive south on Lake Erhai ("Ear Sea"), which is said to be in the shape of Buddha's ear. Today, much of the city's economy is driven by tourism in Dali Town, which used to be the capital of ethnic Bai kingdoms of Nanzhao and Dali from the 10th to 13th century.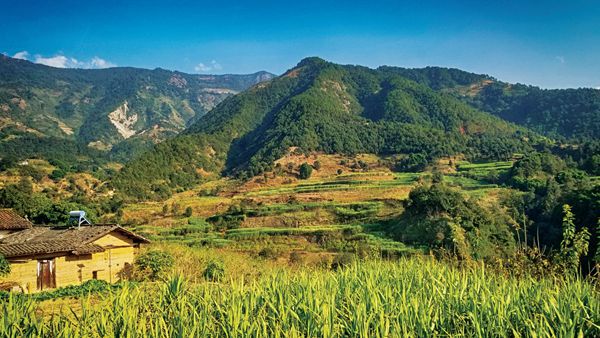 There, we enjoyed long rides along the shore on rented electric bikes, eventually finding ourselves in Shuanglang town and the tranquil Yuji Island. With cobblestone streets and stone dwellings, Yuji is reminiscent of a medieval village, except for the plethora of boutiques and outdoor cafes. The island is only accessible by foot, and its crannies are filled with mouth-watering street food and quaint temples.
One of the biggest draws to Yuji Island is the Qianlizoudanqi Yang Liping Art Hotel, named for one of Dali's most famous progeny, dancer Yang Liping. After gaining worldwide fame for her peacock dance, Yang has returned to her home province, opening up a dance studio in Kunming focusing exclusively on preserving the musical traditions of Yunnan's ethnic minorities.  "I remember when I was young, we went into the water of the lake," Yang told China Daily. "Fish would swim between our legs—humanity and nature was in harmony."
Drawn by its isolated nature, open culture, and fresh air, young people have flocked to Dali to seek a haven from Chinese cities' never-ending modernization over the last two decades. However, increased tourism to the area threatens the survival of this counter-culture, while over-development along Erhai Lake prompted government officials to shut down shore-side guesthouses in the name of environmental protection in 2017. The artistic haven of ethnic traditions and modern musicians now faces an uncertain future.
On our last night, we hopped between bars and restaurants on Dali Old Town's Renmin Road, whose eclectic cast of hipsters and musicians happily perform their avant-garde music for tourists and locals. Pondering a trip I never thought I would take, I was reminded of how unexpected detours and encounters can make even the most ordinary locales come alive with knowledge and adventure.
---
Country Driving is a story from our issue, "China Chic." To read the entire issue, become a subscriber and receive the full magazine. Alternatively, you can purchase the digital version from the App Store.
---