Bamboo rat farmers left in the lurch as China turns its back on 'wild' meat products
The lunar Year of the Rat is off to an auspicious start for China's "internet famous" bamboo rats, which have been taken off the nation's menus by a new regulation against wildlife trade and bushmeat consumption—though the news is less welcome to rural wildlife farmers who depend on the furry rodents for their income.
According to a "comprehensive" ban passed by the Standing Committee of the National People's Congress on February 24, the large rodents, which are indigenous to central and southern China, can no longer be traded or consumed, along with other animals like peacocks, civet cats, and pangolins. 
The ban comes as part of China's measures to stop the spread of infectious disease by limiting human contact with wild animals; bamboo rats are one of the potential "missing link" carriers for 2019's novel coronavirus proposed by a National Health Commission panel led by respiratory expert Zhong Nanshan. A similar ban was put in place 17 years ago during the SARS epidemic, when the civet cat was believed to have acted as an intermediate host for the virus, which originated from bats.
Though there are records of Chinese eating bamboo rats as food and medicine in ancient history—Ming dynasty physician and naturalist Li Shizhen (1518-1593) described the rats as tasting "sweet, smooth, and non-toxic" in his Compendium of Materia Medica—recent consumption of the animal is directly linked to China's modern economic development: The consumption of beef alone rose by almost 40 percent between 2000 and 2015.
However, China's livestock industry is facing increasing pressure from disease, rising costs, and environmental regulations. As of January 2020, African Swine Fever had killed off 40 percent of pigs in China, which consumes the largest amount of pork per capita in the world, and doubled the price of pork in some regions.
Until the recent ban, bamboo rats were considered one solution to the pork shortage due to their rapid reproduction rate, fast growth, and cheap husbandry. Bamboo rats produce at least three litters per year, and newborns can grow from 10 grams to two kilograms in just six months. They take up less space to farm than traditional livestock like cows and pigs, don't require much physical mobility on the part of the farmers (many of whom are elderly), and are cheap to feed in rural areas abundant in wild bamboo, their preferred food along with tapioca and sugarcane. 
Some experts have even suggested bamboo rats may be one way to alleviate global hunger. Until the coronavirus outbreak, rural wildlife breeding was also encouraged by China's government as a solution to rural economic development and poverty alleviation.
Just weeks prior to the COVID-19 outbreak, the State Forestry and Grassland Administration (SFGA) was actively encouraging rural citizens to start breeding and farming wild animals like civet cats and bamboo rats; the latter is a common farm pest in many regions of China. In doing so, they've found unexpected grassroots allies in a pair of social media personalities known as the Huanong Brothers, who've capitalized on their rags-to-riches rat-farming story and the rodents' cute furry faces in a series of viral videos.
Hailing from mountainous Ganzhou, Jiangxi province, the "Brothers" are actually two friends named Liu Suliang and Hu Yueqing, who failed at traditional livestock farming before turning to bamboo rats. The Brothers' videos depict them making a dramatized selection of a rat for the dinner table—by saying the rat suffered "heat stroke," or accusing it of fighting with other rats—before quickly killing it offscreen, after which the rat is roasted and eaten.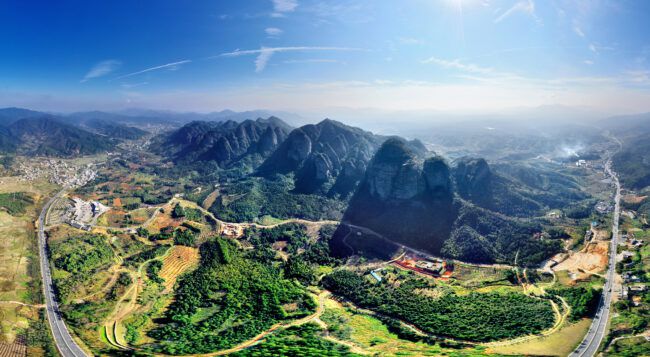 In an interview with a local TV station, Liu said they aimed to transform rat meat into a popular culinary choice through their videos. Others have also advocated for a larger menu selection of bamboo rat, including Wang Gang, a Sichuan internet celebrity chef who is famous for cooking rare and exotic animals. The Brothers' channel on video-streaming platform Bilibili has gained 660 million views and 5.2 million subscribers at the time of writing, and they sold around 1,000 rats each year until recently.
In June 2019, a program on state-broadcaster CCTV featured other farmers who made up to 10 million RMB per year (1.4 million USD) breeding rats. As a whole, the wildlife trade in China—including animals used for fur or traditional medicine—is worth 520 million RMB as of 2016, according to the Chinese Academy of Engineering.
Since the virus outbreak, though, the Guardian reports more than 19,000 captive wildlife breeding facilities have been closed down, leaving many rural bushmeat farmers without their primary source of income. "Just as I'm starting to make money, I may have to return to poverty, or become even poorer," Nong Zhenfei, a farmer from the Guangxi Zhuang Autonomous Region who started a rat-breeding center with local government support in 2019, complained to Jiemian News.
Balancing the interests of rural farmers, animals, and public health has reignited a debate between "protection" and "reasonable use" of wild animals, two terms first defined by China's Wildlife Protection Law in 2003 following the SARS crisis. Although most policymakers agree that wild and endangered, animals should be protected from hunting and human consumption, commercial breeding of wild animals like bamboo rats is still in a gray zone because the term "wildlife" is not well-defined in law. 
While legislators contemplate the terms of a full ban on bushmeat and wildlife trade, Wu Yu, a blogger for Elephant magazine, cautions that such a ban could harm the "legitimate interests of farmers." In an interview with China Dialogue, he said, "It's hard to prove that these herbivores, raised in captivity, are more dangerous than poultry and pigs, which have already given rise to bird flu and swine flu."  
However, even if farmed bamboo rats are safe to eat, Zhou Haixiang, a member of the Chinese National Committee for UNESCO's Man and the Biosphere Program, told China Dialogue that there's no way to prove where animals on the market originally came from. Species that are captured directly from the wild may be sold alongside domesticated varieties at the wet markets, and most wild animal meat in China is sold without undergoing mandatory food and health checks, an animal protection expert told the Guardian.
At the moment, as China goes all out to contain the coronavirus, the momentum is behind a strict crackdown on wildlife trade to prevent another viral outbreak in the future. Where legislators will draw the line, though, remains to be seen—as will their appetite for enforcing these regulations in the future.
All images from VCG
---