In a northern Thailand community founded by ex-Yunnan mercenaries, Chinese language schools attract rural youth and preserve an unusual heritage
Two years ago, when Liu Zhikai arrived to work as a principal's assistant at the Guanghua Chinese Language School (莱掌光华中文学校) in the mountainous north of Thailand, he found that he was expected to be the principal instead.
Surprised but not deterred, the recent graduate from Taipei stepped up to the challenge. "What else could I do?" he says with a smile.
Today, Liu oversees four teachers—two Taiwanese, two local Thai citizens—teaching Chinese to 108 elementary students from Lisu and Han ethnic groups in the lush hilltop community of Doi Chaang, most of whose families trace their ancestry to Yunnan province.
Among the villages that dot the sloping coffee and tea fields of Thailand's three northern provinces, there are 96 Chinese schools like Liu's, with more than 19,000 students and 760 faculty and staff, according to Chinese media reports.
The birth of these schools was as unlikely as their subsistence continues to be difficult, Liu explains to TWOC in the courtyard, while teachers hang laundry under the tropical sun. Yet Chinese language schools occupy a unique space at the confluence of the region's cultural history and shifting economic future.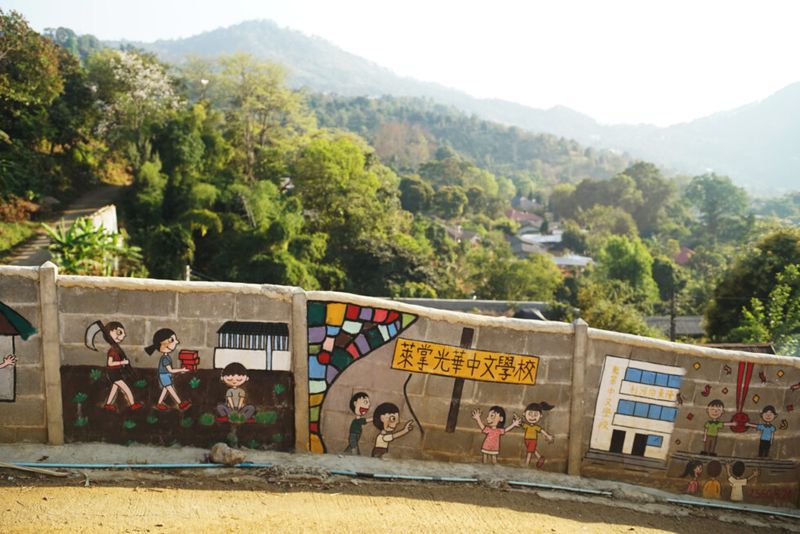 The wandering army
The forefathers of a number of Liu's students belonged to a group known as "China's wandering orphans," members of the Yunnan Anti-Communist National Salvation Army stranded in Southeast Asia after the Kuomintang's defeat in China's civil war in 1949.
Fleeing south across the border to Myanmar, and then chased by the Myanmar army to Thailand in 1960, the Yunnan battalions' saga is memorialized in Taiwanese writer Bo Yang's 1961 novel A Home Too Far 《异域》, adapted into a 1990 film of the same name starring Andy Lau.
Around 1,000 Yunnanese finally settled in northern Thailand to cultivate fields and try their hand in the lucrative Golden Triangle opium trade. Rather than chase them away, King Bhumibol of Thailand contracted the Yunnanese militia to help combat Thailand's own communist insurgents in the 1960s and 70s. After the communists were suppressed in 1982, the Yunnanese community brokered a deal with the government in which they put down their weapons in exchange for Thai citizenship.
While Thailand eventually allowed the Yunnanese to stay, their treatment wasn't always hospitable. When nationalist tides caused the Thai government to ban Chinese education in the 1950s, Chinese language schools in northern Thailand were forced underground. Yang Yuanhui, chairman of the Yunnan Chamber of Commerce in Thailand, told a reporter from Cankao Xiaoxi that when he was a child, he and his classmates secretly recited classical Chinese in bullpens and stables.
Swept by the flighty winds of history to these remote hilltops, many Yunnanese ex-soldiers, no longer young, sought a quiet life tending to their fields and family businesses. Their children took Thai names and assimilated into Thai society, even as some continued to line their homes with red banners and swept Chinese graves and shrines. By turn of the century, after two generations of intermarriage, few still spoke Chinese at home.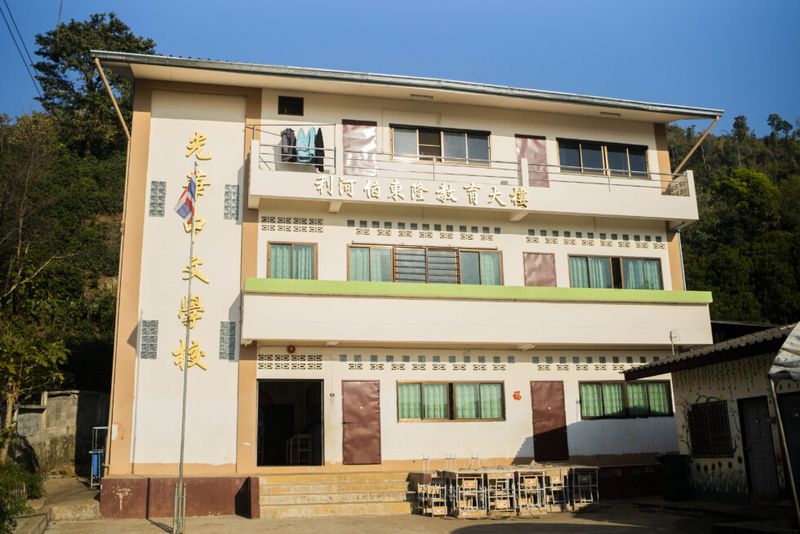 Mud floors to cement
Two generations later, as Chinese has become a major regional trade language, and Belt and Road projects extend rapidly into Southeast Asia, Chinese language education has resurged in popularity.
Yet without government support, and unable to charge expensive tuition for their rural students, a growing number of Chinese language schools survive through generous private benefactors with ties to the region, from Taiwanese churches to Yunnanese-Thai tea merchants, and rely on volunteers for staff.
When the Taiwanese Baptist Church arrived in Doi Chaang in 2013, they discovered a small elementary school about to go bankrupt. They signed a 10-year land lease with the village, and found a retired Taiwanese teacher to be the first school principal.
Every winter and summer, the church recruited Taiwanese student volunteers to teach at and renovate the school. In 2014, the dirt floors that turned into mud during the rainy season were replaced with cement. The leaky ceiling was fixed, and the school was connected to the power grid.
When Liu arrived, the first thing he did was recruit local teachers who could assist with teaching introductory Chinese, and form a permanent teaching staff, instead of relying on Taiwanese teachers who had to leave every three months due to visa requirements.
One of the school's Thai teachers, herself a graduate of a Chinese language school in Chiang Rai province, is determined to open the same opportunity to others as long as the school can survive.
"I came here because God calls me, and I will stay until God gives me a sign," she tells TWOC.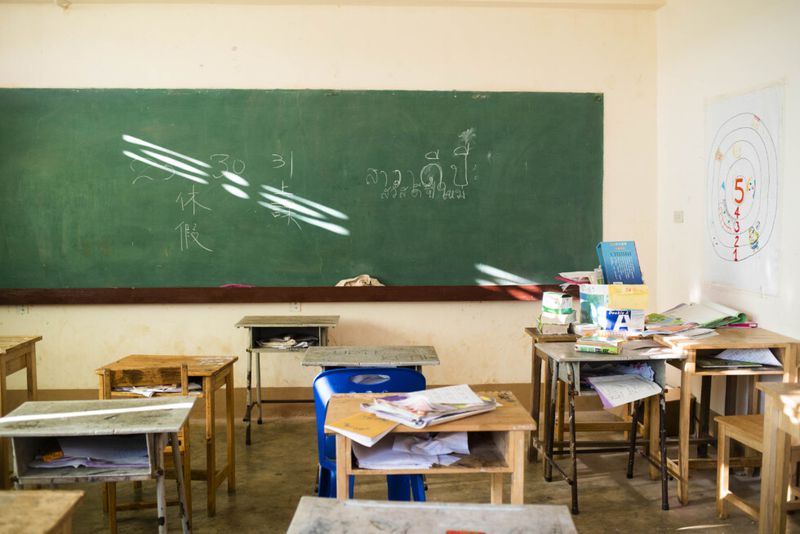 Global dreams
Doi Chaang resident Old Zhang, whose father walked over the hills from Myanmar decades ago, drinks homemade whisky with Lisu friends as he explains in Yunnan-accented Chinese that Doi Chaang is home. However, he made sure that his daughter attended both Thai and Chinese schools "to carry on our cultural tradition."
Yet the cultural exchange goes both ways. As the school's non-Han students now outnumber those with Han ancestry, one of Principal Liu's initiatives is to incorporate Doi Chaang's cultural diversity into the curriculum.
"The [Lisu] children here are losing their culture, too," he explains, as young people head to the city for work, leaving behind children and the elderly, much like China's rural villages. One lesson Liu hopes to implement is introducing not only oneself, but one's cultural background and traditions in the Chinese language.
Yet the same lessons lead to opportunities that take students far from home. Zhang's daughter, having completed her studies in Chinese, is now a student at Tianjin Normal University. After she graduates, Zhang hopes she will find a job in China, or use her increasingly marketable Chinese language abilities to find employment in Bangkok or Chiang Mai.
A Lisu high schooler nicknamed "Gao," who returned to her village to celebrate Lisu New Year, is packing her bags to return to a Chinese senior high school a few dozen kilometers away, where she boards. Many Chinese language schools in the area, known for their quality of education in addition to language study, draw pupils from up to 40 kilometers away.
"I'm looking forward to going back to school," says Gao, throwing her luggage into her family's crop-transporting truck as her phone blares Chinese and Thai pop songs from the front seat. "If my Chinese is good enough, maybe I can become a flight attendant," she muses, explaining that Thai airlines have a growing preference for Mandarin speakers—banking that her lessons may literally lead to new horizons.
---