In a Chinese neighborhood swallowed by an urbanizing Bangkok, even the dead have a hard time finding a home
Gravekeeper Aon guesses the ghosts left when the offices and condominiums came to Silom Road.
Uncle Aon, who grew up in a green lodge in the Hakka cemetery grounds, recalls a childhood peppered with tales of supernatural encounters: A rickshaw driver who picked up a passenger at the cemetery, drove halfway down the alley, and turned around to an empty seat. "You don't hear stuff like that anymore," he says. "The ghosts have probably been scared off by all the lights."
The sprawling patchwork of Hakka, Hokkien, and Peranakan Chinese cemeteries built on the southern outskirts of Bangkok used to be known as the Alley of Graves. Today, rechristened Silom Alley 9, the hallowed grounds are gradually being swallowed up by the fast-developing commercial heart of Bangkok.
Twenty years ago, with the construction of the city's Skytrain to nearby Chong Nonsi station, the government converted one rai (1,600 square meters) of the Hakka cemetery's land to lay the tracks, shrinking it from about 400 to 200 graves. The Hakka Association, which administers the graveyard, helped families relocate their tombs to another cemetery in the outlying provinces, an hour's drive out of the city.
The spike in the neighborhood's real estate values, though, was irreversible. Once connected to the city's ultra-modern mass transit system, the hallmarks of modern convenience and lifestyle followed seamlessly. Silom Road now sports a 7-11 on every corner, a café-bar selling chia seed milkshakes, and even a Crossfit gym. "Before the Skytrain was built here, the price of land was 800,000 baht per wa [four square meters]," Uncle Aon estimates. "Now, it's over 3 million."
At the eastern edge of the cemetery, 77 floors of glass and steel soar above stones carved with the ancestral towns of the deceased. Unveiled in 2016, the King Power MahaNakhon Tower contains hotels, offices, and 200 units of Ritz-Carlton Residences priced up to 17 million USD per unit.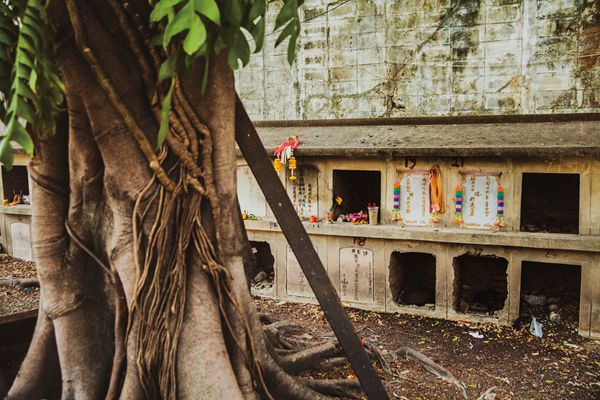 The Alley of Graves hosted active cemeteries until 1961, the year the Bangkok Metropolitan Authority banned burials within city limits. Now, completely encircled by buildings, Silom's cemeteries see most of their traffic bound for the makeshift parking spaces near the gates. Uncle Aon wears a fanny pack to collect parking fees, maintaining a list of license plate numbers on a whiteboard; one of the overgrown tombs fronting a car bumper is dated "Year Five of the Republic of China," or 1916.
These cemeteries accommodated a boom in Chinese migration to Thailand, then known as the Kingdom of Siam, in the 19th and 20th centuries. Driven to the southern seas by waves of famine and political turmoil, the desperate and adventurous traveled for seven days and seven nights by steamship to seek a new life. Conditions onboard were sometimes critical, with 4,000 crammed onto a ship meant for 1,000. The Chinese population in Siam jumped from 230,000 to 792,000 between 1825 and 1910.
Siam was considerably more welcoming to migrants than colonial Malaya and Indonesia, whose segregationist policies for the Chinese created a sharp sense of "otherness" that persists to this day. Siam's Chinese enjoyed freedom of movement throughout the kingdom, and intermarried with locals at all social levels, from wage workers to royalty. Today, some estimates claim that 40 percent of Thai nationals have some Chinese blood.
Early Chinese migrants retained strong regional identities. The Hakka, Hokkien, Peranakan, Hailam, and Cantonese opened their own hometown associations, newspapers, and schools. However, in 1938, a right-wing government renamed Siam as Thailand, the "Land of Thais," and passed policies to homogenize national identity. Newspapers were shuttered, school curriculums modified, and non-Thai cultural activities restricted. Chinese surnames were embedded into Thai ones—Tang became Sritangwatanakul, Lim became Limthongkul.
Despite lingering suspicions over their loyalties, many Thai-Chinese rose to political and economic power. In the Hakka cemetery, Uncle Aon points out interred members of well-known Chinese-Thai families who founded Bangkok Bank, the IT company Yip In Tsoi, and the handcrafted leather producer Sri Bhan Jacob.
The irony is that many assimilated so well into Thai society that their grandchildren, great-grandchildren, and great-great-grandchildren no longer feel that they are Chinese at all. Many third, fourth, and fifth-generation descendants of immigrants are visibly and linguistically indistinguishable from their Thai peers, and feel no pressure to perpetuate Chinese traditions except at the behest of their families.
Sulak Sivaraksa, a Thai social critic, has written: "Siam is the only country where a Chinese can become king. It is also the only country where he loses his identity."
***
It's the morning of the Qingming Festival, or Tomb-Sweeping Day.
The majority of those coming to pay respects at Silom Road these days are in their 60s and 70s, the grandchildren or great-grandchildren of the entombed. As the last generations to hold living memories of the dead passed away, visitors have been dwindling for decades.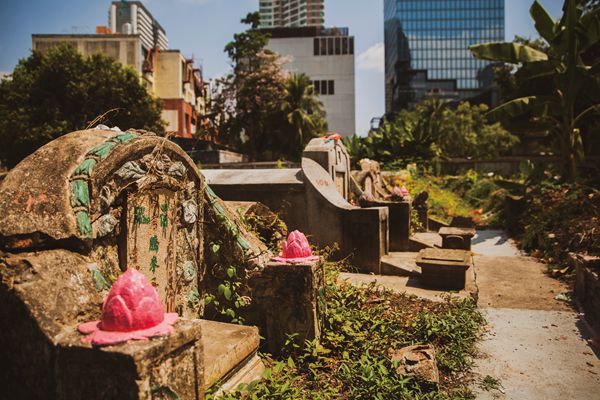 "Back in the day, the cemetery would be so crowded for Qingming," recalls Uncle Aon, "I sold refreshments, and went through 80 cases of drinks in one day."
"People used to come at 4 or 5 in the morning to pay respects, because you're not supposed to come past noon. But now everything is haphazard. The earliest come at 8 in the morning, and some come in the evening, even though you're not supposed to."
Uncle Aon sighs. "This year, there were over 100 urns that nobody at all paid respects to."
I run my fingers over stones where red paint has faded back into a blank slate, and wonder if the dead who are forgotten die twice.
***
One of Pornchai Sereemongkonpol's earliest and happiest memories was decorating his grandparents' tombs with glitter and ribbons for Qingming.
A third-generation Thai of Teochew descent, Pornchai spent some of his childhood living in a shop-house on Charoenkrung Road, where his grandfather ran the family plastic business. The house, Pornchai joked, was "extra haunted." In addition to a Buddhist shrine, the family had two red altars to Chinese deities. "I guess my mother was very busy, since she did both Buddhist and Chinese holidays," he laughs.
For Chinese holidays, Pornchai's mother would set an elaborate meal on the table with their best utensils. "She told me the empty chairs were for my grandparents, and it was like, okay." After a while, the untouched dishes for the ancestors went back into the refrigerator, then back onto the table at dinner for the family to eat. "It was kind of weird," Pornchai chuckles.
Now in his 30s, Pornchai still sweeps his grandparents' graves every year with his family. To prepare, he visits old Chinese shops and laughs at the innovative paper offerings: Not just fake gold bars or bills with over a dozen zeroes, but also paper iPhones, treadmills, and condos with live-in maids. He wonders whether the inflation is bad up there, or if his ancestors really need a gym in the afterlife.
"There are many shades of being Thai Chinese," he explains. "The first 'self' is being a son to my parents. But as I grow older, there is a second self who is curious, reads a lot, is always learning, and questions my beliefs and traditions."
"I don't think I would raise my kids the same way," says Pornchai. "The objects and rituals aren't what make you Chinese. It's the attitude and values, like working hard, respecting your elders, and being a go-getter."
***
It the northern end of the alley, one of the last regular visitors at the Peranakan Cemetery is Khunying Amphon Sukhonthaman, a septuagenarian doctor who treated the late King Bhumibol Adulyadej. A trustee of the cemetery, she visits every Qingming.
In 1919, a group of Chinese migrants from Singapore and Penang pooled their money to found the burial ground. Today, the gate lies across from a Buddy's Bar and Grill.
"This land is probably worth tens of millions of baht," Uncle Bank, the gravekeeper, speculates. "Khunying…has no intention to move the graves. But after her passing, maybe her kids will think differently."
The Hokkien Cemetery down the road is offering 100,000 baht to any family willing to relocate their ancestors' remains to nearby provinces, so the land can be leased or sold by the trustees. Already, the Hokkien Association collects a reported 800,000 baht a month in rent from MahaNakhon. In a historically Chinese neighborhood in Bangkok, even the dead are leaving.
Rather than sweep tombs, "The younger generation thinks it's hot out, a waste of time, and would rather go to the mall," laments Uncle Aon. "Plus, Chinese traditions are expensive. So many Chinese Thais are becoming one with Thai traditions."
When the Skytrain was built over the Hakka Cemetery, many opted to exhume and cremate their relatives' remains, scattering them in the rivers.
Like the ashes of their ancestors, Thailand's Chinese heritage is increasingly dispersed, residing in everything, all at once, nowhere and everywhere.
---
Ghosts of Silom is a story from our issue, "Funny Business." To read the entire issue, become a subscriber and receive the full magazine. Alternatively, you can purchase the digital version from the App Store.
---