Plant-based meat vies to win over a skeptical public and promote food security
When the spongy bread is torn open, vapor wafts out from the hot filling within. The aroma is a familiar one at breakfast stalls all around China, but this steamed bun by Chinese startup Zhenrou isn't actually filled with pork, beef, or shrimp—but rather, with a pea protein mixture made to replicate the texture and taste of meat by exposure to precise levels of heat and pressure.
In the last year, China's plant-based or alternative meat (植物肉 or 人造肉 in Chinese) market has seen plump returns. African Swine Fever (ASF) decimated China's hog population and caused soaring pork prices. Meanwhile, scientists are exploring the potential role of meat markets and cold-chain storage in the Covid-19 pandemic, which has disrupted China's meat supply, and may in the long run feed into Chinese consumers' already growing health and safety consciousness toward meat.
A fraught geopolitical environment has also renewed emphasis for the government to guarantee that China can feed its own population, which increasingly depends on imports of pork and beef. "It is imperative, and it is well within our ability, to ensure the food supply for 1.4 billion Chinese people through our own efforts," exhorted Premier Li Keqiang at the National People's Congress in May.
With just a tenth of the world's arable land to feed a fifth of the world's population, and a still-growing appetite for meat, China may vitally depend on technologies like cellular and plant-based meat alternatives (often made using soybean or pea protein mixtures) to provide sustainable domestic food supply and meet its citizens' protein demand.
"The plant-based alternative industry has seen massive growth since 2019, especially after the successful IPO of [US plant-based meat company] Beyond Meat in May 2019," says Doris Lee, General Manager at GFI Consultancy (GFIC), which focuses on plant-based and cellular food industries in China. The domestic plant-based meat industry was worth about 910 million USD in 2018, according to GFIC.
A study published in 2019 found that 62.4 percent of over 1,000 mostly urban, high income, and well-educated respondents in China were "very or extremely likely" to purchase plant-based meat, compared with 32.9 percent of American respondents; while just 6.7 percent were "not at all likely" to purchase. Early adopters in China will be those with "serious concerns about food safety and health concerns about certain kinds of meat; the age group normally ranges from 20 to 30," Xie Zihan, founder of Vesta Food Lab, a plant-based meat startup in Beijing, tells TWOC.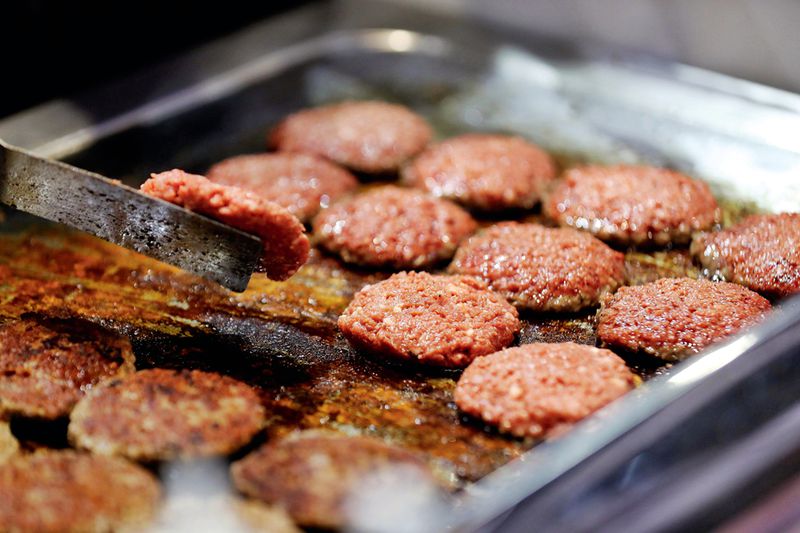 For now, plant-based products remain a novelty. Getting the taste and texture right is one obstacle to attracting carnivorous consumers, but there is also concern that plant-based meats may end up being confused as "lab meat" by the Chinese public that is sensitive to "artificial" food products or processes deemed to be unnatural. The lingering controversy around genetically modified crops—once explored as a solution to food security problems, but effectively banned from being commercially planted in Chinese soil due to public opposition—is a cautionary tale.
"I would try it, but I don't think I would eat it over the long term yet," a 30-year-old in Beijing surnamed Liu, tells TWOC. She compares "man-made meat" directly to GMOs: "You don't know what's in it or how it's made; it's a new technology." A 2018 survey by YouGov, a polling company, found that just 26 percent of respondents would "probably eat" artificial meat, or 人造肉. This terminology, often used for both plant and cellular-based alternative meat products, "will cause some misunderstanding because some people think it's not a naturally made product," says Xie.
Nonetheless, numerous food chains have rushed to release plant-based products in 2020, including KFC, Pizza Hut, Starbucks, and milk tea seller Hey Tea. KFC's plant-based "chicken" nuggets, released as a trial in partnership with Beyond Meat, were sold out within hours according to the fast food chain. "If I didn't know in advance it was plant-based meat, I really wouldn't have been able to tell," gushed a diner to Sina Finance on her first taste.
Other reviews have not been so kind; a reporter for The Paper claimed the unfamiliar texture meant diners wouldn't get "a lot of satisfaction" when eating. Similarly, according to the National Business Daily, the plant-based lasagne at Starbucks "lacks the sense of graining and chewiness" of meat.
Pricing is another potential barrier. Starbucks' range, which includes spaghetti and wraps, starts at a hefty 59 RMB. KFC's plant-based burger was sold at 32 RMB, though the trial nuggets were just 1.99 RMB for five. A kilogram of plant-based meat by Omnipork, a Hong Kong-based firm, retails online for around 115 RMB on Taobao; by comparison, the price for one kilogram of pork has hovered around a historic high of 50 RMB in 2020.
Lu Zhongming, the CEO and founder of Zhenrou, claims the price per kilogram of Zhenrou product is comparable to that of pork, though he aims to lower that by half as the company scales up production in the future. "The price of plant-based meat will be very stable compared to meat prices," Lu predicts to TWOC. "Pork [price] is affected by a lot of other factors, like swine fever, and US-China relations."
Domestic companies like Lu's hope to beat the foreign competition by focusing on Chinese tastes. Last year, Zhenrou sold 3,000 boxes of mooncakes filled with plant-based meat during the Mid-Autumn Festival, while Starfield, another Chinese competitor, offered zongzi (glutinous rice pyramids) with artificial meat filling during this year's Dragon Boat Festival. More difficult to recreate are strips of meat for hot pot, or cubes of pork belly.
"The most difficult thing to do for plant protein is to mimic the texture of a whole piece of meat," says Lu. According to Xie, "no one in the market is able to deliver a product that can withstand a long period of boiling or steaming," two of the most common cooking methods in Chinese cuisine. More innovation is coming, however: In June, Zhenrou showed off plant-based versions of xiaosurou, fried pork strips commonly served with hot pot, and one of China's most popular summer dishes, crayfish.
As the technology improves and the market grows in China, the government is moving to keep up and ensure consumer safety. In January this year, Wang Shouwei, director of China's state-affiliated Meat Research Center, announced that authorities are in the process of drawing up national standards for plant-based meat alternatives. In May, legislator Sun Baoguo called for the promotion of research into cellular-based meat substitutes, a nascent technology that uses animal cells to "grow" meat, which could also reduce the reliance on imports.
Beyond helping China achieve self-reliance in protein, plant-based meat products could be more sustainable than livestock farming. "Plant-based meat production is more efficient in terms of water and land resource usage," says GFIC's Lee.
Ultimately, though, successful plant-based meat products "will have to bring exceptional quality in terms of likeness to meat in taste, texture, smell, cooking experience," argues Lee, while price will also be a key factor. Zhenrou's Lu has sensibly modest aims: "Our goal is not to substitute all the animal products in China. We just want to provide a better solution for consumers to choose from."
---
Meat 2.0 is a story from our issue, "High Steaks." To read the entire issue, become a subscriber and receive the full magazine. Alternatively, you can purchase the digital version from the App Store.
---