Why do Chinese authenticate documents with a stamp?
By the time police were called, it was far too late: Li Guoqing, erstwhile CEO of e-commerce website Dangdang, had stormed the company offices with five men and made off with 42 corporate "seals"—leaving behind a letter stating he was taking over the business from Yu Yu, his cofounder and estranged wife.
This saga in April, part of an ongoing public divorce between Li and Yu, was as dramatic as it was illustrative of the importance of physical stamps, also known as seals or chops, to legal documents in China.
In a spicy case in June, internet giant Tencent sued chili-sauce conglomerate Laoganma due to 10 million RMB in unpaid advertising fees, only to find out their client wasn't the real Laoganma: Three con artists had forged the Guizhou company's corporate stamp on the contract, which was apparently all they needed to fool the hard-boiled internet executives.
Official seals, or gongzhang (公章), are a must-have for any Chinese enterprise today. They are normally etched with the name of organizations, and serve as a validated signature on business and legal documents where they are dipped in red ink or cinnabar paste and stamped. In some cases, a company representative will sign before stamping as an extra guarantee.
To have their seal be considered legal, a company must submit their business license and a "seal certification" document at the public security bureau. Employees usually in the human resources or accounting departments are commonly tasked with keeping the physical seal in a secure location.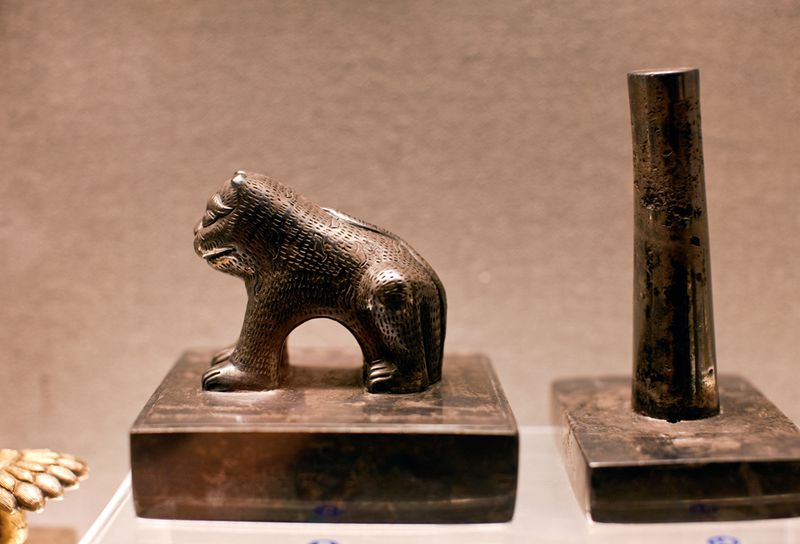 Throughout Chinese history, seals have served as symbols of high office. A bronze seal unearthed in 1998 in Anyang, Henan province, bears testimony to stamps being created in China since at least the Shang dynasty (1600 – 1046 BCE). It is etched with the taotie pattern, an ancient design typical of bronzeware of its era, and is believed to have been used by a vassal state to symbolize its political link to its feudal master.
Stamps became a symbol of absolute centralized power in the subsequent centuries. Various groups employed different classes of seals: xi (玺) for the ruling class, yin (印) for officials and merchants, and zhang (章) for military generals. The most significant was the jade-based Heirloom Seal of the Realm, which allegedly dates back to China's first emperor Qin Shi Huang. The sacred relic, held in the triumphant hands of the founder of a new dynasty, symbolized the transfer of imperial power.
However, the legendary relic mysteriously disappeared in the ninth century, and afterward, emperors could only rely on their own jade seals to impress their authority. The Qianlong Emperor of the Qing dynasty (1616 – 1911) had 25 imperial seals and 1,800 personal seals. Each imperial seal was reserved for a different function, such as signing documents, declaring wars, and sending troops.
Yin, the seal used by civil servants to sign their official correspondence, embodied the power of the government bureaucracy. Civil servants wore their yin on a belt when they assumed office, and took it off when they left. In the eighth century, poet Wang Wei (王维) wrote that the official Tao Yuanming (陶渊明) "took off his seal belt and quit the office" because he was unwilling to bow down to a government bigwig, afterward becoming known as a hermit and poet.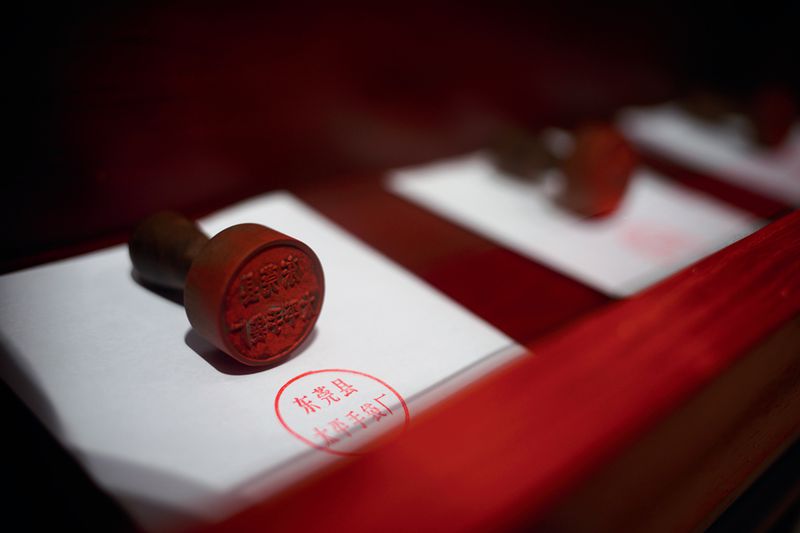 Seals were also used on calligraphy and paintings to signify authorship or ownership. The Qianlong Emperor, renowned for his literary tastes, had collected a large number of masterpieces affixed with over 1,000 personal seals. One of them is "Timely Clearing After Snowfall," a 28-character calligraphic scroll now displayed in the National Palace Museum in Taipei. It was embossed with a stunning 172 stamps by the emperor, who also wrote comments in the margins to show how much he admired the fourth-century work.
Seals were historically made of stone, ivory, metals, bamboo, or wood, though plastic stamps are also common today. Seal-making has evolved into an art in itself, requiring painstaking craftsmanship and fetching high prices at markets. A seal from the Qianlong Emperor made of pink jade, featuring nine well-sculpted dragons searching among the clouds for a sacred pearl, fetched 22 million USD at a Paris auction in 2016. Qi Baishi (齐白石), a well-renowned Chinese painter, was also a master seal-carver who engraved complicated ancient characters onto his stamps.
Individuals also kept personal seals carved with their name to use as their signature, and even today, under China's contract law, personal stamps can be used to authenticate documents instead of a signature. Artisans at print shops, tourist sites, and antique markets like Beijing's Panjiayuan offer seal-making, and often recommend their customers to pick a distinct design. Individuals can even apply to have their seal pattern put on record at the public security bureau if they plan on using it in business.
Apart from physical seals, "e-seals" are becoming a solution in protecting online transactions. In July, the city of Hangzhou debuted China's first e-seal application based in blockchain technology with Ant Financial. The platform will purportedly offer greater security and convenience for enterprises, as it will match electronic seals with records of the corporation's unique physical seal—and as a bonus, making it much harder for one's business partner or irate ex to steal.
---
Seals of Approval is a story from our issue, "Disaster Warning." To read the entire issue, become a subscriber and receive the full magazine. Alternatively, you can purchase the digital version from the App Store.
---