Elder steals fish, kindergarten goes vegetarian, anti-harassment guide raises eyebrows, and controversial Two Sessions proposals—it's Viral Week
Viral Week is our weekly round-up of the weekend's trending memes, humor, rumor, gossip, and everything else Chinese netizens are chatting about.
This week, a kindergarten is criticized for vegetarian meals, a bank's anti-harassment guide raises eyebrows, an elderly thief steals expensive fish for food, and China's political meetings sees controversial proposals:
Elder tries to eat decorative fish 
A Shanghai resident surnamed Wang reported that 10 decorative koi, valuing over 50,000 RMB in total, had been stolen from her home. Police caught up with the 88-year-old thief only to discover the fish had already been sun-dried, supposedly for food.
Pop-up book chronicles 2020
A recent graduate from the Central Academy of Fine Arts spent 600 hours creating an exquisite pop-up book that looked back on the major events of 2020, such as the lockdown in Wuhan, flooding on the Yangtze River, and the US elections.
Backlash over bank's anti-harassment guide
A leaked email sent to some employees at the Beijing headquarters of the Industrial and Commercial Bank of China (ICBC) outlined "acceptable," "ambiguous," and "unacceptable" ways that staff can handle scenarios with the opposite sex, such as sending private messages on WeChat or sharing a ride. While some netizens applauded the bank for making an effort to counter sexual harassment in the workplace, others took issue with the suggestion that harassment can only happen between opposite sexes, and with the overly simplistic solutions proposed (such as that colleagues of the opposite sex should avoid eating one-on-one with each other).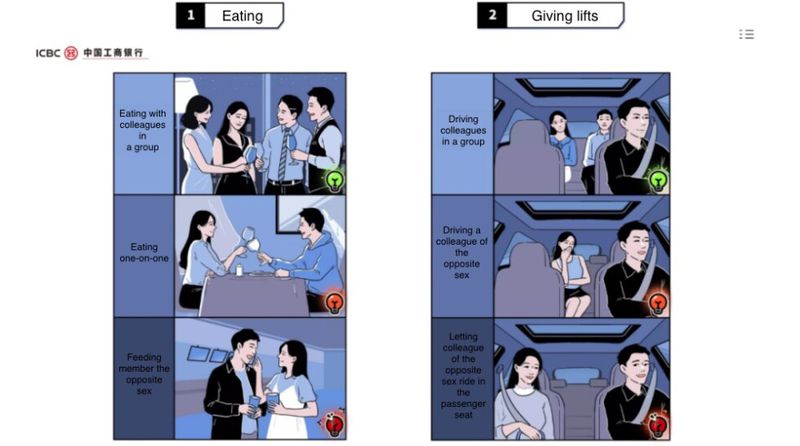 Kindergarten slammed for vegetarian meals 
A kindergarten in Chengdu, the capital of Sichuan province, recently came under fire for serving only vegetarian meals to children, which critics argue causes malnutrition and affected children's growth. The kindergarten marketed its diet as part of a guoxue (国学, "traditional Chinese classics") curriculum, which relies heavily on Confucian teachings, emphasizes filial piety, and has students reciting texts such as the Qing dynasty essay, "Being a Good Student (《弟子规》)."
Free 5G for Ramen Brother
Telecoms providers installed free 5G service to livestreamers outside the door of street stall seller Cheng Yunfu, who recently went viral as "Ramen Brother" due to his low-priced noodles. Media and fans have continued to come to Linyi, Shandong province, to meet Chen, prompting internet companies to jump on the bandwagon.
China's top political congress considers "Hanfu Day" and emotional education
National People's Congress representative Chen Xinxiang, a director at a government research institute on Hunanese embroidery, proposed at China's "Two Sessions" political meetings to make March 3 a "National Hanfu Day" as a celebration of traditional Chinese clothing. Some are welcoming the move as a boost to national pride, but others argue it politicizes wearing Hanfu, a private hobby, and that it will sideline the traditional dress of ethnic minorities within China.
Meanwhile, representative Yu Xinwei of the Chinese People's Political Consultative Conference proposed making courses on emotional education in relationships mandatory for college students, which would improve students' mental health by deepening their understanding of sex, marriage, and love. The proposal follows a series of vicious cases of emotional abuse among college students, such as the suicide of Peking University student Bao Li due to manipulation by her boyfriend and fellow student Mu Linhan in 2019.
Cover image from VCG
---