"New TV show '50km Taohuawu' tasks celebrities with constructing an ideal community—spoiler alert, they fail"
In his 4th century fable The Peach Blossom Spring (《桃花源记》), Tao Yuanming (陶渊明) details a magical and secluded garden full of bountiful peach trees, babbling streams, and stunning mountains—a utopia on earth where "all the old and young are happy and contented." Now, the ongoing TV show 50km Taohuawu (《桃花源记》), which references Tao's peach blossom grove in its title, is attempting to create a modern version of that utopia. Except this 'garden' is filled with 15 celebrities and has been built in just 21 days for the public's viewing pleasure. Far from idyllic harmony, the show nurtures intergenerational conflict in the name of practical community management.
50km Taohuawu debuted May 23 on the video-streaming platform Tencent Video, and follows celebrities thrown together into three neighboring houses in Taohuawu (or "Peach Grove") village in Pinggu district, a remote settlement about 50 kilometers outside downtown Beijing. The celebs, who are mostly strangers to each other of different ages, genders, and personalities, are largely left to their own devices, the show's only guidance being to build an "ideal community." Despite good initial viewing figures the reviews are mixed, with the show currently rated 6.1 out of 10 on reviewing platform Douban.
The show's director Chi Yuan told Sansheng, an entertainment news platform, that 50km Taohuawu is a "social observation experiment," investigating how groups of people become familiar with each other and forge connections in everyday life when removed from the hustle and bustle of the city. Exactly why these privileged celebrities should be chosen to create the ideal society is unclear (beyond bolstering viewing figures), and what the show actually hopes them to achieve is even less so. But drawing this group of big personalities from different generations together leads to awkward interactions, funny misunderstandings, and strained tensions, which is all entertaining to a point.
One such clash comes when Song Dandan, a 61-year-old actress, meets actor and comedian Guo Qilin and internet celebrity Li Xueqin, both in their 20s, as well as 32-year-old singer Wang Sulong, and immediately asks all three if they are in a relationship. She then probes what kind of partner they expect, and even tries to act as a matchmaker for them. The young celebs squirm as they try to remain respectful to their elder while attempting to change the subject, but when faced with persistent inquiry simply ask to be excused. "[Guo Qilin] is me at family gatherings during the Spring Festival holiday," reads one comment beneath the episode online.
Later, in their first group discussion, senior members like Song and Su Mang, former executive publisher and editor-in-chief of fashion magazine Harper's Bazaar in China, refuse to put themselves forward as group leader, but then keep forcing their own agendas instead of listening to the leader eventually approved, the much younger Chen Chenchen, a theater director.
Though the antics of older members like Song and Su were widely roasted online for their "trouble-making," viewers lapped it up. One commented on Q&A platform Zhihu, "the first episode is so real and embarrassing…it reflected how people of different ages and social statuses may react in real life and work." The mix of big-name celebrities making inter-generational faux pas any viewer could relate with ensured 50km Taohuawu garnered over 6 million views in the week after airing its first episode according to Maoyan, a ticket-selling and media statistics platform.
Not all awkward moments were reserved for older contestants. In one scene, internet celebrity-turned-actress Lamu Yangzi tells popstar Wang Sulong he was her "childhood idol," and claims to have loved his songs since middle school, only to then name a song by another artist. Viewers reveled in these ultra-embarrassing, "social death (社死)," moments when celebrities normally renowned for slick media appearances showed they also fail in mundane everyday interactions.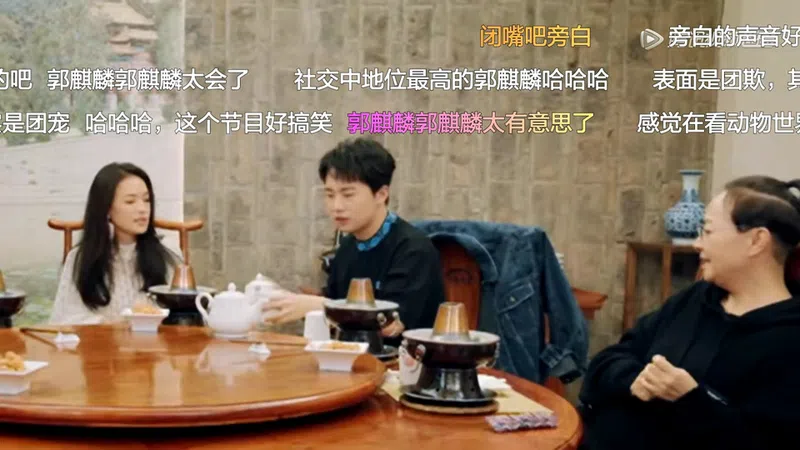 Screenshot of on-screen "bullet" comments for the first meeting between Guo Qilin and actresses Shu Qi and Song Dandan. Many complain about the overbearing voiceover.
But the veil of normality slips at significant moments. During the group's first gathering, Su Mang argued that 650 RMB per person is not enough to cover their daily living expenses: "Don't you eat eggs and drink milk in the morning?" she questioned. Despite Su and the program's explanation that she had actually meant 650 RMB for each person's costs over the whole show, rather than just each day, many viewers were not convinced.
The incident prompted viewers to question 50km Taohuawu's premise. As one comment with hundreds of likes on Douban stated: "In such a busy and competitive city like Beijing, [how could] the show invite these 10 or so people who make more money in one day than most people's annual incomes to come and tell those 'corporate livestock' who work from 9 a.m. to 9 p.m., six days a week, how to socialize and live?"
The village at Taohuawu was designed by Chinese architect Ma Qingyun in 2019, and is supposed to be an "idyllic utopia" for youths in the capital's suburbs. Director Chi told Sansheng that the show aimed to "explore new socializing options for young urbanites" and promote the area as a tourist destination. Whatever the celebrities create during their time in the village will be left after the show, hopefully encouraging fans to visit and boost the local economy.
The idea is to tap into a growing trend among young city-dwellers who have grown tired of urban life and long for a more idyllic, romanticized country life. Vloggers like Li Ziqi, who posts videos of her work in the mountains of Sichuan province, have garnered millions of fans online. 50km Taohuawu aims to tap into that feeling.
Audiences seem to have tired of the show as it has gone on. After the fun chaos of stars meeting each other in the first episode, they then seem unclear about what they should do to start an "ideal social, cultural, and technological" community from scratch. Except for the requirement to manage their life and develop this community at their own expense, the show gave participants few clues on what to do. Various celebrity teams set about implementing their own projects, which are mundane and uninspiring. Singer/actor Peng Chuyue and actress Zhou Ye put the bakery to use and make a pizza; actors Zhang Han, Lai Guanlin, and Meng Zhiyi plan to open a supermarket (since they currently need to drive an hour to the nearest one), while actor Zhou Jie and actress Shu Qi help Song Dandan design and build a meditation room.
This kind of pseudo-urban planning is never as interesting as the relations between contestants, especially the faux-pas of their opening interactions. It seems the show's attempt to create a new peach garden utopia is doomed to failure, but the celebrities have at least tried to fulfil the sentiment in the show's less ambitious slogan: "Arrive alone, set off in a group."
Some have managed to form close-knit teams.Some have managed to form close-knit groups, while others struggle to get to know one another. The 45-year-old Shu Qi, 51-year-old Zhou Jie, and Song Dandan dub themselves "Fu, Lu, Shou (福禄寿)"—the three legendary morals governing happiness, luck, and longevity—because of their comparative ages and common interest in health, well-being, and music. But others have yet to gel: The "family" in Building 3 with 50-year-old Su Mang as the "parent" meet each other mainly at the table after Su cooks. Zhang Han and Lai Guanlin have formed a close alliance, though their roommates 25-year-old actress Meng Ziyi and 23-year-old Zhou Ye promised to only follow Zhang's leadership.
The group hopes to solve this problem with team-building activities: Games, parties, and picnics have become routine in their quest to get to know each other better, but frustrations often arise. Chen Chenchen's idea of napping together in a circle under the sun has been declared a failure, since Li Xueqin was the only one to actually fall asleep. The rest talked, complained, or played games, while Su Mang got sunburned. Games popular among young people, like the card game Werewolves of Miller's Hollow introduced to the group by Zhou Ye, often failed to interest the senior members, Song claiming that they're not meant for people older than 40.
These clashes are common—far from pulling together to create an ideal society, the celebrities of 50km Taohuawu struggle to even get along. It remains to be seen whether the stars can build their own version of utopia in the remaining episodes.
All images from Weibo account of the show
---