China's long quest to produce a great crime novel
Deep in an alley in Shanghai's Huangpu district, a group of young bystanders hover over the chalk outline of a body.
But this is no crime scene: Under the scrutiny of the portraits of a dozen of the most influential crime writers in history, including Arthur Conan Doyle, Raymond Chandler, and China's own "father of detective fiction" Cheng Xiaoqing (程小青), these young "deduction fans (推理迷)" are celebrating the opening of Lonely Island, Shanghai's first crime-centric bookstore. The shop's owner, mystery writer Shi Chen, dreamed of this bricks-and-mortar haven for the nation's growing community of crime readers "completely as a whim" for fans of the genre like himself.
Unfortunately, like many a crime fiction character, the store suffered an untimely demise (the pandemic saw it shuttered within a year), but the genre itself is anything but dead. Figures from leading online book retailer Dangdang ranked detective, suspense, and mystery as the third most popular novel category in 2021, occupying 15 percent of overall sales on the platform that year. The category has long been a broad one, encompassing true-crime, police fiction, mystery, detective, thriller, and other sub-genres.
In the current market, Chen Zijin's 2013 novel Bad Kids and its 2020 streaming TV adaptation brought massive mainstream critical and commercial success to China's domestic crime fiction output. The show, which features violence committed against or by minors, with a suspenseful crime at its center, debuted as the highest rated Chinese drama within 18 months of its release on the rating platform Douban, with a score of 8.8 and over 1 million reviews.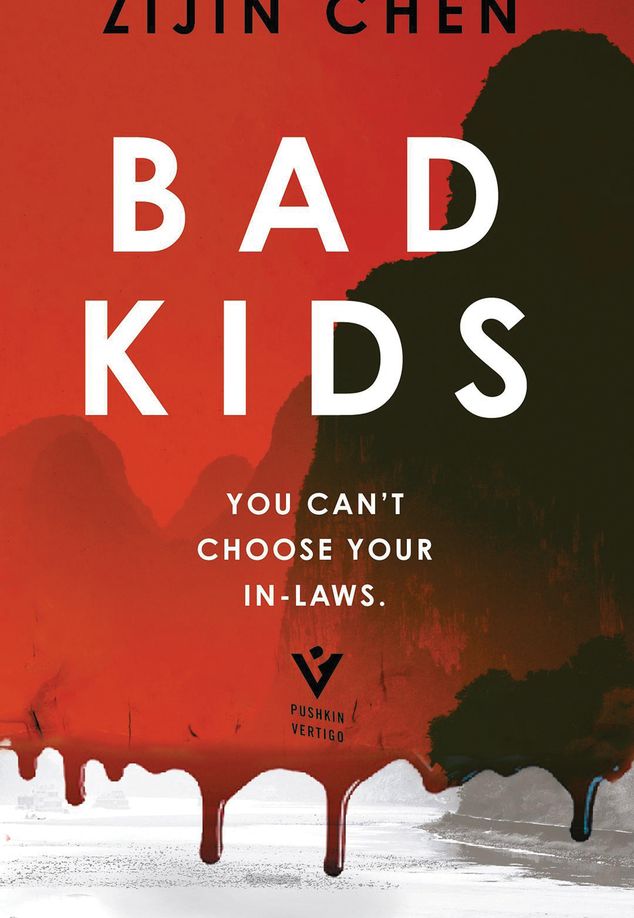 Bad Kids was adapted into a hit TV series that was controversial for depicting children in violent situations (Douban)
To Shi, the show "represents a good direction for mystery writers," offering an emotionally satisfying story with a wide appeal beyond the core crime fanbase. "If you want to make a living by writing, your works had better be adapted for TV or film. This is the way to increase your readership," he adds.
Yet, Chen Zijin's success is more an exception than the rule among Chinese crime writers. Despite the boom in crime fiction sales, much of it is driven by translations (or even imitations) of American and European classics, as well as more modern works from Japan. Most Chinese crime writers are struggling to find their footing in the market as they strive to catch up on originality and depth, as well as battling against the halo of prestige sometimes afforded foreign works.
Data from the Chinese Bookseller's Association credits a single Japanese author, Higashino Keigo, with half the crime novel sales in China in 2017, a figure which has since dropped but still represents almost a third of the market in 2021. For every copy of domestic crime fiction sold, four copies of translated works from Japanese, American, and European authors are purchased, statistics from Publisher's Magazine reveal.
Shi observes that many Chinese readers at his bookstore "weren't all that interested" in domestic detective fiction. "Many [mystery] writers are still too young and lack the experience. They're too caught up in devising puzzles and neglect to imbue a sense of realism, resulting in works that appear naïve," Shi says, though he does think the situation is improving.
Stories about crime have flourished in China since the Tang (618 – 907) and Song (960 – 1279) dynasties. During this period, oral legends of famed historical figures Di Renjie (狄仁杰) and Bao Qingtian (包青天), both genius judges known for their intelligence and integrity, morphed into a genre of literature known as gong'an (公案) or "public case."
Over subsequent centuries, numerous authors wrote plays, operas, and story collections featuring these characters, such as the Ming dynasty's The Hundred Cases of Judge Bao. These tales typically operated on an inversion of the standard "whodunnit" plot, instead working backwards from a known culprit to show a detective's attempt to solve the crime—and frequently invoked supernatural aids in finding the answers.
Arthur Conan Doyle's Sherlock Holmes stories were first translated into Chinese in 1896, and the character's emphasis on scientific thinking sat well with the ideas of modernization embodied by the early 20th century's May Fourth Movement, setting off a boom in homegrown crime stories that emphasized plot twists and intellectual puzzles to be solved through reasoning.
Chief among these efforts were a pair of writer friends, Cheng Xiaoqing and Sun Liaohong (孙了红), who captivated readers with their opposing characters: detective Huo Sang, the "Sherlock of Shanghai," and master thief Lu Ping, inspired by French writer Maurice Leblanc's famous Arsène Lupin character. Published primarily in magazines, such as Detective World (founded in 1923), stories about both characters remained popular through the 1920s and until the 1940s.
The legacy of the early 20th century's "deduction culture (推理文化)" is still visible today in Chinese book and film, bolstered by the surge in popularity for escape room and murder mystery roleplay games in recent years, but contemporary domestic writers have struggled to gain more attention. Xia Shini, a 20-year-old organizer for an online mystery and suspense book club, can see why. "The main point is there are no Chinese characteristics," she explains to TWOC. "Most works focus on love stories, the concepts are pretty shallow and there's nothing of the country in their atmosphere."
Chinese crime fiction researcher Houseby, who created his own mystery prize to encourage up-and-coming authors, echoes this sentiment: "China's current crop of suspense novels has been learning from foreign classics," he says. "This has been a stage of imitation."
This is where Bad Kids stood out: Its gritty exploration of family bonds, childhood trauma, and individual versus collective responsibility resonated culturally with its audience. The show's release also coincided with a rash of juvenile crime headlines that led to public debates about lowering the age of criminal responsibility.
Chinese crime writing that places emphasis on the analysis of human nature and foregrounds social issues, rather than a procedural view of sleuthing, is usually traced back to Song Ying's 2008 novel Apricot's Revenge. In it, the death of a property tycoon sparks off an investigation which reveals cover-ups and corruption stretching back to the Cultural Revolution. These newer works which "reflect social reality and carry out social critique," as Houseby puts it, are becoming the darlings of film and television producers, since they can easily be adapted into screen works that "fit in with hot-button issues."
Arguably, Chinese authors have had the most success in the realm of true crime. In China, the genre started as a sub-category of police literature (公安文学), stories usually written by police officers and put out by publishing companies and literary journals affiliated with law-enforcement agencies. Emerging shortly after the country enacted its first criminal law and criminal procedure law in 1979, police literature educated the public on the function of the courts and policing, and favored authors were given access to case files by the Ministry of Public Security to find source material.
Though police literature has waned, its influence can still be felt in the legal and law enforcement past of many mystery writers today. Qin Ming, a crime novelist with a background as a medical-examiner, has cumulative sales in excess of 3.5 million. Ex-cop A Yi's 2012 work, A Perfect Crime, received positive press from LA Review of Books and the Wall Street Journal when translated into English in 2015. Shandong police officer Shenlan (whose pen-name is likely a nod to his dark blue uniform) began writing anonymized versions of his cases for NetEase's nonfiction storytelling platform Renjian the Livings in 2016, focusing on domestic violence, fraud, bullying, and other commonplace crimes in his city.
True crime is also flourishing in new media. Caixin launched its first true crime podcast On the Record in 2021, positioning it as China's answer to Serial. Editor Shen Yanni of Renjian (one of TWOC's content partners) explains that some of their most popular true crime stories can receive over a million hits. Apart from Shenlan, the platform's writers include "several public security types and lawyers...most of whom are still working hard on the front lines of these professions," says Shen.
While "censors do not want suspense novels to give bad guidance" according to Houseby, literature still has more free rein than movies or TV when it comes to depictions of violence or illegal behavior. Part of the success of iQiyi's TV adaptation of Bad Kids was down to it being seen as relatively edgy, yet its characters were far more innocent than their counterparts in the original novel. Still more disturbing are A Yi's novels, regularly likened to the work of Kafka and which display a level of despair and cruelty that makes Chen Zijin seem tame.
Today, apart from a small handful of long-established authors like Chen Zijin, Qin Ming, and Zhou Haohui (author of the Death Notice trilogy), most crime writers in China have yet to sell in the millions and find mainstream appeal. Magazines and web-communities of the early 2000s, such as website "Murder-Mystery Portal," as well as university deduction literature clubs and industry awards such as the Chinese Murder-Mystery Award hosted by Taiwan's Deduction magazine, are steadily publishing a growing number of local authors. But for now, mystery-lovers and authors are left, however they can, to figure out how to make crime pay.
---
Can China's Detective Novels Finally Make Crime Pay? is a story from our issue, "The Data Age." To read the entire issue, become a subscriber and receive the full magazine. Alternatively, you can purchase the digital version from the App Store.
---