Jing Tian may be conquering Hollywood, but at home she has noisy detractors
Jing Tian is apparently a rising star to watch for. If her CV told the whole story, then she's a Chinese actress on her way to conquer Hollywood. Currently screening in theaters, Kong: Skull Island saw the 28-year-old acting alongside Tom Hiddleston, Samuel L. Jackson and Brie Larson. This was hot on the heels of rubbing shoulders with Matt Damon as the female lead in Zhang Yimou's latest attempt at an epic fantasy released this February in North America, The Great Wall. She has also been cast in Legendary's Pacific Rim 2, due for release next year.
So then why does she get such terrible reviews?
On the movie review channel Douban, one of the most popular social media platforms for film, TV and books, Kong was hit by a minor outbreak of one-star ratings (out of five) during its first week of release since March 24.
And most of the reviewers cited Jing's brief appearance as the reason.

Jing Tian has won Worst Actress three times (one nomination); no matter how the plot changes, her facial expression remains the same—facing all the hardship and obstacles with a smile.
Xi'er, Xi'er, are you okay? Never thought a "soy sauce-buying" [trivial] role could be such an eyesore.

Change the title to 100 Ways to Die on the Skull Island would be more fitting. Despite all that, the writer still kept "Big Tian Tian." I had never seen Jing Tian's work before and now I have acquired a deep understanding of what an embarrassing performance really is. In the middle of fire, smoke, planes and bones flying around, Big Tian Tian holds a machine gun; she runs around freely in the team, never opened fire once, her face is full of supreme confidence saying "I won't die no matter what!"

As a matter of fact, the screentime Jing Tian got as a biologist in Kong is basically negligible with 12 short lines and no interaction with the leading characters. Still, she was not only criticized for her performance, but how her presence seems out of place. "Behind her, it's a European or American battle field in WWII, with Jing Tian at the front, it looks like the Communist Party leads the countryside to encircle the city," commented another Douban user under a movie still of Jing. Even the red plaid shirt she wore became a cause of ridicule, with commenters calling her "Xi'er", the country-girl protagonist of one of the "model operas" during the Cultural Revolution, The White Haired Girl.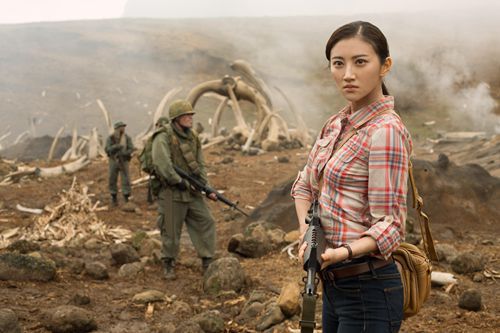 Although Fan Bingbing and other Chinese actresses have all been criticized for making brief appearances as part of publicity stunts in various international films, such as Iron Man 3 and X-Men: Days of the Future Past, it's not the first time Jing has been hit with one-star reviews. Just a few month ago, an influx of one star reviews on The Great Wall caused the state media to accuse reviewers of hurting the Chinese film industry, and Jing as the leading actress, was one of reviewers' targets of criticism.
So far, it's fair to say Jing has attracted a group of firm haters. "I am that brainless person who gives a one star rating if Jing Tian is in it," Douban user "inkheart" commented on Jing's latest TV drama, The Glory of Tang Dynasty, "…it's not about her performance; she has been acting for so many years, appeared in so many films and worked with numerous noted directors, if she was still a bad actress, she would be a total wreck. But this star is for Jing Tian's boyfriend, thank you for your persistence of pouring money and wielding power to push your girlfriend in front of my eyes. Without gold masters like you, or the brain-damaged female fans who are willing to spend money on actors who only have pretty faces, how great the Chinese film and TV industry would be! …"
To these reviewers, Jing is deserving of ire because has enjoyed an extraordinarily smooth career path despite a lack of both critical or popular acclaim. She acted alongside Zhao Wei and Liu Ye, superstars of the Chinese film industry, when she was just a sophomore at the Beijing Film Academy. Since then, many of her film and TV projects have been created in order for her to take the lead role.
From My Belle Boss (2010, douban rating 4.8), The Warring States (2011, rating 3.9), and Special Identity (2013, rating 3.9) to her aforementioned recent international blockbusters, audiences are baffled as to why she is able to secure major roles in these projects with veteran actors—including Jackie Chan, Chow Yun Fat, and Francis NG—as her co-stars or even in supporting roles. Jing's influence has gradually expanded to overseas. In 2014, Jing won the Hollywood International Award supposedly for her achievements in the domestic film industry, an award that had only been awarded that particular year.
Many resort to the "unwritten rule" of the entertainment industry to explain her good luck, spreading rumors that Jing has close ties with Wang Jianlin, CEO of Wanda Group, who purchased Legendary in 2016. One of their so-called pieces of evidence is that Wang Sicong, Wang Jianlin's son, who is notorious for making "troll" comments on the performances of many other actresses, has never dared criticize Jing.
Others claim that Jing's boyfriend is her boss Lu Zheng, founder and CEO of Starlit, who has invested and produced most of Jing's domestic projects. Lu is also an independent director of the Wanda Group.
Jing is by no means the worst actress in China; she was even quite charming in response to netizen's criticism in a video interview on Douban saying, "One star (instead of none), not bad!" But, for the frustrated Chinese audience, faced with a disappointing film industry where big capital plays a critical role, there are not many outlets than finding a scapegoat.
Cover photo (publicity photo for Kong: Skull Island) via Douban
---