The cutthroat war behind China's creative milk tea craze
"The beverage industry is very deep; there's a lot that's not apparent on the surface," Mr. Yan warns me, his gaze owlish across a frothy display of "milk cap" drinks on the counter. "It's deep, and there's a lot that I can't talk about. I'm just letting you know as a courtesy."
Last August, beverage fans around the world were incensed by a comically clueless New York Times trend piece on "bubble milk tea," that "curious amalgam…[of] the Far East." In response, they tweeted photos and sang praises to the tasty, fresh, and innovative concoctions that the milk tea industry has been brewing for decades, apparently unbeknownst to the Starbucks snobs of the mainstream, a wholesome tale of an immigrant creation triumphing in the American beverage market.
This is not that story.
Instead, our tale begins in secrecy and falsehood at Yan's business, the bombastically named Royal Tea: New Chinese-Style Tea Flagship Store—in fact a one-window kiosk down a late-night food alley. Yan makes coy references to being a "just a small business owner," explaining that "it's not convenient to reveal" how he got started.
It must be noted, however, that there are thousands of mainland milk tea shops that share the "Royal Tea" (皇茶) name, three-point crown logo, and menu dominated by "cheese milk cap" beverages—teas and smoothies served beneath gooey layer of cream cheese foam. All are unauthorized clones of a popular Cantonese chain founded in 2012, which seemingly never bothered to register any of its trademarks.
The plot climaxes in treachery and deceit, with the "viral" openings of Cantonese chain Hey Tea and Taiwan's Yi Dian Dian in Beijing and Shanghai in early 2017. As customers purportedly queued for four hours to get a drink, reporters found both chains guilty of manufacturing hype by hiring actors to stand in line, baldly banking on millennials to associate long lines with must-have trends.
Patrons could also be unwittingly queuing alongside milk tea scalpers, according to state-run business blog CYZone. These hardened outlaws buy up vast, cheesy drink orders to hand off to a confederate, parked nearby with a mobile Styrofoam cooler. A third member of the gang then walks up and down the line, exhorting patrons to skip the wait and grab a tea for 60 to 100 RMB (9.5 to 15 USD)—a markup of up to 500 percent (scalper services could also be ordered on WeChat and Taobao).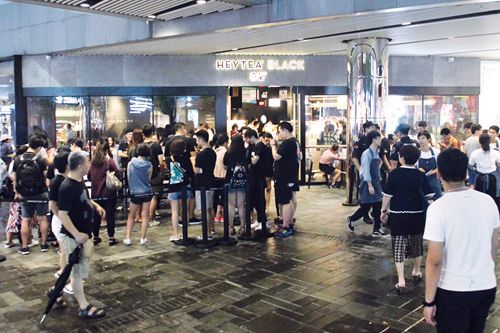 All's fair, it seems, in the milk tea war. The knowledge that their favorite fad is but a bubble seems not to have dissuaded tea fans. Hey Tea reported millions of RMB in profits last year; globally, the bubble tea industry is valued at around five billion USD, and is currently projected to reach six to eight billion USD by 2021 in China alone. Hey Tea also turned out to be none other than the original Royal Tea—it had rebranded in 2016, at the same time it received 100 million RMB in investments to expand nationwide, and vowed to sue for any future breaches of copyright.
Cynics are congratulating all this as a well-played guerilla marketing move: Let imitators boost the brand's visibility in regions where one can't yet afford to expand, then declare oneself the original and best version. The idea was not new; Taiwanese chain Gong Cha, one of Royal Tea's competitors, also failed to trademark its name when it came to the mainland in 2014, but milked a lawsuit against a mainland copycat with "Support Real Gong Cha" hashtags on social media.
By now, though, the sheer number of imitators are helping turn gongcha into a generic term. It's associated with the fresh, slightly bitter brew served at all Gong Cha outlets real and fake, usually under a inch of whipped cream—known as "milk cap tea" (奶盖茶) or, more fancifully, "macchiato."
Despite these brew-hahas, milk tea remained a puzzling phenomenon to even mainstream Chinese media up until last year (never mind The New York Times). "We've always drunk milk tea; how did this become an 'internet celebrity' in 2017?" food blog Ai Chu Wei queried last June. Several mainland outlets declared that year "the renaissance of China's tea industry" and "the year of new Chinese tea culture."
Today's viral beverages bear little resemblance to the drink actually invented over a century ago. Strictly speaking, northwestern herders in China had been brewing tea with milk for centuries—Mongolian suutei tsai, Uyghur etken chai, as well as Tibetan po cha are all staples of their respective communities.
The beverage sold at today's chain outlets, though, was more directly influenced by Hong Kong-style milk tea (港式奶茶). In this colonial-era adaptation of the British afternoon tea ritual, Chinese brewers replaced fresh milk with evaporated milk in the usual black tea, creating a richer flavor. The liquid was strained in fine cloth to produce its creamy texture, leading to the nickname "silk-stocking milk tea" (丝袜奶茶).
Hong Kong still drinks an estimated 100 million cups of milk tea per year. However, the drink's real ascendancy—and first war—arose in Taiwan in the 1980s. Two tea shops, Chun Shui Tang of Taichung and Han Lin of Tainan, claimed to have originated a new drink combining two items then popular at Taiwanese night markets: "foam tea," cold black tea or milk tea that's shaken until it froths, and cooked tapioca balls, another British hangover found in desserts from shaved ice to hot pudding.
For the next 20 years, the two businesses battled over the credit for the resulting drink, "pearl milk tea" (珍珠奶茶), also known as "boba" (波霸奶茶). Things finally came to a head in 2005, when Chun Shui Tang's in-house magazine made a veiled reference to Han Lin's owner "studying" their invention. In response, Han Lin took their rival to court. The Taiwanese judges (clearly not predicting milk tea's gangster-ridden future) didn't take sides; they suggested that the rivalry had actually fostered "healthy competition."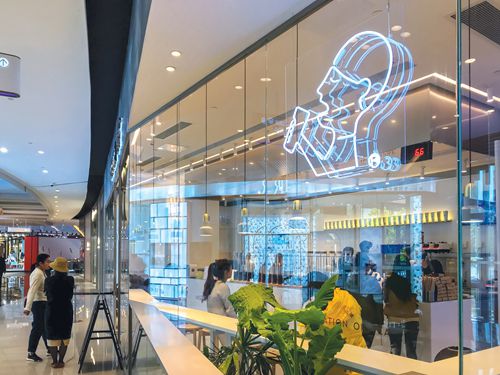 Meanwhile, Taiwanese immigrants in the late 1980s and 90s brought the drink to North America, where it's known as "bubble tea." The first outlets opened on the mainland in the mid-90s, selling drinks for as low as 2 RMB. In this era, on both shores, the beverage had a rather seedy reputation—the "milk" and "tea" were powdered mixes flavored with syrup, and it was usually sold at internet cafes, campus-adjacent street markets, and other student hangouts, along with cheap snacks like fried chicken.
A food safety scandal would change everything. In May 2011, consumers worldwide were dismayed to learn that DEHP, a chemical used to make plastic, was found in milk tea syrup. The same year, Gong Cha's first outlet opened in Taiwan, marketing their milk-cap brews as a safe, organic alternative to the previous generation's powdered creations. Even today, the "real tea" guarantee has lost none of its luster: "No artificial syrups," raved one Sohu blogger at Hey Tea's opening. "This is the power of quality," wrote another for Netease, after queuing several hours for Yi Dian Dian.
"In the food and beverage industry, there's always a degree of imitation," Yan admits. In the industry, Gong Cha's milk cap teas used to be nicknamed the "Red Sea," a drink so popular that all competitors struggle to "part" it—even my local juice bar in Beijing has added milk caps to keep up with trends, improvised with two spoonfuls of evaporated milk from a can, halfheartedly whipped in a blender.
The milk tea war remains cutthroat, with analysts forecasting trouble for Hey Tea and Yi Dian Dian if they rely on hunger marketing. The ephemeral nature of internet celebrity led to the shuttering of 14 major "viral stores" in 2017, according to food app Meituan and research firm Yunyingshe; 78,000 milk tea shops also closed that year, including "large numbers" of Royal Tea locations—a fate that Yan seems resigned to. "Most of us are just individuals trying to do business," he shrugs. "You might see a lot of one brand now, then a year later, they might be all gone."
Yet innovation is not dead—and no one is throwing in the tea towel. The slothful stylists at The Times might be aghast at the newer improvisations in the market, beyond mere "blobs." Cheese tea, Royal Tea's horse in the milk cap race, arrived in US markets late last year to fanfare from the Washington Post and Food Network. Tofu milk tea may not be far behind, having landed in Zhejiang province from Taiwan in 2017 and been spotted in Vancouver.
On the mainland, "potted plant milk tea," made from Oreo shavings and a mint leaf, had its heyday in the early 2010s. The choice to optimize temperature and sugar level, and a variety of additives from coconut to passion fruit jelly to squeezed grapefruit juice, is a must for today's businesses to compete. One can get connoisseur-quality leaves and fresh fruits from Hey Tea and several other chains, organic tapioca from Shanghai's Cha Wan, and even a "Starbucks-level" drinking environment at inWe, a firm backed by JD.com founder Liu Qiangdong.
Still, if nothing else works, one can always invent new gimmicks for millennials: At a Shanghai outlet of milk-tea chain Dian Deng Pao ("Electric Light Bulb"), TWOC is told about their signature product by a female employee aptly named "Strive." "Our tea is served in a cup shaped like a light bulb; we also have dog-shaped cups [for the Year of the Dog]. You can take it home, put flowers in, take photos."
"It also lights up when you push a button," she adds, beaming. "Our founder came up with this concept." Like the majority of bubble tea mythologies, the claim is not just unlikely, but disputed by another Taiwanese chain. What exactly I am drinking, I ask Strive?
"Oh…it's tea," she's blinks, momentarily confused. "From Taiwan, I think? Just tea."
Some names have been changed to protect those too deep into the (bubble) tea trade
---
Bubble Trouble is a story from our issue, "Vital Signs." To read the entire issue, become a subscriber and receive the full magazine. Alternatively, you can purchase the digital version from the App Store.
---