A freed doctor goes back into police custody, gamers go gaga for RNG, and yet more media accounts are reprimanded for "improper" content—it's Viral Week
Viral Week is our weekly round-up of the previous weekend's trending memes, humor, rumor, gossip, and everything else Chinese netizens are chatting about. Think of this as the elusive spring breeze you'll never feel again this month, or the next.
A freed doctor accused of defamation goes back into police custody, gamers go gaga for RNG, and yet more media accounts are reprimanded for "improper" content. But first…
Royal Wedding "inspires" Taobao
On Sunday, over two billion people globally watched the Royal Wedding of Prince Harry and Meghan Markle at St. George's Chapel in Windsor Castle. While the event wasn't quite a headliner in China (in Beijing, the UK Embassy did throw a party), you can always count on Taobao to follow the latest trend. Within hours of revealing Meghan's wedding gown, an elegant bateau neck double-bounded silk Givenchy dress, complete with a hand embroidered 16.5-foot silk tulle veil by British designer Clare Waight Keller, various store on Taobao began to offer "same styled" (同款 tóngkuǎn) wedding dresses advertised with photos of the wedding.
It is not the first time that Taobao shopkeepers were "inspired" by the British royal family's fashion choices, either. Their previous muse? The charming Duchess of Cambridge, of course.
The British Royal Family is know to boost tourism and souvenir sales; Now add cheap Taobao knockoffs to that list. Besides obvious IP issues, it's likely buyers will run into the classic online shopping trap: "It looks like an angel on photos, but in reality, it's a devil." (图片是天使,实物是魔鬼 Túpiàn shì tiānshǐ, shíwù shì móguǐ)
China wins gaming trophy
You may have seen words like "MSI," "RNG," "Uzi," and "ADC" on social media among posts about mothering presents for May 20, and wondered: "Are these even English?" Well, yes: It's gamer talk.
Last night, Royal Never Give Up (RNG), one of the members from the LOL Pro League (LPL), won the 2018 Mid-Season Invitational (MSI) of League of Legends (aka LOL, 英雄联盟) held in Paris. This is RNG's China LPL 's second win after 2015 MSI, but it means more than just another victory for gamers: This year was the first all-Chinese team to win (foreign athletes are often hired in Chinese sports, on and offline). Doubling the patriotic pride was the defeat went to Korean team KINGZONE, which has traditionally dominated the LOL international stage.
This is also a big win for Uzi, 简自豪, the ADC (Attack Damage Carry) member of the team. Uzi was favored as the best ADC in the entire world but had never carried any team to international victory. Now, after six years playing professionally, last night was Uzi was celebrating his first time winning a world trophy.
Fans of LOL and Uzi were thus celebrating hard last night, as Uzi became the Weibo Top Search minutes after the win, followed by the hashtag "RNGwinning."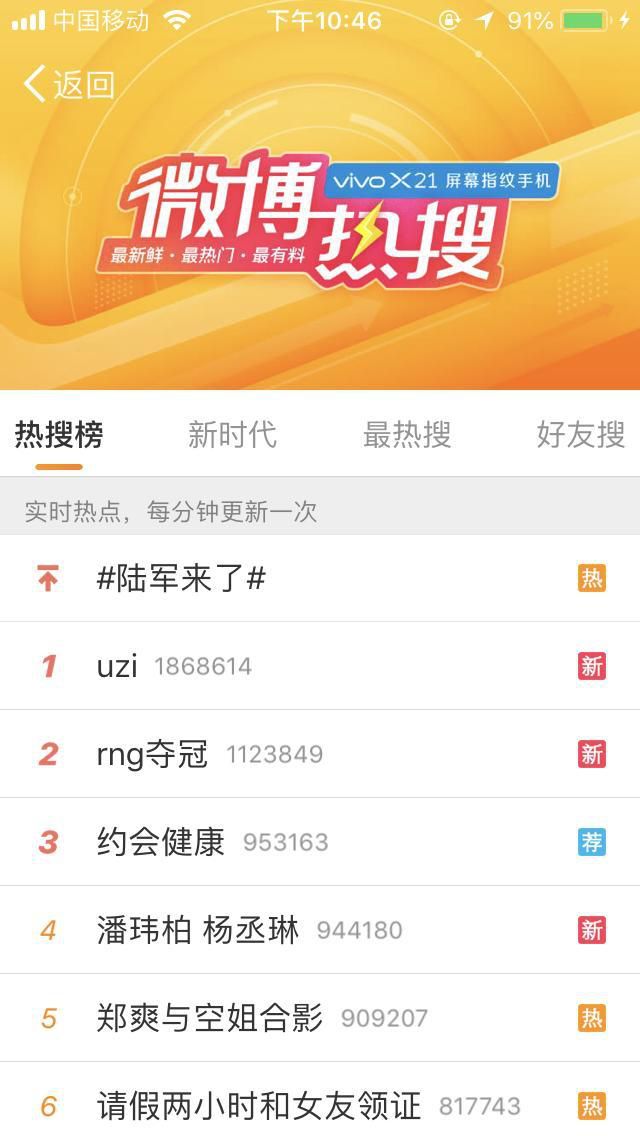 (weibo)
FNATIC, the French team who participated this year, made several posts on Twitter in Chinese, beginning with "RNG please help us" before the match; some Chinese netizens joked underneath "Me, RNG, send money" (我, NRG, 打钱). Because of the extensive Chinese posts and memes being used, some observed: "FNATIC's official Twitter now looks like Weibo to me."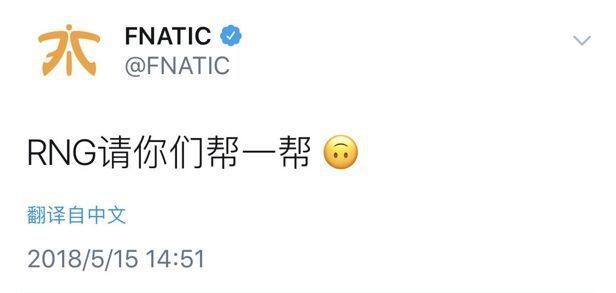 (Twitter)
TCM critic re-arrested, forced to apologize
An apparent victory for rule of law has turned into a shock defeat, as a Chinese physician—held for three months without charge for criticizing a health tonic, then released in April after news of his detainment sparked anger and criticism—has since been re-arrested and seemingly forced to apologize for the original remarks.
The practice of using local law enforcement to persecute corporate critics has long been an issue. Tan Qindong's case, however, sparked particular uproar, partly because the "Hongmao Medicinal Wine" he described as "toxic" has, in fact, been banned in multiple provinces for its false advertising. Indeed, last month China's FDA ordered the Inner Mongolian government to examine the TCM liquor's bizarre health claims (presumably including an explanation for how the bones of leopards, a protected species, are among its alleged 67 ingredients).
On May 15, Caixin reported that, despite their intervention and Tan's much-publicized release, police had detained Tan a second time, intensely interrogated him for many hours, allegedly prompting a mental breakdown (Tan was diagnosed with PTSD, according to Caixin). After Tan's Weibo apology, saying he had "not been thinking clearly, Hongmao's CEO "liked" the tweet and the company promptly posted its own tweet dropping the case. Whether the public or central authorities drop the matter is another issue—comments on the case are currently being heavily censored by Sina.
"Improper" comments
Baozou Manhua, or "Rage Comics," a popular social media brand with more than 16 million followers on Weibo, has now been silenced—because a video they produced four years ago was accused of mocking revolutionary martyrs. On May 1, the Heroes and Martyrs Protection Law came into effect, and the Beijing government urged websites to clear any inappropriate content last week. This somehow led to the shutdown of Baozou Manhua.
The clip in question joked about Dong Cunrui, a People's Liberation Army soldier who destroyed an enemy bunker in a suicide attack. In the video, which the Baozou Manhua team claimed was an attempt to criticize improper use of revolutionary imagery in advertisements, the host wearing a angry-face mask, narrated "Dong Cunrui stared at the enemy's bunker…He said resolutely, 'Commander, let me blow up the bunker. I am an eight-point youth, and this is my eight-point bunker.'" The script was a pun on a KFC sandwich, because "burger" and "bunker" have the same pronunciation in Chinese.
They also changed a famous poem of Ye Ting, a Chinese army general. Ye's original poem writes: "The door for man is locked; the hole for dog is wide open. A voice  shouted: 'Climb out! Give you freedom!'" Baozou Manhua changed the last two sentences to "Climb out! Painless induced abortion!" to make fun of rampant advertising for abortion.
After being ratted out, Baozou Manhua soon issued an apology on the Weibo account of their host Wang Nima, saying the meanings of their jokes had been distorted and they had no wish to insult revolutionary martyrs. But it didn't work: Their official website, and all accounts on platforms including Jinri Toutiao, Weibo, Zhihu, iQi and Youku have all been shut down.
On May 18, another "Big V" on Weibo was also involved into controversy due to "improper online speech." Yang Bingyang, a writer and online celebrity who usually provides advice on relationships and marriage for women, has over three millions followers on Weibo. But in one of her recent articles, she used the example of "comfort women" in the Second World War to prove women's "gender advantage," saying that in war, men were doomed to be killed, but women, though repeatedly raped, still had the chance to survive (apparently Yang was unaware of the tens of thousands of female civilians brutally raped, mutilated and killed in the Nanjing Massacre).
Predictably, netizens were outraged by her post and went onto condemn her disrespectful remarks. Yang quickly deleted the original post and published a public apology through her Weibo account, calling her original post a "silly mistake" and that she would stop updating her account for a month to learn about relevant internet laws and regulations. But despite her show of contrition, the fallout continued: a day later, Yang published a screenshot and claimed that a "water army" was planning to "blacken" her good name, and she would take the matter to court. Today the apology has vanished from her account—but at least her account hasn't yet been deleted.
---