Need some good luck? There is a meme for that
Chosen from over three million participants to win the Alipay "Chinese Koi Lucky Draw," Ma Huixian is not only swimming in luxury prizes, meal vouchers, and international travel tickets—but is now considered a good luck charm.
"Does this mean I don't have to work for the rest of my life?" Ma, who is known as "Xinxiaodai" on Weibo, posted. The answer is no (unless you can live on high-end haircuts alone), but the post was shared by nearly 8 million users, giving the 25-year-old engineer over a million Weibo followers and the distinction of being named "2018 Alipay's Chinese Koi."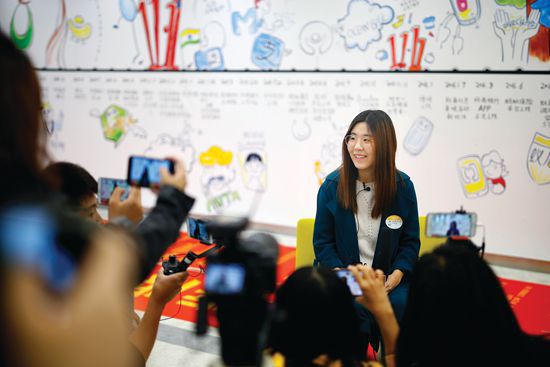 In Chinese culture, the koi, or "colorful carp," has long been associated with good fortune. In the Spring and Autumn period, Confucius named his son 鲤 (carp), and wealthy families often kept a koi pond in the yard, because it was believed that the fish brought good feng shui.
Nowadays, the fish is associated with chain mail ("forward for good luck!"): "Koi King," a Weibo account which simply posts different pictures of koi, is followed by over 16 million users, each apparently hoping that gazing at a digital fish will give them an edge in the gaokao or job interviews. Lucky or successful individuals are an alternative to actual fish—Leonardo DiCaprio's photo was also forwarded as a lucky charm after he finally won an Oscar for The Revenant.
Inevitably, as the trend leaked into the entertainment world, it has become more tongue-in-cheek. Yang Chaoyue, a contestant on talent show Produce 101, was criticized for her mediocre singing and dancing, but nevertheless made it to third place in the finale. Yang's picture became a meme with the mildly satiric caption "Forward this Yang Chaoyue, you can secure third place in exams without working hard."
Likewise, supermodel Ming Xi, infamous for stumbling during the Shanghai Victoria's Secret show, was granted koi status after she was named the brand's Greater China Ambassador in September. "Forward this Ming Xi," her meme ran, "and receive a promotion and a raise after making a mistake at work." Workers of the world—good luck!
---
Fishing for Fortune is a story from our issue, "Curiosities and Quests." To read the entire issue, become a subscriber and receive the full magazine. Alternatively, you can purchase the digital version from the App Store.
---