Internet companies are competing to gamify the new year "lucky money" tradition
Ever messaging app WeChat introduced its e-payment "red envelope" (hongbao) lottery in 2015, "snatching" virtual cash has become a beloved holiday tradition in family group chats, on par with complaining about the CCTV Spring Festival Gala or sharing fake news.
This year, with an estimated 7 billion RMB in virtual cash up for grabs ahead of the Spring Festival, a growing number of companies are leveraging the occasion to attract new users by adding new twists to the electronic hongbao game.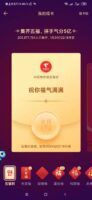 Alipay, a popular app third-party payment app affiliated with e-commerce firm Alibaba, began to hold its "AR Collect Fortune" challenge in 2016. Users can collect randomly virtual cards containing a blessing by opening the Alipay app's QR scanner to scan any of character for "blessing," or fu (福) that they come across—an easy task, given its ubiquity as roadside decoration or good luck charms on social media during the holidays.
Once they collect all five available blessings—for patriotism (爱国), rejuvenation (富强), harmony (和谐), friendship (友谊), and professionalism (敬业)—users may participate in a hongbao lottery on the lunar New Year's Eve for shares of a 500 million RMB cash pool. At the time of writing the draw on January 24 has up to 142 million contenders.
ByteDance's short-video platform Douyin (TikTok), which boasts 400 million daily active users, has been running its "Prosperity During Chinese New Year" challenge since 2018. This year, at the time of writing, a total of 100 million users have been collecting five virtual cards—发, 财, 中, 国, 年, making up the title of the challenge—to take part in a 300 million RMB draw; collect virtual cards with the logos of ByteDance products like news app Jinri Toutiao or selfie app Faceu to take part in a 200 billion RMB; and play a variety of Spring Festival-themed games and "hongbao rain" (virtual cash envelopes that randomly appear on the home page at different times) to win more cash or licensed products.
Moreover, for the first 1,088 people who collect the required cards will get a random subsidy on each red envelope they manage to collect, which could be as much as 10,000 RMB. Users can even take a short quiz given by Chinese actors at random times each evening to win more hongbao.
For the companies that make them, the complexity of hongbao games not only draw in new users, but making sure that addicted players spend a lot of time in the app and drive up engagement numbers. Search engine Baidu gives users extra chances to collect its "fortune cards" by watching 10 seconds' worth of content in Haokan Video, an affiliated app, or browsing for 10 seconds in Baidu Forums. Live stream giant Kuaishou offers "hongbao rain" throughout the day—but only virtual cash of over of 100 RMB can be redeemed into the user's bank account.
Customers are also encouraged to spend via hongbao games, which generate more revenue for the company. At the back of Alipay's virtual cards are coupons for group tours and insurance. Those who recommend friends to download the app will also receive a bonus of 10 to 20 RMB each.
However, the complexity of these games—echoing similarly confusing sales promotions that take place during China's internet "shopping festivals"—also benefit law-breakers. A man in Hainan province paid 300 RMB to a man who offered to sell him 发, the rarest Douyin card.
"When I transferred him the money, he just accepted without giving the card," the victim told Beijing Youth Daily. "And then I found myself blacklisted when I threatened to accuse him." The paper also found that many users who claimed to be "giving away" extra cards in QQ chat groups were actually selling them.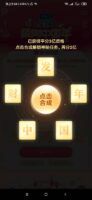 "Don't let commercialization dampen the human touch," the People's Daily implored in the headline of a 2017 editorial on WeChat's virtual hongbao. It was already too late.
---