Covid-19 is encouraging businesses to "lend out" surplus employees
From Didi to Mobike, China's share economy has been lucrative business, worth 7.36 trillion RMB in 2019. But the coronavirus outbreak has created a new "commodity" for sharing—excess workers.
"Employee sharing," or gongxiang yuangong (共享员工), is an innovative recruitment plan adopted by several understaffed Chinese companies, which employ temporary workers from businesses that are closed or operating below capacity due to the impact of Covid-19.  This flexible employment approach is intended to allocate surplus staff to where they are needed most, alleviating labor shortages, while providing income to workers and relief for businesses struggling with squeezed demand.
The epidemic has seen corporations working below full operations and struggling under the weight of fixed costs like rent and wages. A recent study conducted jointly by Tsinghua University and Peking University showed that 85 percent of 995 small and medium-sized companies said they could only sustain their operation for three months at most under the current circumstances.
Sharing has been greatest between the catering sector, where restaurants are being hit hard as consumers stay indoors and avoid crowds, and e-commerce platforms, which have seen demand surge as the homebound consumers order food, medicine, and groceries online. 
More than 1,000 workers employed by Xibei Group, a restaurant chain, have been recruited by Fresh Hema, a supermarket and fresh food e-commerce supplier owned by Alibaba, according to Finance Sina. Under the scheme, Xibei workers will be offered temporary jobs packaging and stock checking at Hema (after health checks and some basic training). Walmart, the American supermarket chain, has hired over 3,000 temporary workers from other sectors, according to China Daily, while hotel workers in Hefei, Anhui province, have begun working at an industrial park, according  to Xinhua.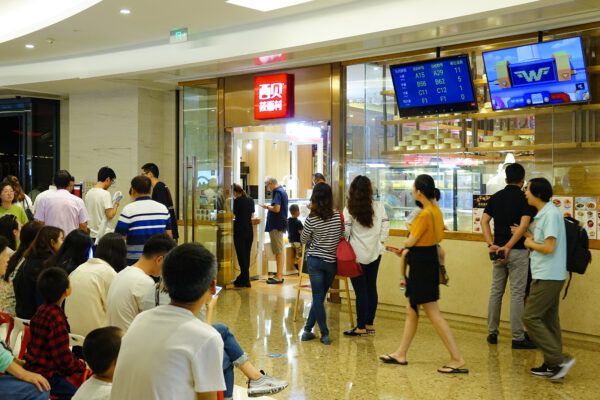 Zhu Chao, once an employee of Wensha KTV in Zhejiang, Hangzhou, now works for Hema dispatching orders. The two companies agreed to cooperate after the coronavirus hurt business at the KTV parlor. "I'm not as anxious as before, at least now my livelihood is guaranteed," he told Legal Weekly.
The new measures come with risks, however. Luo Lihong, head of human resources at Golong, a Hangzhou-based technology company, complained to China News Service that personnel sharing promotes a job-hopping culture, discourages stable employment, and fails to fill labor shortages in the high tech sector. Legal protections for "shared employees" also need to be guaranteed, through labor contracts that ensure social insurance is paid and include arrangements for any work-related injuries.
These are desperate times for Chinese corporations, however, and the "employee sharing" may help some businesses stay afloat. Wang Yi, professor of business administration at Southwestern University of Finance and Economics, suggested that flexible employment schemes of this kind might become more popular even after the impact of the coronavirus ends, but first, better management is needed to protect the rights of the "sharers" and the "shared." 
All images from VCG
---