Can China overcome a centuries-old taboo to establish hospice care?
Since founding Beijing Songtang Hospice in 1987, Li Wei has had to change premises seven times, four times due to violent protests from the neighbors. "They would say we were bringing a curse to the community. They called us 'the last stop before Babaoshan,'" Li tells TWOC, alluding to the famous Beijing cemetery.
Now located off a remote suburban expressway, the mainland's oldest palliative care facility sees steady demand for its 200 beds, as an aging society prompts the government to encourage the development of nursing homes, as well as hospital departments for palliative care, or linzhong guanhuai (literally, "end-of-life care"). Still, "China has no linzhong guanhuai culture; 95 percent of elderly in the countryside die at home," Li estimates.
Even in the cities, according to Li, 60 to 70 percent of elderly pass away in their own or their children's homes, with at most a nanny to relieve their physical discomforts. Other terminal patients in China are kept alive in intensive care units (ICUs), while public hospitals are often stretched too tight to accommodate most patients beyond 10 days after an operation.
Only a minority of elderly or terminal patients is able to access hospice care, and most have never even heard of it; by contrast, nearly half of all deaths in the US occur within a hospice program, according to the National Hospice and Palliative Care Organization. The notion of palliative care was not even introduced to China until the 1980s, partly because the notion of improving one's "end of life" quality, instead of focusing on a cure, was culturally anathema. Chinese medicine may be a culture unto itself, but the notion of death remains stubbornly off-limits.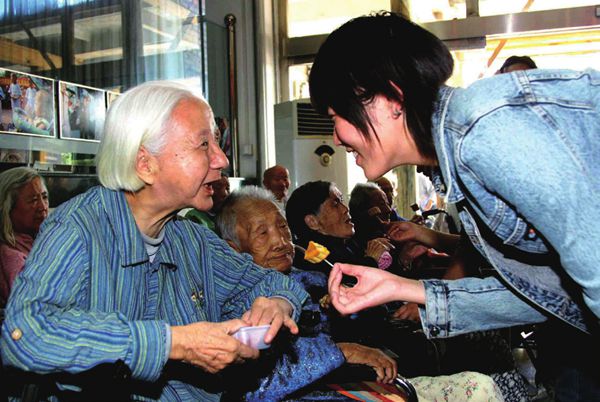 Superstitions surround even words that sound like "death," with phone and apartment numbers that contain the unlucky number four being particularly unpopular. Just to acknowledge one's own demise, such as by registering as an organ donor, is seen as a form of bad luck that can supposedly affect everyone in the vicinity, as demonstrated by Beijing Songtang's earlier unpopularity.
Similar anti-hospice protests have occurred in Shanghai and Hangzhou. "No morgue in the community" read a banner lifted by fearful Shanghai protestors in 2014, after rumors emerged that a palliative care institute would be established in the neighborhood. Guo Xu, a 14-year-old volunteer at Beijing Songtang, recalled that her family originally objected to her extracurricular activity. "When I first visited Songtang last October," she told TWOC, "my parents worried I might be frightened, because patients there could die at any moment."
That's not an entirely irrational concern, Li concedes. Over the last 32 years, Songtang has overseen the deaths of 40,000 patients, or about three a day. Most of the hospice's residents are over 80. Some have just three to six months left to live, while some others are physically or mentally incapacitated, or have no families to take care of them.
The Confucian virtue of filial piety is another stumbling block. Although the sage himself rarely addressed the afterlife in his writings—except to ask "If you don't understand what life is, how will you understand death?"—it's considered every child's duty to look after their parents, particularly in old age. Choosing palliative care is considered tantamount to abandoning one's parents, or giving up.
This attitude can often result in families insisting that doctors pursue aggressive treatments to maintain the lives of terminally ill relatives, rather than focusing on their loved one's psychological and spiritual needs. Many view resources like Songtang as an alternative only if they cannot afford the cost of an ICU, explains Li.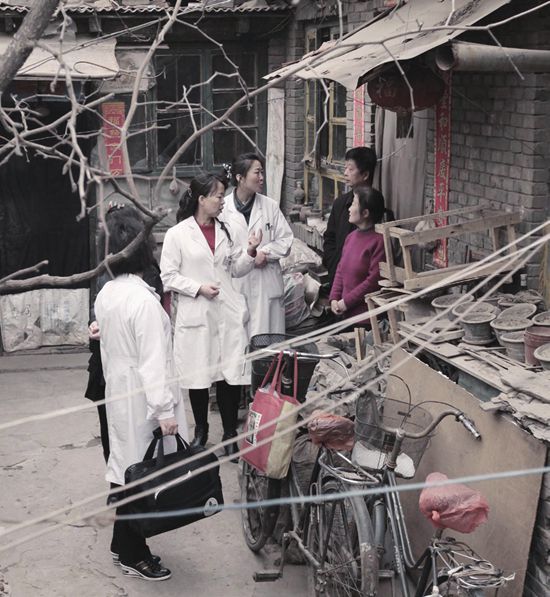 Although patients receiving hospice care are generally not expected to live longer than six months, "this standard is hardly practical," as Tian Zhijun, vice-president of Beijing Longfu Hospital, told China Youth Daily in 2017. Those with non-fatal diseases like Alzheimer's, or who have suffered a stroke, can often survive for a long time, but may still require the care that only a hospice can properly provide.
The need for hospices is a growing one. The number of those aged over 60 has risen from 194 million in 2012 to over 231 million, or 16.7 percent of population, in 2016, according to China's National Bureau of Statistics. Meanwhile, statistics released by the National Cancer Center (NCC) this January showed that close to 60 percent of the 3.93 million new cases of cancer diagnosed in 2015 proved terminal, mostly in patients in their 60s and 70s; as many as 30 percent could suffer unbearable pain, says the NCC. Over the last decade, China's overall rates of morbidity and mortality rates have both annually increased by 3.9 and 2.5 percent, respectively.
This should come as no surprise to most medical practitioners. As early as 2009, the book Research on Urban Hospice Care Services and Policies in China estimated that more than 7.5 million Chinese would requite some form of hospice care. The supply of such services, however, has lagged far behind.
Almost all hospices in China are in first and second-tier cities like Shanghai, Beijing, and Chengdu, according to the Economist Intelligence Unit's 2015 Quality of Death Index. Out of a total of 80 countries and regions, Chinese mainland was ranked at 71, scoring 23.3 out of 100 for its palliative and healthcare environment, human resources, quality of care, and community engagement; only its affordability compared positively against the global average, with a score of 37.
Shanghai, considered one of the best places for hospice care in China, only offered 234 hospital beds across 84 linzhong wards in 2013, even though the city saw 116,700 deaths, including 367,000 from cancer, that year, the Xinmin Evening News reported.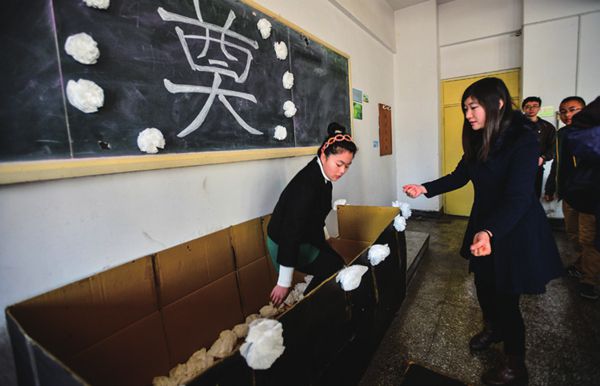 However, at the root of this failure is less a taboo about death, according to Li, but rather an enduring issue with China's current for-profit health system. "The service is not profitable, because it doesn't offer expensive medicine, examinations, or operations," Li explains. "That's why none of the hundreds of medical facilities that have visited our hospital have adopted this service."
At Shanghai's Linfen Community Health Center, deputy director Liu Deng told CN-Healthcare in 2017 that its hospice services had operated at a loss for decades, despite government subsidies, and lack of funding remains a major challenge, along with professional indifference.
As palliative care is a comparatively new concept in China, and lacks any independent medical university major or discipline, most of those working within the field are transfers who've been trained in traditional theories that emphasize curative treatment over pain mitigation. The industry struggles to recruit, because the salaries and career expectations it offers are not very attractive.
Ouyang Ziqiang, a live-in caregiver at Songtang, recalls how he began the job with his wife and four other recruits—"but they all left within a few months and even days, because they could not bear the hard work." He tends to three or four patients around the clock, with duties including washing, feeding, and changing diapers, as well as chatting with his patients and putting on impromptu song-and-dance routines for their mental well-being. No well-educated or city workers would do the job, Ouyang maintains, and most caregivers come from poor mountainous areas such as in Hunan or Sichuan provinces.
It's 60 percent psychological support, director Li says of hospice work, and 40 percent medical needs and nursing. There's a responsibility to relieve the loneliness, anger, and fear of death that many patients suffer, Li adds, that makes the absence of spiritual sustenance for most patients a challenge for the field of psychological service in China.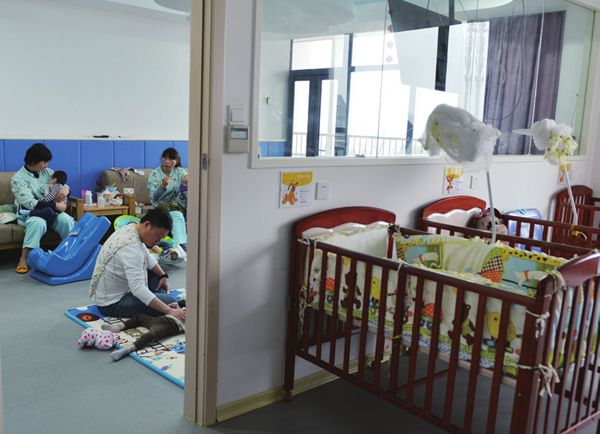 After noticing high suicidal tendencies among residents at nursing homes, Fang Shugong, a former aerospace engineer, established the Beijing Shifangyuan Elderly Hospice and Mind Care Center, a non-profit organization that offers psychological support to over 40 million physically and psychologically disabled patients in 2012.
Today, Shifangyuan provides psychological support to inhabitants of two hospitals, and at least ten independent nursing homes and 20 communities, and provides training and technical guidance to other psychological care groups around the country. Volunteers typically spend 40 minutes a day visiting terminally ill and elderly patients at their nursing homes or communities under the slogan "Love and Companionship."
"Even though death was a taboo topic in traditional Chinese culture, and family members may hide the prognosis from the elderly, the elderly often know; they just don't say so," says Fang. "Companionship is important; it helps the elderly overcome their fear of death."
Shui Qingzhu (pseudonym), who first joined Shifangyuan as a volunteer in 2016 before becoming a full-time employee this year, is all too familiar with the issue. After discovering her mother was terminally ill in 2003, Shui traversed China in pursuit of folk cures. After her mother died, Shui was hospitalized for renal failure caused by anxiety, then spent three years immersed in grief, filled with regret about her failure to admit the search was doomed from the start.
Since joining the organization, though, Shui says she has come to look at both life and death in a new way. "In 2017, when my father was diagnosed with cancer…I was able to discuss it honestly with him…He said, if he can't be cured, then he wants to die in a peaceful and dignified way, without being cut up and have tubes stuck all over his body, like a spider."
"After the second surgery, I asked him if he was afraid of death, and he said he was simply afraid to die alone," Shui says. After this, she began eating more often with her father, and he eventually passed away in 2019 in the presence of his whole family. "I think this showed our respect for life. We didn't try to control him just because he was sick."
In 2017, the National Health Commission released new guidelines for the standards and administrative procedures of hospice centers, along with plans to pilot palliative care programs in five cities and districts to establish models at the municipal, county, and township levels, with at least 70 more expected to follow. At the opening ceremony of the hospice ward at the Peking University Shougang Hospital in June 2017, Ma Xiaowei, deputy director of China's National Health and Family Planning Commission, estimated there were over 2,342 medical facilities offering palliative services at that time.
Whether or not those state-backed guarantees come true, Fang has already pledged to match them. Still, "we can only solve problems for individual elderly, not the root problems," Fang points out. His organization has been partnering with education firms to bring courses on awareness of death and emotional support for the dying into primary schools.
"This is just the beginning. It needs to be promoted across all society. Our entire society lacks education about life and death, love and companionship," Fang asserts. "Love and companionship, in essence, is how you overcome death."
---
Life or Death Decision is a story from our issue, "Tuning Up." To read the entire issue, become a subscriber and receive the full magazine. Alternatively, you can purchase the digital version from the App Store.
---