Long blamed for congestion and social disunity, China's gated communities continue to be desirable places to live
Zhang Yan's neighborhood in central Beijing is a safe one—at least that was what she thought when she went to bed as usual one evening, leaving her front door unlocked. But when she got up later to check the source of a commotion in her living room, she found that her bag was gone.
The thief escaped, despite the fact that Zhang lived in a "closed" residential community, surrounded by walls, with security guards at the entrances and multiple surveillance cameras in the stairwells. "I called the police…but when we went to view the tape, we found that those exact few minutes of footage had been deleted," Zhang told TWOC, suspecting an inside job by the property management company in charge of the community; but without proof, "there was nothing we could do."
In much of the world, gated areas of apartment blocks are the domain of the super-rich, but in China, they have become a middle-class norm. With their high walls and restricted entry to the public, the vast "closed communities" that occupy China's urban landscape are prized by prospective homeowners for their convenient housing services, provided by property management companies, and a sense of exclusivity and safety (though Zhang's story suggests there is no guarantee of this). Urban planners and sociologists, however, decry them for the problems they pose for traffic and social cohesion.
China's "superblocks" often contain 2,000 to 3,000 residents, and can occupy 20 hectares of land (around 30 soccer fields), compared with the 200 residents typically housed in one of America's limited number of gated communities. This has led to urban sprawl and congestion so that "vast distances separate everyday destinations and create environments hostile to pedestrians," writes Peter Calthorpe, co-founder of the Congress for New Urbanism, an American non-profit organization, in the book Can a City Be Sustainable?
Chinese cities are less dense and yet paradoxically suffer from worse congestion and lower liveability ratings than their international counterparts. In a 2018 survey by The Economist, 72 percent of Beijing residents and 67.5 percent of Shanghai-dwellers agreed that getting around their cities was a stressful experience, compared with just 39 percent of those living in Singapore. Beijing and Shanghai have less than five kilometers of road per 1,000 square meters of land, around half the ratio in London, and a fraction of the 13.8 and 18.9 kilometers in Seoul and Tokyo respectively.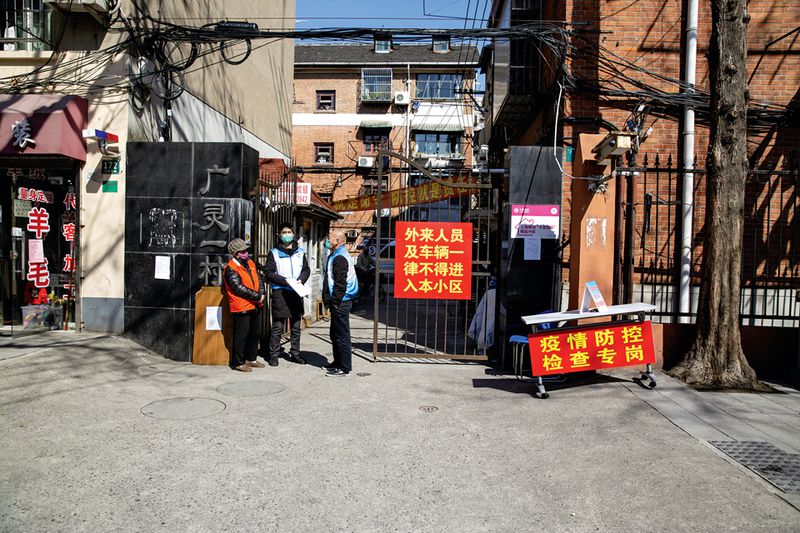 In 2016, the central government, recognizing the detrimental effects of closed communities on congestion, announced their intention to discourage such complexes from being built in the future, and to gradually tear down the walls of existing residential areas. The People's Daily described gated communities as the "clogged arteries of the city."
But a fierce backlash ensued. "China is an enclosed wall society," Fang Liufang, professor at China's Politics and Law University, wrote on Weibo in response to the announcement, citing examples like the Great Wall, China's ancient city walls, and walls around traditional dwellings like Beijing's siheyuan courtyards. He argued that Chinese traditionally protected themselves from their neighbors by setting boundaries rather than seeking confrontation. "Compared with Americans acquiring guns, building walls to defend oneself is more sensible."
Traditional homes like siheyuan provide a historical precedent for sheltered dwellings. A more recent influence was the work units (danwei) of the Mao era, which provided accommodation, employment, canteens, markets, childcare, schools, and recreation areas for workers and their families all within the same walled compound. Once the property market was opened up in the early 1990s, new residential complexes took on similar forms.
In 1996, against the backdrop of rising urban crime rates, the Ministry of Public Security published an article titled "Closed Communities are Good," citing data from a pilot program that "closed" some residential areas in central Beijing by sealing off entrances, erecting walls and railings, adding entrance guards, and building bike sheds, among other measures. The article claimed that in 10 closed areas, crime rates had fallen 85 percent in just one year.
Most residents perceive this to be true, in spite of experiences like Zhang's. Chen Ziyan, a resident of a gated community in Hangzhou, insists that open-style residences are "not safe" and she would be scared to live in one. "You don't know what will happen at night, and you wouldn't know who to go to for help." In 2016, when the government released its plans to open up closed communities, an online poll conducted by news portal Sohu showed nearly 60 percent of over 175,000 respondents opposed the plan because of safety concerns.
Residents also question the legal basis for tearing down walls, arguing this infringes on their property rights. "The government dug themselves into a hole," Zhou Wang, associate professor at Nankai University's Zhou Enlai School of Government, tells TWOC. "When they opened the real estate market in the 1990s, they didn't think about long-term urban planning. They just sold lots of land and real estate developers built these types of closed communities; then the developers sold the communal areas [of these communities] to the owners as a package with the homes."
Now, the prospect of opening up these walled areas presents a problem: "if [the government] want to use that shared space but don't give the owners any compensation, they'll definitely oppose it," says Zhou.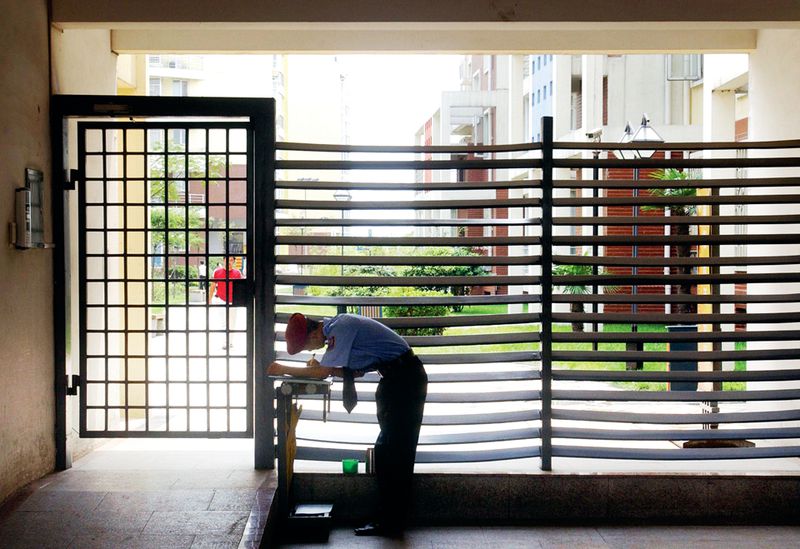 Enclosed communities allow local governments to avoid the financial burdens of managing residential areas. Instead, property management companies collect fees from residents, employ security guards, clean the roads, collect garbage, and maintain the communal areas within the complex. These firms are usually contracted by developers, and some developers have branched into property management themselves, meaning there is little competition to manage newly built communities, and buyers have effectively no choice of management companies when they move in.
In theory, residents can vote to change their property management company at any time through a property owners' committee. "But this is very difficult…a lot of communities don't even have an owners' committee," according to Zhou.
Fees vary dramatically. A source from one of China's biggest property management firms, headquartered in Zhejiang, suggests to TWOC 42,000 RMB per year as a benchmark price for her high-end clients. Chen pays 3 RMB per square meter each month on her apartment in Hangzhou.
Disputes between residents and property management firms are common, according to Zhou. In 2016, residents of a residential compound in a suburb of Beijing refused to pay an increased parking charge and protested by hanging banners outside their apartments. In response, the company sent "men in black" into the building at night, waking up residents by causing disturbances outside their homes. Chen says that in her own residential community, a fountain in the common area has fallen into disrepair and green spaces have gone untended, but the management company has not responded to her complaints.
He Liu, an urban designer, believes China's obsession with gated communities is costing them more than urban congestion, inflated fees, or bad service. "There's too much separation between social classes," she tells TWOC. Miao Pu, a professor of architecture at the University of Hawaii, called China's gated communities a "cancer of urban life" in a 2004 paper, arguing they "will only strengthen the existing economic, cultural, and racial 'walls' that already exist in society, leading to a disunited society."
The recent Covid-19 pandemic has demonstrated both the upsides and downsides of the system. Since February, even formerly open residential areas in Chinese cities have seen gates built overnight, guards stationed at entrances, and non-residents barred from entering so that local residential committees can track potentially infectious persons.
The mechanisms already in place for community management have no doubt made it easier to implement these measures. "The government has found that it can use property management companies for free—the security guards, their staff, this whole system—to help them [enforce virus prevention measures]," notes Zhou. "They don't need so many police."
But the unique circumstances of the virus have also exposed the exclusionary nature of these walled "cities within cities." In Beijing, Xi'an, Zhengzhou, and many other cities, some renters and even homeowners were barred from entering their complexes by overzealous guards after returning from other parts of China, with the police claiming they can do nothing because residential committees and apartment blocks can "enforce self-rule."
Heavy-handed enforcement aside, Zhou admits the ubiquitous walls of urban China have probably made it easier to contain the virus: "In Europe and America it's very difficult for them, because they don't have so many closed communities." The prospect of another government push to tear down the walls seems remote, he suggests. "Before the virus it was already difficult; now I don't think we will hear about it again."
Chen believes gated communities are here to stay, simply due to the way Chinese society has evolved. "I remember my dad said to me, Chinese people have no trust in each other," she recounts. "Before, he never worried about locking his door, even at night. But maybe China can't be like that again. Chinese people have no sense of security now."
---
Building Blocks is a story from our issue, "Contagion." To read the entire issue, become a subscriber and receive the full magazine. Alternatively, you can purchase the digital version from the App Store.
---