Cambodia's "parade of spirits" revives the heritage of a historically persecuted Chinese community
With Teochew opera blaring through crackling speakers and throngs of spectators gathered around him, Ly stands motionless with three sticks of incense raised to his forehead at the altar of the Sam Ourng Temple, waiting for his ah gong, or spirit, to possess him.
Within minutes, the usually soft-spoken, modest 23-year-old is transformed as he slams his hands on the altar table, and lets out a guttural cry, teeth bared and eyebrows furrowed. Ly surrenders himself to the spirit of the "White Tiger Marshall," a Daoist deity who will "borrow" his body in order to bring blessings to eager devotees in Phnom Penh's Chbar Ampov district for the lunar new year.
Taking place over the course of three days around the time of the Lantern Festival, which marks the end of Chinese New Year, the annual Hei Neak Ta, or "parade of spirits," is a Cambodian cultural practice rooted in Daoism and Chinese folk religion. Brought to Southeast Asia by immigrants from southern China during the late 19th and early 20th centuries, the tradition of mediumship is still upheld today in Taiwan and some southern provinces on the Chinese mainland.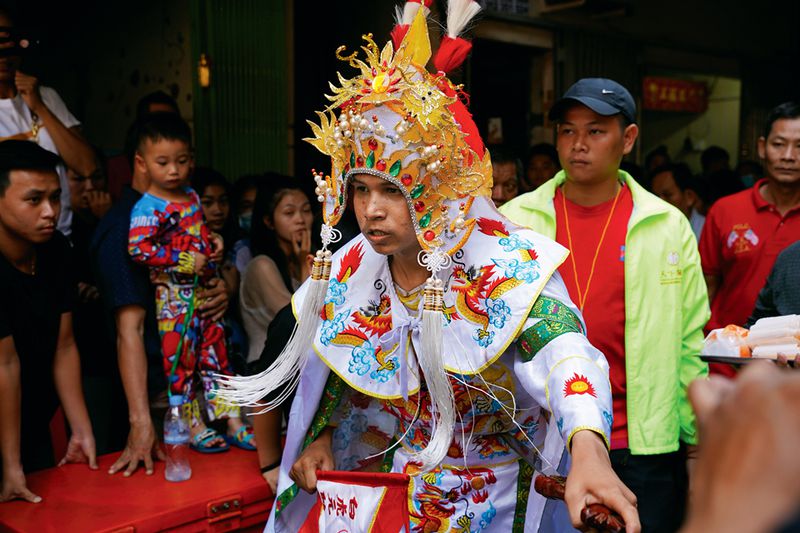 This is subscriber exclusive content
Become a subscriber to continue reading
---
Spirits of a Kindred is a story from our issue, "Contagion." To read the entire issue, become a subscriber and receive the full magazine. Alternatively, you can purchase the digital version from the App Store.
---