How an emotional female-centric comedy beat big budget competition at the Chinese box office
With many Chinese staying in cities rather than returning to their hometowns this Spring Festival because of worries about Covid-19, China's box office made more money than ever before over the holiday period.
But amid stern competition from big budget action films, one bittersweet movie about a mother-daughter relationship won the nation's heart. Hi, Mom, directed by Jia Ling, one of China's leading female sketch comedians, and made in memory of her late mother, has been a huge hit.
Released on February 12, Hi, Mom raked in more than 4 billion RMB in just over a week, surpassing Wanda Picture's big budget comedy Detective Chinatown 3 on the way to becoming the most successful film of the holiday period and one of the top five grossing films in Chinese film history. The movie's success made Jia Ling, who also stars in the movie, the highest-grossing female director of a single film in Chinese box office history.
The movie has a score of 8.1 out of 10 on China's most popular film reviewing platform, Douban, crushing the 5.6 points of Detective Chinatown 3 and becoming the clear audience favorite among the seven new films released over Spring Festival.
The film, which is adapted from Jia's  2016 comedy sketch of the same name, which was in turn based on her personal life, tells the story of a college student named Jia Xiaoling (Jia Ling) who is transported back in time to 1981 following her mother Li Huanying's (Zhang Xiaofei) car accident. Guilty about her failings as a daughter, and hoping to give her mother a better life, Jia vows to do all she can to make her mother happy: helping her buy a TV, organizing a female volleyball tournament for Li and her fellow workers, and setting up dates between her and the factory manager's son, Shen Guangling (Shen Teng)—even if that means erasing her own existence. Jia wants to give her mother a successful career, a wealthy family, and a child she can be proud of.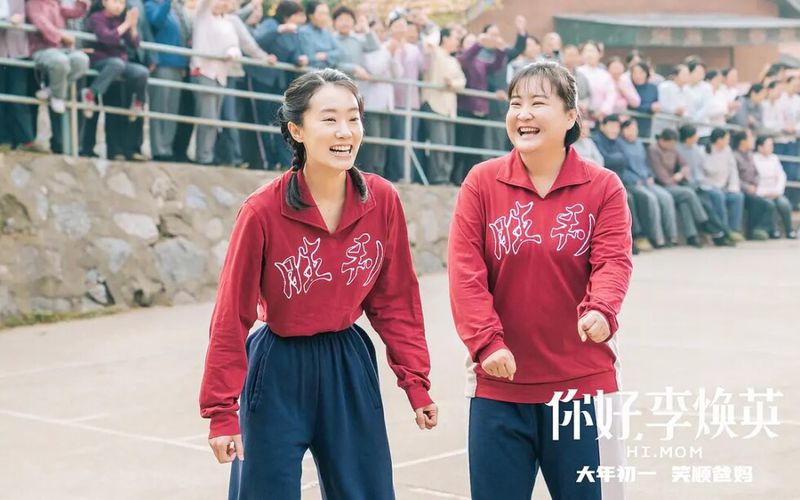 The movie is made up of humorous vignettes in the first half, but mixes in tragedy and pathos in the second. In one of many tearjerking scenes, while Li and Jia discuss hypothetical children they would want to have, tells her future daughter: "As for my daughter, I just want her to be healthy and happy." The purity of this wish is refreshing in China's ultra-competitive society, where children often feel pressure to repay their parents with financial and material success.
Audiences have been moved to tears by Jia and Li's portrayal of the mother-daughter relationship. "The sincere feelings in the movie moved me deeply," Zhang Di, a 23-year old woman from Anhui, tells TWOC. "Now, to ensure I have no regrets left in the future, I want to further strengthen the bond with my mother, and fulfill my duty to my parents." Zhang saw five different movies during the holiday, but deems Hi, Mom the best.
The movie has dominated social media chatter among movie-goers, with many joking online about how many packets of tissues they went through to dry their tears when they watched the film. The movie also sparked a trend online of netizens posting photos of their mothers when they were younger, with many telling stories of their mother's young lives.
In a review for The Paper, Hou Hongbin, a female critic, praised the movie for its female perspective: "[The movie] removes the patriarchy and focuses on the friendship and cooperation between women; the mutual help and confrontation between them; and the intimate mother-daughter relationship. It highlights the power and charisma of women themselves, who don't need men to judge or value them."
However, not everyone was won over. While Zhang loved the film, her mother was underwhelmed by the illogical time-travel plot, and didn't get the jokes. Many other viewers online have observed that the comedic style and plot did not resonate with their older family members. WeChat public media account Timian Zhuyi argued in an article that the film romanticizes the 1980s in a way that is unrecognizable to the women who actually lived through the period. Meanwhile, film director Hong Shui suggested that the pacing and narrative transitions in Hi, Mom are better suited to sketch comedy than the big screen.
Despite these flaws, Chinese social media is flooded with positive reviews about the movie, with many people reflecting on their own mother-daughter relationship and determining to express their love to their mothers in a more direct way more often. As one comment on the movie with tens of thousands of "likes" on Douban reads, "You may think you love your mother very much, but actually your mother loves you more than you can imagine."
Cover image from Douban
---