Photographer Xin Ting captures workers at their happiest
According to an apocryphal story about the late Qing dynasty (1616 – 1911), the formidable Empress Dowager Cixi invented the practice of smiling for the camera circa 1903.
When Yu Derling, the empress's French-educated lady-in-waiting, brought back a camera from abroad, the empress believed that the black, smoke-emitting contraption could steal a person's soul and print it on a piece of paper—so to get her employer to relax and smile, Derling asked her to say "cheese," which the empress mispronounced as qiezi (茄子 "eggplant").
This incident probably never took place, as Derling's own memoir Two Years in the Forbidden City makes no mention of it, and actually portrays the empress as being quite enthusiastic about the technology. Still, saying "qiezi" before taking one's photo is now common practice in China today, and there's evidence that smiling has always been common in early Chinese photography.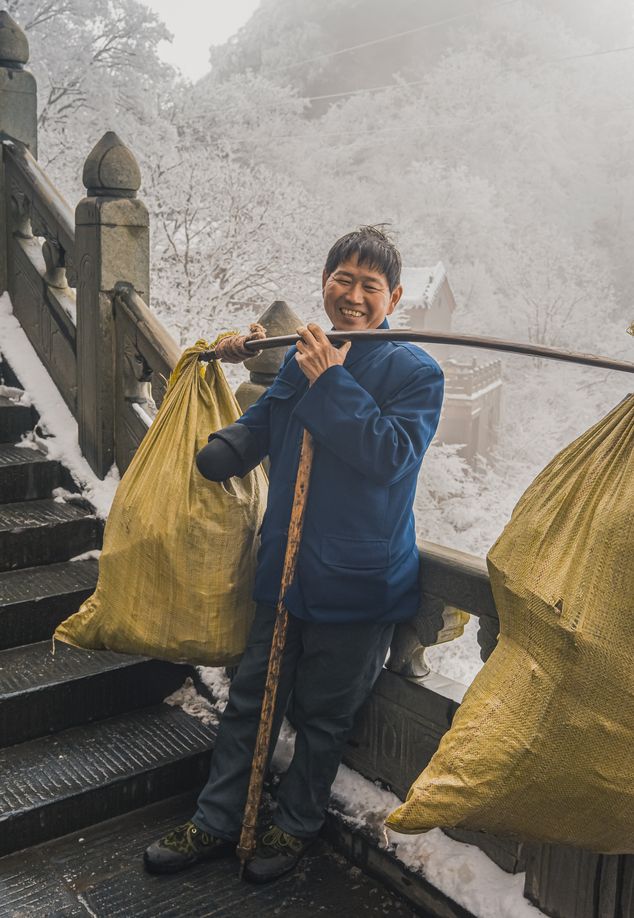 A porter who transports tourists' luggage up the Wudang Mountains smiles as he takes a break in his work (Shiyan, Hubei province, 2020)
Compared to the stiff-necked, black-and-white portraits that were the norm in their home countries during the same period, missionaries and travelers in China at the turn of the 20th century frequently took photos showing Chinese farmers and rickshaw drivers pausing to smile in the middle of their work. One photo dated between 1901 and 1904, titled "Eating Rice, China" collected by the American Museum of Natural History, even sparked accusations of forgery on social media in 2019, due to the modern-looking toothy grin sported by the man in the image.
Many people have attempted to explain why Chinese were apparently fonder of smiling in photos than Westerners—the simplest explanation being that grassroots laborers during that time didn't know what the camera was, so they just flashed a smile for the foreign visitor. Over 100 years later, photographer Xin Ting has produced a body of work that is reminiscent of this tradition. Responding to a monthly competition on the theme of "Smile" on Fengniao, an online community for photographers, in 2019, Xin originally went looking for photos of smiling children within his repertoire as an easy solution. But later, when he got a commission to design an ad for a moving company, he says he became struck by the "ordinary laborers who silently work and are quickly forgotten, and the strength and wistfulness contained in their generous smiles."
"The composition of these photographs may not be anything special, and perhaps their content isn't crowd-pleasing, but I truly like them, and like the people in them," Xin wrote on Fengniao. "They remind me of a set of lyrics by [Taiwan singer] Jonathan Lee, 'Ordinary people are the ones who move me the most.'"
Photography by Xin Ting (辛挺)
---