How China is reimagining its urban landscape from the perspective of its youngest residents
Imagine you're a 6-year-old child, around 1 meter tall, living in one of China's largest cities and going out alone to get a Popsicle. Can you make it to the store and back home safely before it melts?
Setting out from your home on the 15th floor of an apartment block, you reach up high to push the button for the elevator, stroll down what might be dimly lit corridors, and eventually walk out of your apartment complex and into a world of tarmac roads and gray skyscrapers. Between you and the ice cream store, 600 meters away, are two busy intersections filled with speeding cars, honking buses, electric bikes, and bicycles, none of them stopping for pedestrians. You push the button on the lights and patiently wait for the green man to appear (like mom told you to do).
You eventually make it to the store and get your Popsicle. But now you can't remember the way back, so you have to ask a stranger for directions to get home. As you make your way across the road, the smoggy air makes it hard for you to breathe. When you finally get back home, you're probably left thinking that was no fun at all. Best to go with mom next time. Or just stay indoors on a smartphone.
This scenario is exactly what researchers tried to test out when they conducted the "Popsicle test" in Baiyun district, Guangzhou, in August 2021, with the aim of finding out what urban living is like for children under the age of 6. This test, which has been conducted around the world, is used as a measure of how "child-friendly" an area is. Researchers found children in Baiyun had a very hard time even making it to the shop, let alone getting home before their ice cream melted—a symptom familiar to many people living in large cities in China (and worldwide), which are not always kind to kids.
"I absolutely do not allow my child to play outside alone," Zhang Yan, who has two children aged 8 and 1 in Beijing, tells TWOC. This is despite the fact that Zhang herself often played outside alone in Beijing when she was a child, less than 30 years ago, when Beijing had not grown as big and diverse as it is now. "All the neighbors knew each other, so it was relatively safe. But now there are all kinds of people in our residential complex, we don't know all of them, so it's not suitable for children to play outside alone."
China's urban spaces pose many challenges to children. Traffic, pollution, and the lack of green spaces, play parks, and childcare facilities, all inhibit children's ability to socialize and force them to stay indoors, often glued to digital devices.
Many of these problems lower the quality of life for adults too, but children are often worst affected: For example, babies absorb four times more air pollution than adults, and toddlers need double the time to cross roads compared to adults. China's rapid urbanization of the past few decades has, understandably, been planned around the needs of adults.
Recently, however, there's been growing recognition that more should be done to make cities better suited to the needs of the close to 300 million children aged 0 to 17 in China, with government and civil society alike pushing for the construction of "child-friendly cities."
UNICEF launched its Child Friendly Cities Initiative in 1996 to promote the rights of children in an increasingly urbanized world. Under UNICEF's definition, a child-friendly city enables the healthy development of children, creates equal opportunities for all children, and respects the views of children in its construction and policy formulation. Children should be safe, and free to experience their local environment on their own terms.
With these aims in mind, China's National Development and Reform Commission (NDRC) announced plans to pilot child-friendly city schemes in around 100 cities with a population over 1 million in October 2021. The department also set out plans to make the concept of "child-friendliness" deeply rooted in society by 2025, and to have over 50 percent of the country's cities with populations over 1 million be child-friendly cities by 2035.
In practice, this means increasing the number of spaces where children can play, providing accessible infant care to parents, strengthening parenting advice services, and, according to new guidelines issued in December 2022, mandating newly built residential compounds to have at least 100 square meters of space for children to play. Those guidelines say child-friendly cities should "put children first, be inclusive and fair." Shenzhen was the first city to explicitly announce the goal of creating a child-friendly city in 2015 when it was included in the city's 13th Five-Year Plan, but since then many other cities have followed suit.
The government's "double reduction" policies introduced in 2021, aimed at reducing student stress by curtailing the provision of after-school tutoring, also play a role. "Two years ago, my daughter's school started providing opportunities for students to go to school during summer and winter vacations because some children don't have retired relatives who can take care of them [when the parents may still be working]," says Zhang, explaining how schools have stepped in to fill the gap left by tutoring companies.
The idea of making the life of children fulfilling, varied, and fun—as opposed to focusing only on their requirement to be disciplined and filial—is not new in China. Hu Shih, an influential intellectual during the early 20th century, wrote that "How children are treated in a society is a good measurement of its degree of civilization. Creating a safe, free, and rich environment for children to play, explore, and speak up is not only protecting the growth of these children, but also preserving the fruits of human civilization."
Yet China's rapid urbanization from the 1980s onward focused on generating high economic growth, often above all else. As cities expanded rapidly, and concrete and glass skyscrapers took over their landscapes, children faced improved public facilities, but also new challenges that limited their ability to play.
The number of motor vehicles in China, for example, reached 390 million in September 2021, up from just 5.5 million in 1990. Despite recent projects to make cities more child-friendly, the leading cause of death for children under 14 in China remains road traffic accidents, according to a Xinhua report in 2021.
Car ownership and urbanization are likely to increase for the foreseeable future, so belated policies focusing on child-friendly development may struggle to make a significant impact. "I believe raising a child has become more difficult, because in the city there is basically no place for children to go on their own," a family blogger with four children in Shanghai, who goes under the handle Mrs. Yang, wrote on her public WeChat account in February 2022.
Mrs. Yang blamed traffic, other dangers like animals and electrocution, and wrote that "parents don't dare let their children play on their own because there are so many stories of human traffickers that they have become terrified." She believes that if the current situation doesn't change, even the "double reduction" policy won't bring more kids out to play, nor assuage parents' fears.
Granting children more places to play and socialize (and more time off schoolwork to enjoy play) is also key to an urban area's child-friendliness. Many cities in China lack green spaces, and even those that do have them sometimes lack areas designed exclusively for children's play. In response, the December 2022 guiding principles encourage building children's parks with facilities like bunkers, shallow pools, slides, and micro topography (such as tiny hills, small grassy areas, and sandboxes), as well as sports facilities like basketball courts suitable for children.
These steps, however, have been incremental, and are not always successful. Shenzhen, for example, now has over 1,200 parks, but most still lack child play areas, according to an article in December 2022 by Chen Shaoning and Liu Lei of the Shenzhen Urban Planning Center, a design company. "Lots of city parks are 'beautiful' or 'pretty' but inside there is no habitat. For example, there are no insects; they still manage the parks with pesticides. The park becomes a 'potted landscape,'"Chen and Liu wrote.
Other cities struggle from a lack of green space in general, with Shanghai, for example, having just 2.8 percent of its land given to publicly accessible parks and other green spaces, compared with 54 percent in Moscow and 45 percent in Vienna according to the World Cities Forum, a symposium of 38 global cities that collaborate on projects and meet to discuss urban development, in 2019.
Beyond making the physical environment of cities more friendly to children, a radical rethinking of how kids learn and play would help children develop healthy study and social habits, according to Li Yikang, co-founder of Dotsss, a traveling children's museum. "Kids and families would benefit a lot if there is a place in the city that can connect kids to the real world, but through really fun ways that [children] naturally love," says Li, advocating for more interactivity and experiential learning for children to complement the rote memorization they often experience in school and tutoring classes.
Li travels the country putting on exhibitions aimed specifically at children on topics like physics and classical Chinese poetry. Regular museums emphasize the display of antiques that might not appeal to all children, while traditional culture generally separates study and play, Li explains.
In one activity at a Dotsss exhibition, organizers introduce children aged 4 to 10 to renowned Song dynasty poet Su Dongpo by creating a stage set of his ancient home and asking the children what they think Su would have been playing with, reading, and saying to his parents when he was their age. "I think the parents were definitely surprised. I think it's quite new for them to see their kids playing and learning at the same time," says Li. The children even wrote their own poems during the exhibition, some in pinyin since they hadn't learned Chinese characters yet.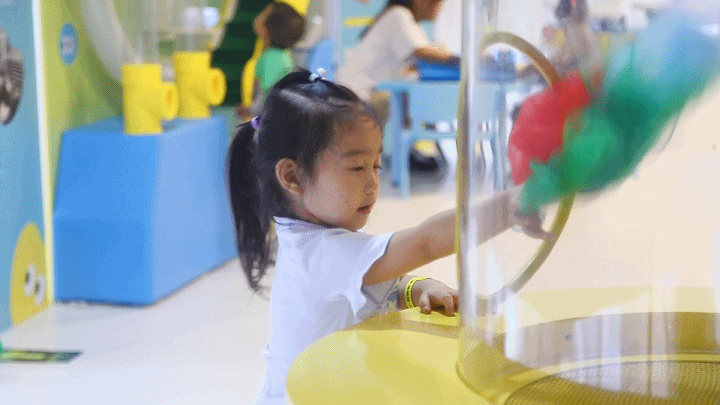 A child at a Dotsss exhibition. Child-friendly museums might be more interactive than traditional museums, so that children can have fun and learn at the same time. (Courtesy of Dotsss)
Children's museums are just one of many efforts, both from the grassroots and the government, toward making cities more child-friendly. In Qianan city, Hebei province, a government project turned a heavily polluted 13-kilometer stretch of river into an ecological park with wetlands, trees, flowers, and connections to residential areas and schools via boardwalks. It is now a popular gathering spot for children and families.
Shenzhen included the goal of creating a child-friendly city in its 13th Five Year Plan, and has since established over 381 "Children's Councils" where children meet to discuss the city's development and offer their suggestions on future plans. At the beginning of 2022, Chengdu issued a five-year action plan for the construction of a child-friendly city by 2025, which proposed introducing a child's perspective of 1-meter height to planning.
Zhang believes China is moving forward with these goals in mind, improving provisions for both parents and children. "I think Beijing's parks and playgrounds are generally quite convenient, plus there are children's play areas in some shopping malls," she says. "They even have mother and baby rooms for feeding or changing...they often also have special restrooms for children with a small toilet inside." None of this was common in previous decades, Zhang adds.
But creating an urban environment fit for children "isn't only about environmental spaces, indoor and outdoor facilities, it's also about the design of 'products' found in policies," Dong Nannan, an associate professor at the Department of Landscape Science, School of Architecture and Urban Planning, Tongji University, told Whats City, an online publication on urban design, in November 2022.
That means practical, grown-up concerns for parents in China should be addressed too, such as real estate prices that make it difficult to raise a large family in the city. And despite curbs on after-school clubs, parents are often still anxious that their children study hard to progress through China's competitive education system. "There's definitely some resistance," Li says, explaining that parents often worry their children won't learn anything and she has to convince them "this place is not just for playing…we're talking to real experts in the field in order for their children to better understand the subject."
Safety, however, is Zhang's priority for her children. She believes that Beijing is probably one of the safest places in the country to raise a child, but she still doesn't anticipate her child being able to play outside on her own anytime soon, citing the amount of road traffic outside.
Yang, on the other hand, ended her article on a more somber note: "Our children learned to say the word 'boring' from a very early age, because apart from watching TV, playing on an iPad, and hanging around their parents, what else is there for them to do?"
---