Once neglected in Chinese cookery, Yunnan food now thrives by emphasizing what other provinces lack
"When the winter sun of Yunnan floods the whole hill with light," wrote British consul George Litton, surveying China's most ethereal province in 1903, "the view of forest and mountain is so superb that it's easy to believe that a spot so conspicuous, so accessible and so beautiful, must have attracted the religious devotion of men from the time when they were first moved by the conception of the spiritual or the sublime."
This was a strange interlude for Litton's field report, which was otherwise filled with tables and tedious tattle about the economy and road conditions of China's southwestern frontier. But according to Zhang Yingfei, head chef at the Yunnan provincial government restaurant in Beijing, Yunnan always has that effect on people. "The rest of China used to think of us as a backwater—and the food as unsophisticated," he says. "Then as tourism developed, everyone heard about how wonderful it was, and they started wanting a sample of Yunnan in their hometowns."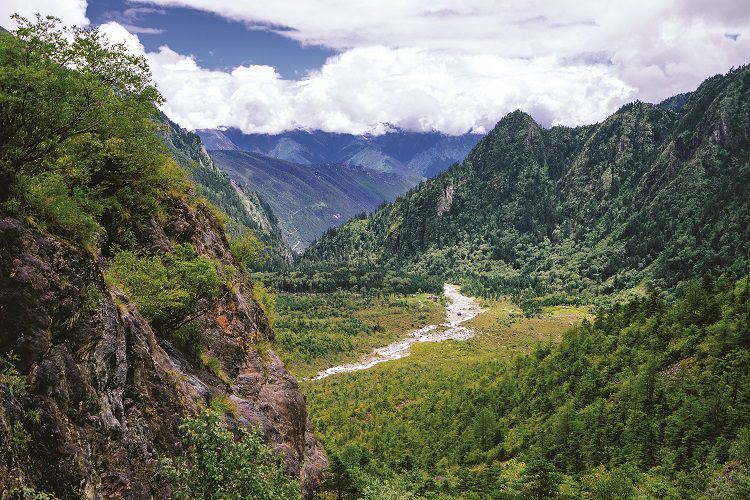 Evocatively named—Yunnan means "South of the Clouds"—and boasting some of China's best-preserved natural scenery, the province is still not above using artificial means to boost its already considerable charm. In 2003, the prosaic Zhongdian county was renamed Shangri-la after James Hilton's classic novel; back in 1996, after an earthquake, officials in the city of Lijiang displayed unusual foresight in requiring the Old City quarters to be rebuilt according to the traditional architecture of the Naxi minority; both places now regularly top domestic tour-destination rankings in China.
Also China's most ethnically diverse province, located on a cultural crossroads of East Asia, Southeast Asia, and the Tibetan Plateau, Yunnan appears to thrive by emphasizing its differences—a formula now being applied to popularize its cuisine.
"The one word I'd use to describe Yunnan food is 'ecological'—the ingredients tend to be organic or particular to its region, and we emphasize its freshness and natural flavor in cooking," Zhang says. "As people are concerned with food safety these days, that's a great selling point."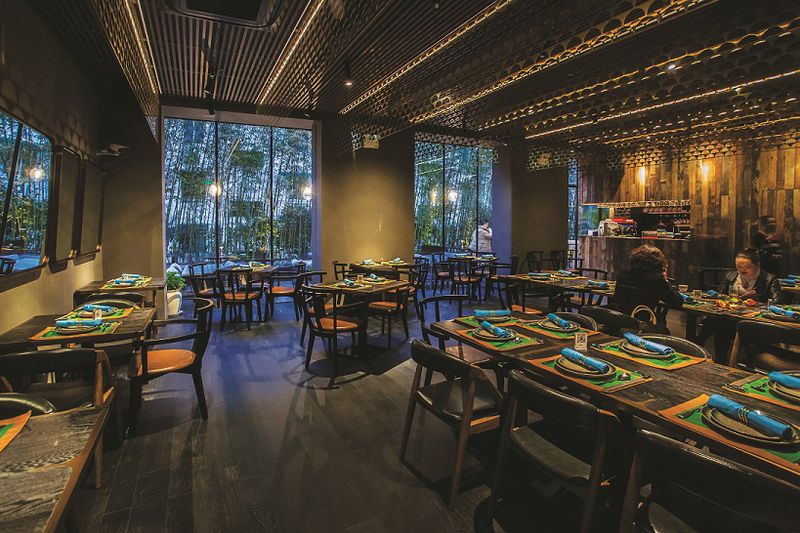 Aside from the perception of freshness, however, even Zhang is hard pressed to name any single feature that summarizes the appeal of Yunnanese food. There are around 10 specific regions within the province, and around 25 ethnic minority groups—seven with their own autonomous regions—in a geography encompassing both jungle and plateau, not to mention influences and ingredients from neighboring regions and countries. The result is that "Dian cuisine" (滇菜), called after the ancient name for the province, is not among China's traditional "Eight Great" regional food systems; some natives even argue there is no such single cuisine.
Lu Jing, a young Yunnan architect who moved to Beijing after graduation, is one. "Because there are so many ethnic groups, there are many food cultures in Yunnan," she says. But that, she argues, is actually a point in its favor compared to other Chinese regions. "Foods from Yunnan encompass all the flavors—sweet, sour, bitter, spicy, salty, fresh, and raw. Bitter, especially, is something you rarely find in other food systems, as are raw, seasonal ingredients that you can only eat at a particular time of year."
Then, of course, there are the mushrooms, arguably Yunnan's most famous (certainly priciest) ingredient. "Every year, we hear news reports of people taken to the hospital because they've been poisoned by wild fungi, which they eat in order to hallucinate"—yet another nod to the Yunnan travel experience, given the province's reputation in its border regions, close to the Golden Triangle—"or because it's so fresh," says Lu. Yunnan produces around 250 species of wild mushrooms, around two-thirds of all edible types of fungi in China, and "wild Yunnan fungi"-themed restaurants can be found in some Chinese cities, safely serving creative, exotic mushroom-based dishes for inexperienced foragers to enjoy.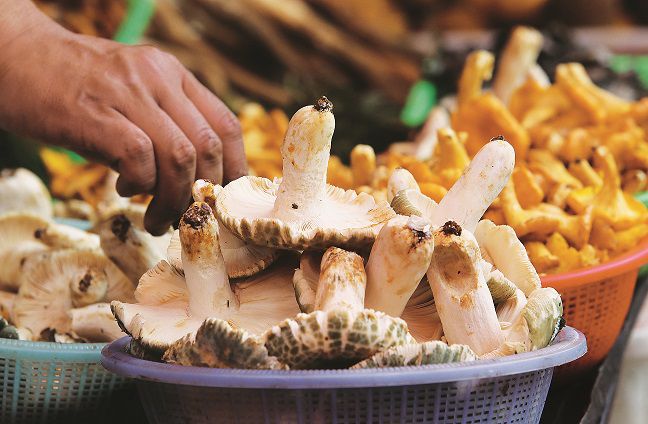 Urbanites' taste for the ecological have created a feedback loop with the local tourism industry. In recent years, organic farms and rural markets in Yunnan have become attractions in their own right, especially where the mushrooms are to be found. In August, a record number of tourists from around the country as well as local buyers gathered in Nanhua county, a self-styled "Kingdom of Wild Mushrooms," where 1,008 tons of fungi were transacted in the first week of the month. In the east of the province, the town of Longpeng has been developing a mushroom-based tourism industry complete with an annual mushroom culture festival since 2012.
High-end travel companies based in cities have also begun offering culinary tours that bring Chinese and international travelers to interact with the food producers in the province. At Beijing's WildChina, founded by Harvard-educated Yunnanese-American Mei Zhang, customers experience boutique hotel stays and private driving tours along with activities like making cheese with Yunnan farmers and picking tea leaves, which, according to company marketing manager Emma Clifton, provides an "immersion" in local culture using food as the icebreaker: "In the comfort of their kitchen, Yunnanese people open up and have so many stories to tell."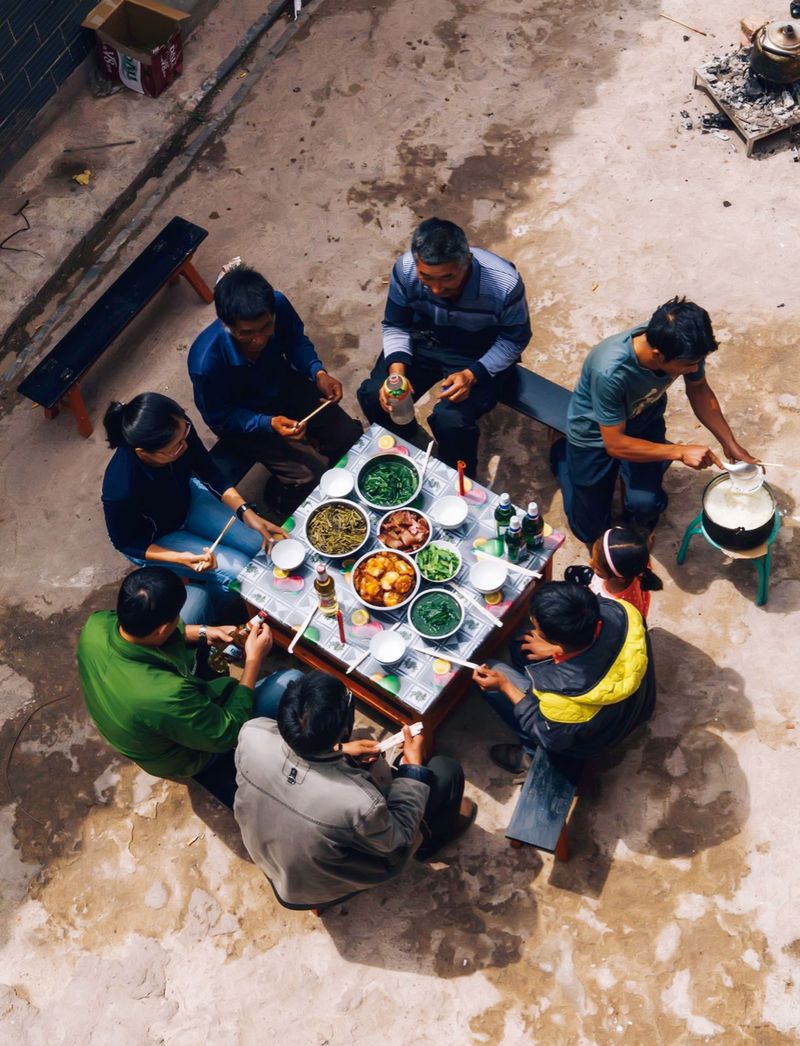 Those without the time or resources for immersing themselves have make do with elements of Yunnan now creeping into China's cities. "National chains based on Yunnan cuisine are doing extremely well, and we're finally moving beyond the perception that Yunnan cuisine is only 'crossing the bridge rice noodles,'" Chef Zhang says, referencing a famous dish in which rice noodles are cooked beneath a layer of oil. At Yun Hai Yao, a "viral restaurant" popular in Chinese malls, wait-staff sporting the silvery jewelry of ethnic minorities are as much part of the marketing as the food. Shanghai was the birthplace of the so-called "Lijiang themed" restaurant—small diners catering to a younger market, filled with books and wooden tables evocative of the cafes their millennial customers likely encountered while backpacking around Yunnan itself. Yunnan cuisine is also said to be the food group with the greatest of number of appearances on CCTV's A Bite of China.
Zhang believes it's not just the clientele who benefit from this fever for all things Yunnan. "Yunnan people are stereotyped as 'homebodies'—when you've got everything you need in this province, so many different kinds of foods and geographies, why would you ever want to leave?" he wonders. "Now our chefs are taking notice of the interest in Yunnan, and confident to take our products abroad. That can only make Yunnan food more innovative, and inspire us more."
---
Mouth of the Clouds is a story from our issue, "Cloud Country." To read the entire issue, become a subscriber and receive the full magazine. Alternatively, you can purchase the digital version from the App Store.
---