Spurred by health concerns and Buddhist benefits, vegetarianism is taking root in China
Xing Lihong decided to go vegan after spending a week at the Donglin Temple, Jiangxi province, in the summer of 2005—but she'd been readying herself for the decision since 2002; after reading Buddhist and nutritional texts, she began abstaining from meat on the first and 15th of every lunar month.
"At first, I felt hungry and craved for meat," Xing confessed. "I often ate a lot after the two 'vegetarian days,' as a form of compensation." But gradually she got used to the new regimen. "I'm convinced that 'everything has a spirit,' and it's this belief that makes me stick to it."
Xing is just one of a growing number of Chinese choosing to reject a traditional carnivorous diet in favor of a meat-free life. There are now around 50 million vegetarians in China, Xinhua estimates—about 3.5 percent of the population.
"In the future, China will become the number one vegetarian country," predicts Tang Li, founder and head of the Chinese Vegetarian Association. "It's just a matter of time." The association, a non-profit that promotes the benefits of a vegetarian diet, was established in 2007, and is made up of ordinary vegetarians, entrepreneurs, activists, and nutritionists.
A vegan himself for 25 years—a philosophy that abjures all animal products, from meat and dairy to leather and gelatin—Tang believes the increasing popularity of vegetarianism is partly because the "government has become more and more open-minded to Buddhism." According to the non-partisan Pew Research Center, there are approximately 245 million Buddhists in China—around 18 percent of the total population—and another 21 percent adhere to folk religions that incorporate Buddhist beliefs.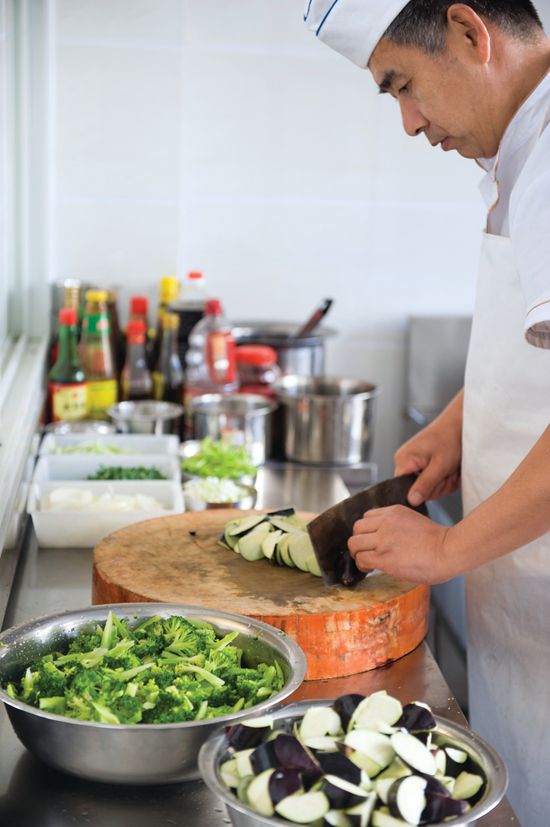 Tang offers four main reasons for the diet's growth: "The first is health, as some people are forbidden from eating meat by their doctors; second is wealth, as many become vegetarian because they stepped into the vegetarian industry; the third is out of curiosity, and some people just imitate vegetarian celebrities; lastly, belief—Buddhism is pretty popular in China, and its non-pacifist doctrine is leading China to become a big vegetarian country."
In Xing's case, religion and health were her main considerations. A vegan for 13 years, Xing is now more adamant than ever that her decision was right—and even thinks it helped ward off bad luck. "It's really magical," she tells TWOC. "I have always been hardworking and capable, but in the past things happened for no reason—my first company shut down, then my second company fired me, though they later told me that was a mistake. I didn't know what was wrong, so I guess my only misdeed was eating animals."
"Unbelievably, after I quit meat, my luck came back. Everything's going very well now."
Regardless of her claims to karma, Xing can point to her improved health as a tangible benefit. "I had been weak and sickly since I was a child," she says. Things were no better in her first two years of veganism, when she often seemed pale and weak. But now, aged 49, Xing is in peak condition: "I have only had two colds in the past 13 years," she claims.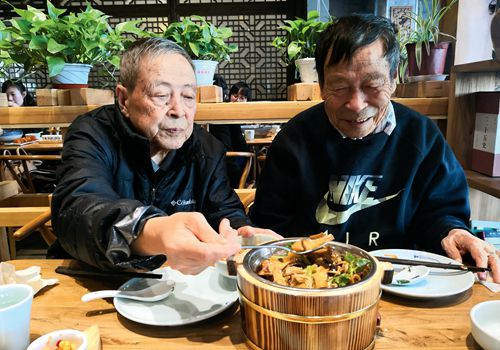 In fact, Xing says her family has a tradition of vegetarianism: Her great-great-grandfather and great-grandfather were both apparently vegans from childhood, while her grandmother and two of her great-aunts barely touched meat their whole lives. All were blessed with longevity, with her female forebears living up to 97, 98, and 99 years (her great-grandfather perished early, at 73, during the famine of 1963).
"None of them ever stayed in bed or needed medicine, nor did they have any chronic disease," boasts Xing, who is convinced that the secret lay with their diet. "They could all look after themselves in their late years. Based on this, I really believe that 'Diseases find their way in from the mouth,' and a meat-free diet does have a decisive influence on health."
Dr. Xiao Changjiang, Head of the Cardiovascular Department at the Hunan Academy of Traditional Chinese Medicine (TCM) Affiliated Hospital, believes that a vegetarian diet is more suited to the Han Chinese than a carnivorous one."As a farming people, the Chinese had adopted a plant-based diet since ancient times," Dr. Xiao tells TWOC. "We are less tolerant to meat than nomadic people. Since the 1980s, the massive supply of meat resulted in people eating much more of it."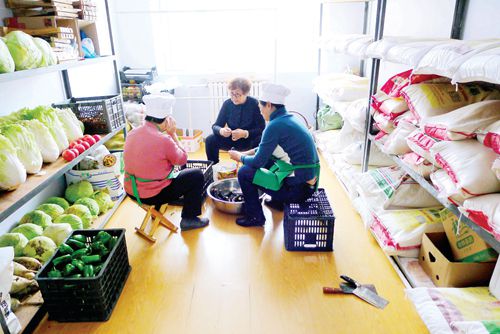 "The past three decades have seen a striking increase in the prevalence of chronic non-communicable diseases, like coronary heart disease and diabetes. It's related to the surging consumption of meat."
For decades since the PRC's founding in 1949, eating meat was a luxury for most families, and usually reserved for special occasions such as weddings or festivals. But as the country grew wealthier since the 1980s, meat on the table became a sign of prosperity. In 2007, the United States Department of Agriculture estimated that China consumed about 74 million tons of pork, beef, and poultry that year, considerably more than any other country, and around twice as much as the US.
The same year, according to the World Health Organization, China laid claim to having both the most diabetes patients—10 percent of the adult population, compared with less than one percent in 1980—and the highest number of mortalities from the disease in the world. A 2016 study, published in British medical journal The Lancet, noted that about two-thirds of Chinese aged 40 to 59 were overweight or obese.
In April 2017, Dr. Xiao, in cooperation with the non-profit organization Daohexiang, launched the Vegetarian Ward at the Hunan Academy of TCM Hospital in Changsha. The project promoted a "One Vegetarian Meal Per Week" plan by providing free vegetarian dishes to both patients and hospital staff. "It's an experience-based activity," Xiao explains. "We invite the patients to try the meal and then explain the benefits to them. This will make it easier for them to accept." The scheme has so far served more than 7,000 people, and the feedback has been "pretty good."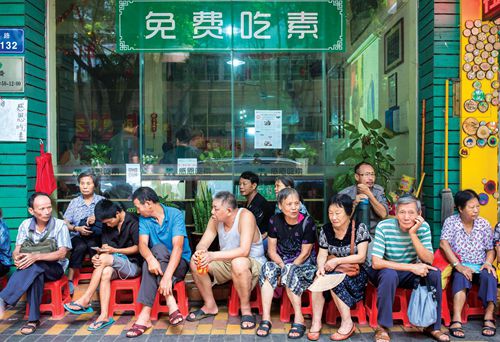 Yet there are concerns, and pushback from some quarters. On popular Q&A site Zhihu, the question "What are the side effects of having a vegetarian diet?" has attracted more than 200 answers. "Doesn't it cause malnutrition?" many wondered.
"If one doesn't eat vegetables properly, it may cause malnutrition. But being vegetarian itself is completely fine," Dr. Xiao assures. The key is a balanced diet that's "as varied as possible," which means consuming all types and parts of plants—from roots, leaves, flowers to seeds, fruits, starches, and stems.
"We don't force people to become vegan directly, because it's not easy and often requires people to have some nutritional knowledge," says Dr. Xiao. "We are just suggesting, especially to those suffering from cardio or cerebrovascular disease, that they should increase the proportion of plants in their diet." In April, the Changsha Hospital of Integrated TCM and Western Medicine joined the Hunan project to offer vegetarian hospital meals, calling itself China's first "vegetarian hospital."
Xing, who now considers herself a pretty good chef, suggests beginners could start with vegetarian restaurants before learning how to cook. "There are now more and more specialized vegetarian restaurants that can provide delicious and nutrition-balanced dishes," she says.
Another hurdle for beginners is the potential "anti-social" aspect of their lifestyle, in a culture where it's customary to show "face" to one's dinner guests with a tableful of delicacies, the richer the better. "When I entertain guests, I have to tell them that 'I can't treat you with meat.' It sometimes causes misunderstandings," admits Tang. "It's inevitable. In a family, what if the wife is vegetarian but the husband is not? In the workplace, what if someone is vegetarian but not everybody else?"
Xing sees it differently. Being vegetarian, she tells TWOC, introduced her to "a different friendship circle." "We often get together, and cook vegetarian food by ourselves. Because we share the same beliefs, it's easier to communicate." As for those who can't accept her lifestyle, she admits, "we have gradually grown apart."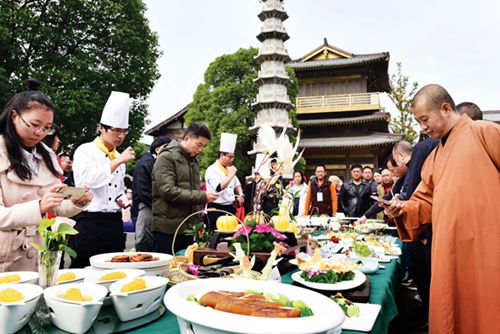 With such a rapidly growing market, it's no surprise that the vegetarian industry is gradually expanding to meet their needs. Media estimates put the number of vegetarian restaurants in China at over 3,000, though the menus of many are beyond the purse of ordinary consumers. Tang agrees that some restaurants are indeed too expensive. "I know someone who runs a vegetarian restaurant where one table of food can reach 10,000 RMB. Some [non-vegetarian] customers treat friends there in order gain 'face,'" he says. "That's just how the restaurant makes its living: It can stay open just by selling one table per day."
Dr. Xiao doesn't appreciate some of these developments. "I think luxury vegetarian restaurants are going astray," he says. "Only when vegetarian consumption is affordable for ordinary people, can they attract more people to know about vegetarian diets and adopt a healthier lifestyle. How else can these restaurants stay in business?"
Tang, however, estimates that "70 to 80 percent of the restaurants in this industry are fairly priced. "Most operators are truly willing to promote vegetarian culture with their philanthropic belief." He says these charitable intentions can extend to handing out free vegetarian dishes to people in nursing homes or in need.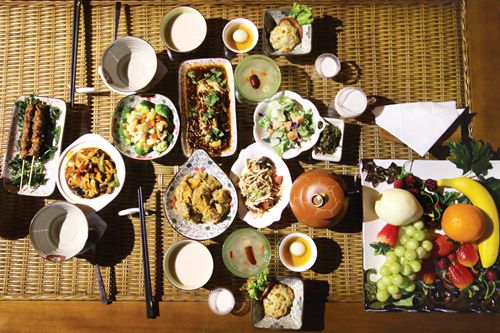 The best-known name among Chinese vegetarians is the non-profit Yuhuazhai, a loose federation of charities established (according to business legend) in 2011 in Jiande, Zhejiang province, by an elderly restaurateur who invested his life savings to help save animal lives. Volunteers soon followed and opened their own Yuhuazhai restaurants; by 2017, there were nearly 700 kitchens called Yuhuazhai nationwide.
With the help of social workers and volunteers, Yuhuazhai has given out over 580 million free meals without any coordination, economic interest, or real affiliation among all the branches—not even a registered trademark. According to Southern Weekly, the earliest founders of Yuhuazhai discussed the latter issue, but decided that it was unlikely that a corporate interest would risk sullying their own image by stealing a charitable icon.
Yuhuazhai's success has filled Tang and his followers with confidence, but they acknowledge it's just the beginning. Tang envisages a future with vegetarian schools, workplaces, and nursing homes. He even has a philosophy for vegetarianism, reinterpreted from a verse of the Bhagavad Gita in which Krishna exhorts his followers to neither "trouble other people nor be troubled by them."
"Do not trouble living things, nor be troubled by living things," Tang recites. Or, perhaps more appositely: "You are what you eat."
---
Veggie Values is a story from our issue, "Vital Signs." To read the entire issue, become a subscriber and receive the full magazine. Alternatively, you can purchase the digital version from the App Store.
---