The best and worst fashion items made in honor of the Year of the Pig
The Spring Festival season has been filled fashion faux pas: Burberry's "family portrait" ad campaign was likened to a family of vampires, while Bvlgari's ad campaign was deemed insensitive for likening the Chinese word for pig, zhu, to the English word "Jew."
This hasn't stopped other brands, though, from rolling out various kitschy, questionable, or bizarre designs to capitalize on pre-holiday shoppers as the Year of the Pig approaches. To save you a trip, TWOC went window shopping at Beijing's China World Mall to provide you this year's most comprehensive pig-fashion review:
Cutest pig: Swarovski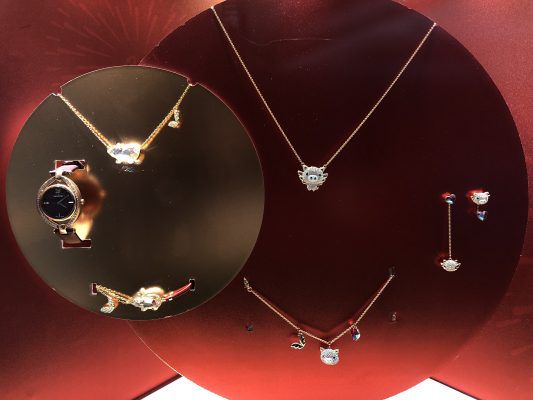 While giving someone a pig accessory always carries the risk of damaging their self-esteem, Swarovski's angelic pig necklace, complete with wings, goes for the cuteness effect; no offense taken!
Most family friendly: Petit Bateau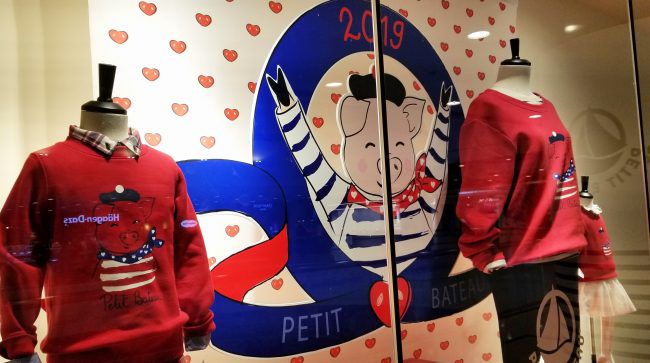 Want the perfect WeChat Moments photo with your baby in a pig onesie and your 6-year-old in a matching pig sweater? Petit Bateau has you covered. You can also wear a comfy matching adult sweater while cuddling up with your kids to watch the CCTV New Year Gala.
Best pig for gangsters: Ed Hardy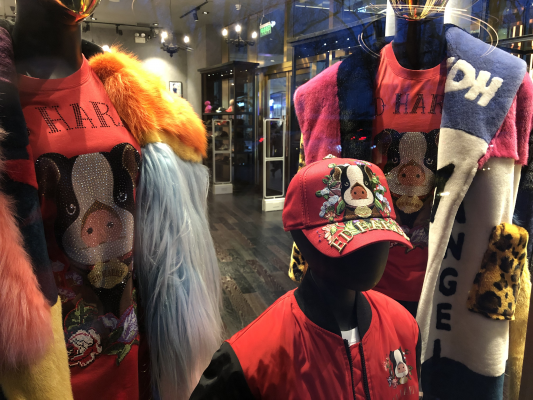 Ed Hardy's tigers are already the go-to outfit for many of China's newly ascended wealthy who want to show off their street cred. Hardy's pigs (which look a little like cows with their white-and-black faces) are the perfect tongue-in-cheek approach to any gangster wanting to celebrate their Chinese roots.
Worst pig for gangsters: Givenchy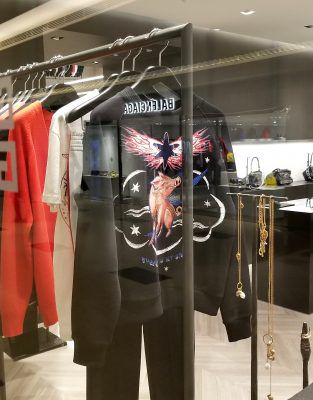 Though L'Officiel gave a stellar review of Givenchy's new "Flying Pig" campaign, TWOC thought that the blue wings and red flames were something out of a biker catalog gone wrong. While it might be a timely statement during Chinese New Year, the outfit will likely have little staying power.
Most impractical: Anteprima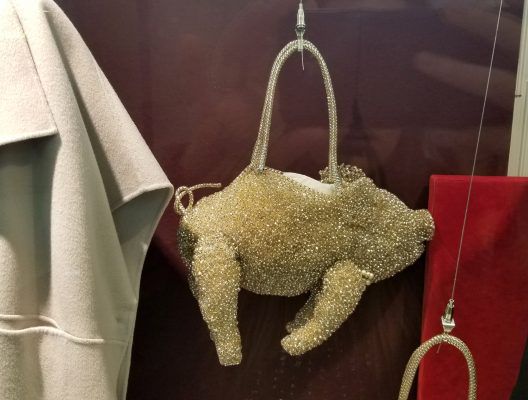 Let's face it, bags are the ultimate status symbol in China. So why carry around a pig on your shoulder, instead of Gucci or LV? Although this pig has the signature bedazzlement of an Anteprima bag, its legs and curly tail seem like they'd get in the way, and the whole thing will get out of shape when you throw it in your closet.
Most subtle: Stuart Weitzman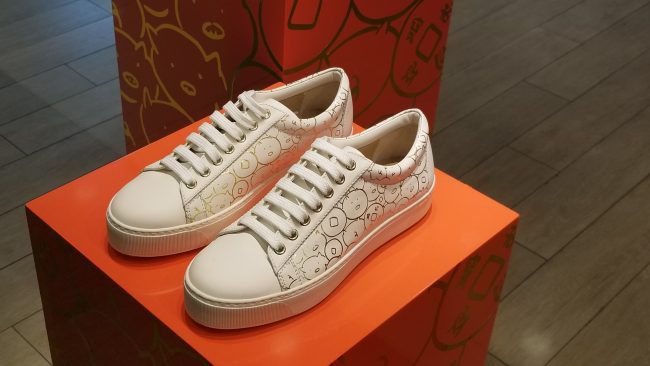 Do you want to buy something special for Chinese New Year, but don't really want to commit to the pig theme? Stuart Weitzman's sneakers are printed with gold circles that, up close, are revealed to be miniature piggy faces.
Best undies: Calvin Klein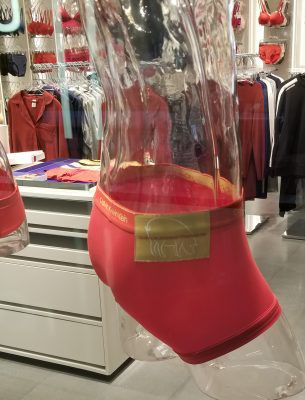 While most Chinese shops are bursting with red underwear during the Chinese New Year, Western brands have been slow to catch on. Calvin Klein, though, offers a special selection of red underwear for men born during the Year of the Pig—complete with a red-gold cutout of a hog.
Weirdest pig: Paul and Shark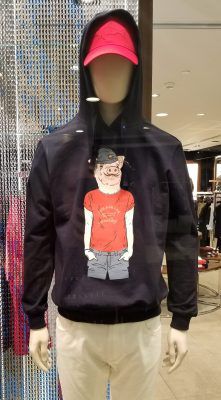 Few people think they need a sweatshirt of a pig with human arms—until they see this on the mannequin. Paul and Shark's design is decent and is just bizarre enough that it probably has staying power, even after the Year of the Pig is long past.
Ugliest design: Coach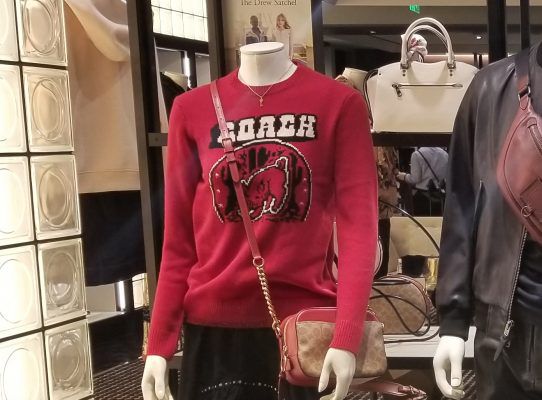 Coach is famous for its famous "C" bags, and its new script-like logo—not for bubble letters that were cool in fourth grade. The unapologetic red, black, and white color scheme is also reminiscent of the Chicago Bulls basketball team.
Best window display: Brooks Brothers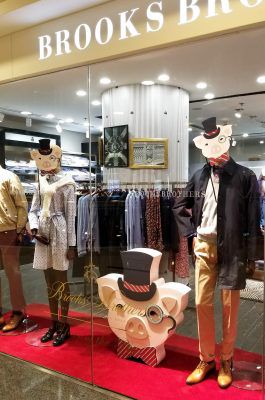 Who doesn't adore a cute pink pig with a monocle, bowtie, and top hat? Case closed.
Worst window display: Tod's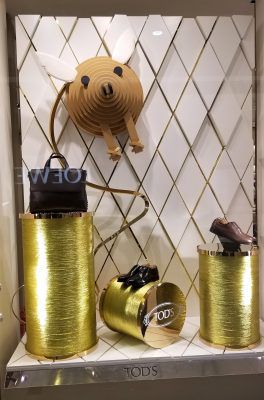 Sure, real pigs are often brown and covered with mud. Still, Tod's monstrosity of a display that looks more like a chocolate layer cake.
Photos by Emily Conrad
---