This snack from China's "breakfast capital" packs flavor in many layers
In the central Chinese city of Wuhan, it's said that residents can eat a different breakfast every day for at least a month.
This is an understatement: A 1984 book called Wuhan Snacks lists 190 dishes that have almost all been served as breakfast. Indeed, before its name became inextricably linked with the 2019 coronavirus outbreak, the Hubei provincial capital was chiefly renowned for being China's "breakfast capital."
In Wuhan, having breakfast is called "过早 (guòzǎo)," a grammatical formation similar to "过节 (guòjié, celebrating festivals)." The phrase was first recorded in poet Ye Tiaoyuan's anthology The Hankou Zhuzhi Poems    (《汉口竹枝词》) in 1850: "Aping the rich families, commoner women rise from their beds in the morning. Before combing their hair, they eat breakfast, swallowing glutinous rice cakes and fried dumplings. (小家妇女学豪门,睡到晨时醒梦魂;且慢梳头先过早,糍粑油饺一齐吞。)"
Wuhan's breakfast culture is believed to have originated in the early 1900s when Hankou, one of three formerly separate cities that make up today's Wuhan, opened its port to foreign trade. It was essential for dock workers to fill up with deep-fried foods ahead of a long day, and the flow of trade meant that they had access to snacks from all over China. Even today, instead of cooking at home, most Wuhanese breakfast at food stalls or diners, which are often standing-room only; eating breakfast while walking or biking is also common.
Outside the city, the most famous Wuhanese breakfast dish is the sesame sauce-drenched "hot and dry noodle" (热干面). Locally, though, "sanxiandoupi" (三鲜豆皮, "three fresh" tofu skin) is a more pedigreed morning snack. Chairman Mao Zedong praised it as "a Hubei flavor that shall be preserved" after trying it at the Laotongcheng Restaurant in 1958. Dubbed the "king of tofu skin," this 89-year-old Hankou eatery has served other Chinese leaders such as Zhou Enlai and Deng Xiaoping, and foreign dignitaries like North Korean leader Kim Il-Sung and Cambodian "king father" Norodom Sihanouk.
Despite its name, Wuhan tofu skin isn't made of tofu. It is a pancake made of mung bean and rice flour, wrapped around glutinous rice, meat, and other ingredients. Accordingly, its flavors come in multiple layers: thin crispy skin, soft rice saturated with broth, and savory fillings. The sanxian variety invented by Laotongcheng in the 1940s was named after its three main fillings—fresh egg, meat, and shrimp—and also incorporates shiitake, pork tripe, and barbecue pork.
The flour and fillings used in Wuhan tofu skin vary by season and restaurant, and can be customized when making the snack at home.
Ingredients:
30g shiitake 香菇
140g pork 猪肉
200g glutinous rice 糯米
2 eggs 鸡蛋
85g flour 面粉
550ml water 水
50g bamboo shoots 笋
30g dried tofu 豆干
8ml edible oil 食用油
1 stalk of leek 葱
5g ginger 姜
4 tsp light soy sauce 生抽
1 tsp brown soy sauce 老抽
1 tsp oyster sauce 蚝油
3g sugar 白糖
2g salt 盐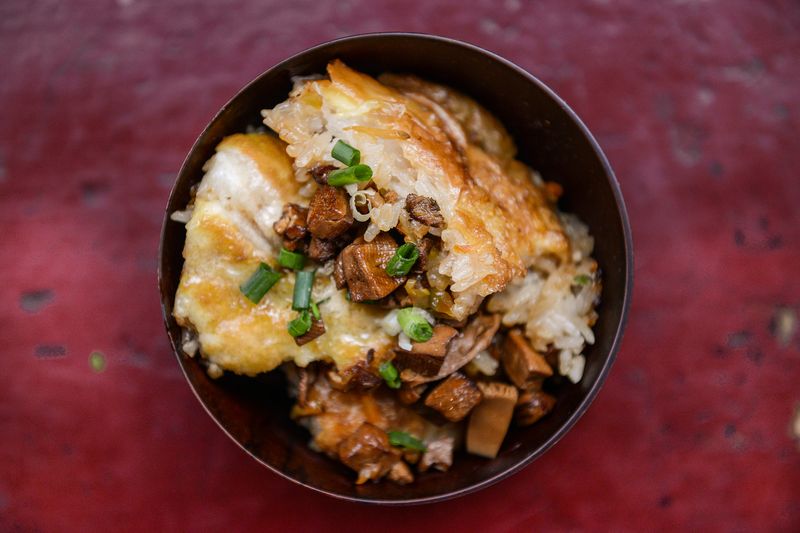 Steps:
Soak the rice in water for at least eight hours. Steam it for 25 minutes and keep it warm
Soak the shiitake in hot water for 10 minutes
Chop the pork, shiitake, dried tofu, bamboo shoots, and leek, and mince the ginger
Boil the bamboo shoots in 300ml of water for five minutes, then remove and drip-dry
Heat 6ml of oil in the wok, fry the ginger till aromatic, then add and fry the pork until it changes color
Add the dried tofu, shiitake, and bamboo shoots, and fry
Add all the condiments and 100ml of water. After the water boils, cook over a low heat for 20 minutes
Mix the flour with 150ml of water into a liquid batter, and beat the eggs
Heat a pan over low heat, brush 2ml of oil over the pan, then add the batter and spread it evenly
As the pancake becomes half-solid, brush the egg over it, and flip over when the egg turns solid
Press the rice and other fillings evenly onto the pancake, wrap the edges over the side, and flip over
Fry the side with the fillings over high heat for one minute, and sprinkle the chopped leek on top
Cut the pancake into small squares and serve
Image from VCG
---
Under the Skin is a story from our issue, "Grape Expectations." To read the entire issue, become a subscriber and receive the full magazine. Alternatively, you can purchase the digital version from the App Store.
---