Despite the cost, dangers, and fitness requirements, trail running is slowly becoming a trendy sport on social media
Wang Xiaofang and Wang Xiaoyuan were looking stylish at the start of their latest social media video—makeup on, toenails painted bright red, and wearing fashionable sportswear. By the end of the short 1-minute clip, however, they were covered with dirt, their nails were broken and encrusted with mud, and they looked so exhausted they could barely speak.
Running 100 kilometers will do that to an influencer, even seasoned fitness gurus like these 41-year-old twins from Yantai, Shandong province.
The Wang sisters were among nearly 10,000 runners who took part in the Chongli 168 Ultra Trail Race, the largest long-distance endurance race in Asia, in July. Here, they scrabbled up steep slopes, endured heavy rain and wind on mountain peaks, enjoyed fabulous sunsets, and ran through the night with nothing but their headlamps to light the way. It took them 26 arduous hours to complete the 100-kilometer course, which involved ascending a cumulative 5,565 meters.
Soon after they finished the race, the sisters' post documenting their achievement had 317 "likes" and over 156 comments on social media platform Xiaohongshu; mostly praise like: "The twins are so cool!" "Such positive energy!" "It's hard to imagine running 100 kilometers!" There were over 10,000 similar posts related to the Chongli 168 race on the platform around the time of the event, held in the town in Hebei province where many competitions for the 2022 Winter Olympics took place.
These numbers may be meager by Chinese influencer standards—Liu Genghong, a pop star turned fitness influencer, has over 68 million fans on Douyin, the Chinese version of TikTok—but trail running is quietly becoming the latest and most extreme fitness trend on the Chinese internet. After camping, Frisbee, and pickleball enjoyed moments of virality since 2020, trail running is following a similar trajectory.
But the high fitness requirements, equipment demands, and hidden dangers may prevent trail running from gaining the same popularity; and female influencers like the Wang sisters still face the barrier of misogynistic attitudes online.
Trail running, which takes place mostly on outdoor trails, often in mountainous terrain, has seen a boom in China in recent years, despite only emerging in the country around a decade ago. The International Trail Running Association, a non-profit industry body responsible for tracking runners' results and certifying some races, counted over 100,000 registered trail runners in China in 2021, nearly 10 times more than in 2015. According to Geexex, China's largest sports event online registration platform, approximately 200 trail running events will be held this year, marking a return for most major races in the country after the pandemic halted mass events. The Chongli 168 race had 3,000 more participants this year compared to 2022.
The sport is no longer an extreme niche in China, and social media users are increasingly drawn to trail running content online. A search for "trail running" on Xiaohongshu reveals a community of influencers sharing pictures of their races, equipment, and training with their fans.
According to Wang Xiaofang, who began her Xiaohongshu account by posting images and videos of her gym exercises in 2020, trail running has become increasingly popular among sports influencers in recent years. "As a natural progression from road running, it's still seen as less physically daunting than the triathlon, yet intriguing enough to draw followers," she tells TWOC. The Wang sisters have grown their account to have 6,754 followers and 61,000 likes on their sports-related content.
The platforms' business models play a role: "Xiaohongshu has been promoting fitness and health-related lifestyle content, collaborating with media to feature various domestic trail running events. As influencers, posting short videos related to these events can gain us more views or followers through the platform's algorithm recommendation," Wang Xiaofang says. Xiaohongshu has started sponsoring races, and provides photo services and gifts to runners on-site to encourage them to post on the platform.
Zomar, a photographer who has been chronicling trail races for the past six years, tells TWOC there's been a notable increase in influencers participating in trail races since 2022. Zomar, who asked to use his online handle for this piece, makes promotional videos for race organizers and collaborates with influencers to shoot photos of them during races, which they then normally post on Xiaohongshu or other platforms like Douyin, video streaming platform Bilibili, and WeChat.
But Zomar still thinks there are important differences between trail running and other "internet famous (网红)" sports: "Trail running demands more from participants in terms of physical fitness, skills, and equipment, making it a sport with a certain threshold."
Viral and dangerous
Other sports have exploded in popularity in part due to their accessibility. Ultimate Frisbee, for example, requires only a disc, a few friends, and some space to play in (though this can be hard to come by in Chinese cities). Beginners can easily try it out regardless of their fitness level. Trail running, on the other hand, is extremely physically demanding.
Race distances vary from 5 kilometers to 168 kilometers (100 miles), and beyond. The most popular distances are ultramarathons—anything over 42.195 kilometers—that can take well over 20 hours to finish. To withstand such long periods of jogging and climbing, runners need endurance, strong legs, a sturdy core, and nutrition planning. To prepare for her 100-kilometer race, Wang Xiaofang tells TWOC that she trained three to four times a week, including CrossFit muscle training and running endurance exercises, while eating a specialist diet rich in protein and low in carbohydrates.
Trail running also requires financial investment. Sneakers normally cost over 500 yuan a pair, waterproof jackets (mandatory equipment for many races) can cost 1,000 yuan or more, while backpacks and trekking poles are also typically hundreds of yuan. Race entrance fees are also costly, with a standard rate of 10 yuan per kilometer of the race. With travel to race locations and accommodation included, attending one trail race can easily cost over 3,000 yuan (400 US dollars)—far more than a camping trip or Frisbee match.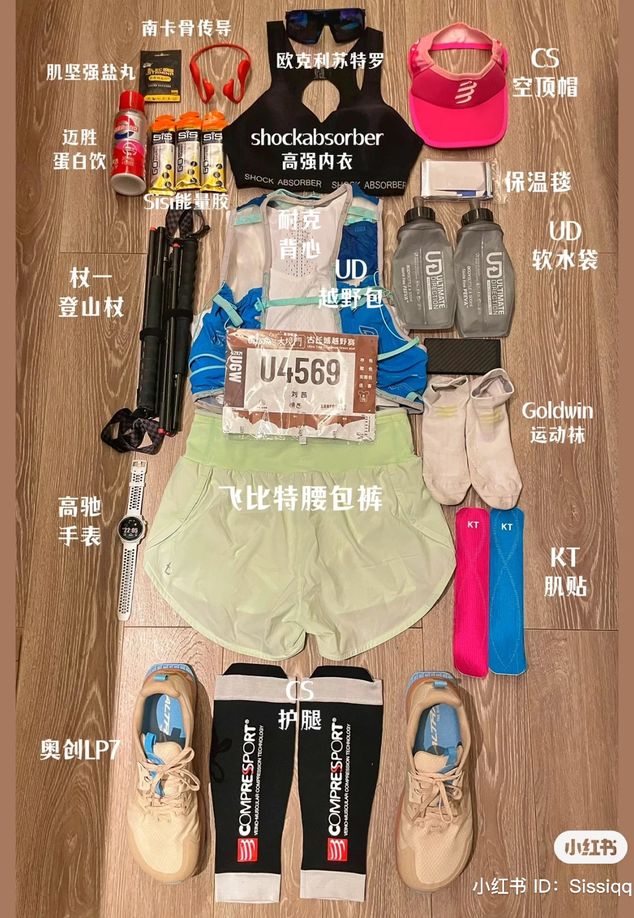 Trail running requires a surprising amount of (often expensive) equipment. Social media users regularly show off their gear online before races. (Screenshot from Xiaohongshu)
Trail running's still-limited popularity on Xiaohongshu perhaps reflects these barriers. According to the platform's data analysis firm, Huitun Database, content tagged "outdoor hiking" on Xiaogongshu had 11,000 related posts in the past 30 days, while "trail running" had 1,745 in the same period. Even "Frisbee," which was viral in 2022 but is now considered past its peak as an "internet famous" sport, had 1,585 related posts in the same time frame.
Trail running can also be dangerous, as runners at an event on May 22, 2021, tragically discovered. That day, 21 runners died from hypothermia during a 100-kilometer race in Baiyin, Gansu province, marking the worst trail running disaster in history. According to an investigation by Gansu's provincial authorities a month later, the primary causes of the disaster included sudden harsh weather conditions, poor trail design, and insufficient preparation by competitors. It also blamed the organizers' lax emergency planning and medical support, and failure to ensure runners carried mandatory equipment like jackets and warm clothing that might have saved their lives.
Other risks include heatstroke, injuries from slips and falls, sunburn, exhaustion, and even wildlife attacks—an exchange student at Zhejiang University was bitten by a venomous snake during a race in 2019 and rushed to the hospital. The same year, a runner was struck by lightning at Chongli 168 (luckily, they survived).
A race organizer at the Chongli 168 event, who wished to remain anonymous, told TWOC that the race had increased its budget for safety and rescue this year, even reducing funds for broadcasting the race to allocate more money to safety. They did not provide details of how that money was spent.
But some competitors still complained about poor planning and lack of medical assistance during the races. One Xiaohongshu user said she had made two distress calls to organizers requesting help after feeling freezing cold and suspecting she was in danger of hypothermia. But the staff who took the runner's call couldn't find her GPS location (every runner competing in distances above 60 kilometers was given a GPS tracker at this year's event) and repeatedly advised her to continue moving forward.
"If I had really collapsed, it wouldn't have been possible to make a third call. What would have been waiting for me then? What is the purpose of a rescue call?" the runner asked in her post. Over 300 runners started but failed to finish the 100-kilometer race in Chongli this year, underlining the difficulty of these extreme events.
"The only medicines available for treating runners' injuries are a pain relief spray with Chinese medicine ingredients and cooling sprays, that's it."
Li Xiang, a participant in this year's 50-kilometer race, tells TWOC that "the on-site medical support is weak, and the only medicines available for treating runners' injuries are Yunnan Baiyao [a pain relief spray with Chinese medicine ingredients] and cooling sprays, that's it."
Checkpoints with water, food, and medical facilities, are supposed to be posted around every 10 kilometers on trail running routes, but races often do not provide sufficient supplies. At April's Huizhou Ancient City 100 Kilometer Ultra Trail Race in Huangshan, Anhui province, one participant wrote on Xiaohongshu that there was no food or carbonated beverages at the first supply point, while the second supply point was messy, with volunteers handing out unwashed fruits to runners. At the Nanjing Laoshan Trail Race in May, competitors complained that race organizers didn't provide electronic timing chips, so runners had to time themselves.
New trends, old problems
Runners also face a potentially unwelcoming online environment for their social media content. Just as women who posted images and videos of themselves playing Frisbee faced a barrage of misogynistic comments about their appearance, clothing, and sporting ability, so too have female trail runners.
"We are often dismissed as merely posing for the camera and questioned for not being 'real' trail runners," Wang Xiaofang tells TWOC. "I remember people told us 'Just be beautiful, why compete in races?' But I think we proved them wrong over time," she says, pointing to when she and her sister won the women's pairs 50-kilometer event in Chongli in 2022: "When they saw me and my little sister winning first place, those 'keyboard warriors' shut up."
Feng Lulu completed the 50-kilometer race in Chongli this year in 13 hours (the fastest female finisher took just over 6 hours). She often browses Xiaohongshu's trail running content for the striking images of runners striding through nature, and tells TWOC that these posts have helped her maintain her enthusiasm for the sport she began in 2017. She has completed seven races so far.
To Feng, "Trail running feels like an act of defiance, a tangible affirmation of my autonomy. It calls me, telling me not to be shackled by my self-limitation, and that life isn't about being caught in a ceaseless loop."
As for those who question whether social media influencers are worthy runners, she asks "What truly defines a 'real' trail runner?... Are only professional athletes considered real runners? For me, anyone daring enough to stand at the starting line of a race is a real runner."
Some may have taken this sentiment too literally, however. According to one video reporter who went to cover the Chongli 168 event in July, some competitors posed at the starting line for photos, only to retreat to the parking lot afterward without starting the race. Even if trail running is not yet, and may never be, as viral as camping or even Frisbee, social media is already changing the sport in strange ways.
Additional reporting by Sam Davies
Find more great stories on our app:
---