With millions of followers, Zhao Xiaoli is China's most popular artist on Douyin—so why do art critics not rate her work?
The base layer: a bucket worth of blue paint poured onto a vertical canvas. Then: A spray of white roses, serving as a paintbrush, is dipped in a different shade of blue and whacked on with full force. Mixed into this 30-second video of Zhao Xiaoli's visceral painting process are a few more shots of her fixing the details, scattered with unrelated shots for mood—of flowers crushed in hands or burnt, lighted candles flickering on a palette, Zhao herself shedding a single tear in a mirror.
The end product is two-fold: a blue-toned portrait of a young girl similar to Zhao's popular pink-toned painting Burning Kite; and the video itself, which ends with Zhao posing beside the painting in stylish clothes. It's paired with moody music and a title ("The ocean today is not blue #BurningKite"), and has 136,000 "likes" on short-video platform Douyin at the time of writing.
Some view her oil paintings as kitsch, but Zhao Xiaoli is now a force to be reckoned with on Chinese social media. In just two-and-a-half years, she has amassed 10.27 million followers on short-video platform Douyin (closing in on the 11.2 million of Instagram's most-followed artist, Banksy) and 92.5 million total likes, and touched off a debate on the blurring lines between art and trend in China today.
Her followers are as enthusiastic as they are numerous. "Looking at her works is like seeing through my own state of mind," a fan of Zhao's tells TWOC via Weibo, the microblogging platform where she shared photos of herself next to a Zhao Xiaoli painting she received with delight as a Lunar New Year's gift. On Instagram, where Zhao has 1 million followers, Pavel Liu, chief advisor at Japan-based 365 Art Business magazine, raves to TWOC in a message ending with 10 exclamation marks and 19 emojis: "Her time and effort spent on each scene is fascinating…[Her paintings are] masterpieces that will take their rightful place in the history of human art!"
Zhao attributes her initial success to how proletarian her work is. "It makes art accessible to ordinary people," she tells TWOC over the phone.
The 32-year-old oil painter, who originally studied animation and illustration design, and decided to pursue a career in art despite her parents' wish for her to become a civil servant, shot to fame on Douyin in October 2019. Her early videos were slower-paced and much less frantic than her most recent updates, and showed her working with abandoned objects: Vermeer's Girl with a Pearl Earring drawn with a lipstick allegedly gifted from an ex, or a neighbor's shabby old chair transformed with painted flowers. A 2020 article by China Daily extolled her as an artist who "makes art out of garbage."
Some motifs have stayed constant throughout the evolution of Zhao's videos, which according to her are almost never planned: the flowers used as brushes, crushed, or stuffed in the mouth; extravagant amounts of paint (often thrown in buckets onto a canvas); and the chicly dressed, beautiful woman—Zhao herself—who never smiles but sometimes sips on coffee, and whose clothes always turn out elegantly battered by paint at the end.
But not all viewers are enraptured. "Are you stupid?" a user on question-and-answer platform Zhihu questions of Zhao's fans, among other comments accusing Zhao of being pretentious or wasting paint. "Every time she emerges with clothes artistically dirtied, but her hair spotless."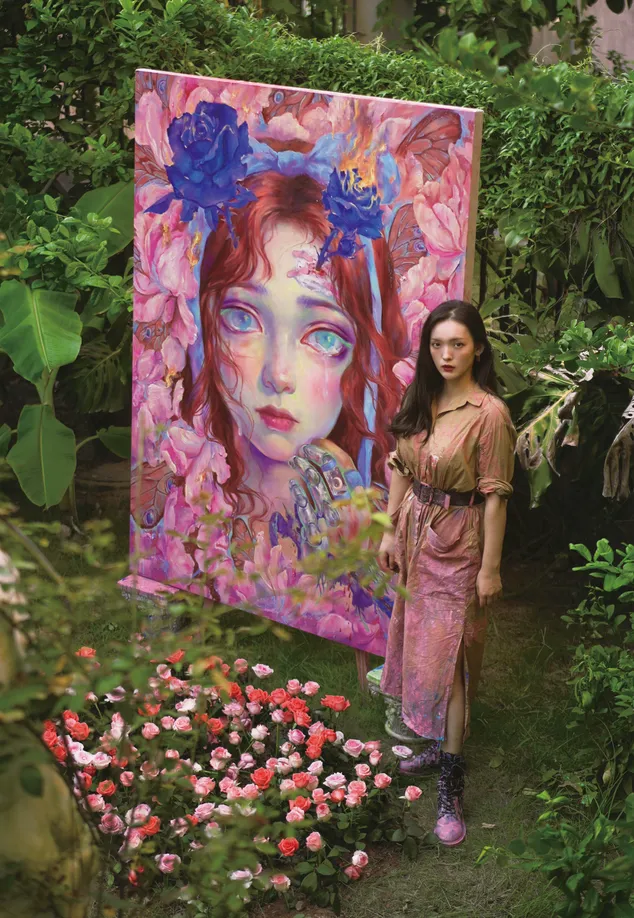 "Can't Help But Be Sad" was made into reduced-size prints which were sold at 3,388 yuan in November 2021 (Zhao Xiaoli)
"People think I am chasing after attention and popularity, but I've never sought out these things on purpose," Zhao asserts to TWOC. "I just want to keep up a passion for my current work, and do it well." She talks slowly, interspersed with hesitant chuckles at her own words. Her warm tone is hard to put together with the aloof, unapproachable woman in her videos who wreaks havoc with her paint like a tornado.
The paintings themselves are almost always portraits of a young girl with large, hazy eyes, decorated in flowers and other details in dreamy reds, pinks, and blues. Zhao traces the theme back to a childhood spent with her grandparents in Xingtai, Hebei province. "My grandpa liked tending to flowers and plants. It left a deep impression on me. The plants and beautiful imagery are what I kept in mind as a young girl."
Zhao's grandfather, a traditional Chinese medicine doctor, did not stop her when she doodled on his paper medicine wrappers, but introduced her to a Chinese ink painter who became her first teacher. During the pandemic, she studied online for a Master of Fine Arts degree from the Autonomous University of Barcelona. Zhao cites Frida Kahlo and Jackson Pollock as inspirations, for the "independent and gritty spirit of women" in the former's self-portraits, and the latter's action-oriented approach to painting that "broke the boundaries of traditional techniques, redefining them with something more irregular, spontaneous, and lively."
For many in the established art world, Zhao is not their cup of tea. "[Her work] is too pretty, too fairytale-like," a gallerist in Beijing, who wishes to remain anonymous, shares with TWOC, "It's easy on the eyes but it doesn't reflect who she is or what she aches for." Ashley Qin, an art advisor in Shanghai, echoes this: "It looks like hotel wall décor."
Zhao believes there is no need to respond to every criticism. "We don't have to look at my work in a certain artistic context. Art is a very subjective thing."
Subjectivity is important to Zhao: A quote from Kate Atkinson's novel A God in Ruins, "Art is anything created by one person and enjoyed by another," is written at the top of her Douyin profile.
Qin, however, frowns at how this definition puts the concept of art on a pedestal and irrationalizes it, "as if the word 'art' automatically makes everything above explanation," preventing people from thinking about the work "beyond the level of visual pleasure."
Zhao Xiaoli is not the only artist whose work converts to visual pleasure via Douyin's algorithms. Cao Guiying, a 65-year-old Chinese ink painter, drives around China and paints on cars and rocks. Jiajia, a 26-year-old mural painter famous for videos showing her working process, now makes six digits every month from commissions. Even alleged imitators get a share: Dingding, another oil painter whose visual style highly resembles Zhao, and whose videos show a similarly cathartic painting process, now has 2.4 million followers on the app.
On a popular Chinese podcast Midnightalks, "trend art" trader Mi Di comments that the rise of influencer artists shows that "the right to have a say [about art] has been handed over to the masses." Zhao tells TWOC that, "instead of contemporary art," she identifies more with trend art, a new movement in China that combines artistic objects with fashion and pop culture. The products are generally colorful, flashy, and not necessarily laden with metaphors or interpretations. They are made by artists who are social media savvy, and commercialized through mass media.
Zhao's growth as an influencer coincides with Douyin's "Dou Art Project," an ongoing initiative that started in August 2019 to support artists on the platform and enhance the quality of art-related content. This included giving artists "permission to post longer videos, and a targeted pool of user traffic," according to the Beijing-based newspaper China Times. Zhao was named among the 16 "Douyin Art Promoters" in 2021, but Douyin declined to give TWOC more details on the nature of their collaboration.
Qin feels uncertain for the career trajectory of influencer-artists like Zhao, recognizing that from gallery to museum to auction houses, the traditional art industry is full of gatekeepers. "If these artists, loved by people or media, are not accepted by [these gatekeeping institutions], then they can only continue to sell paintings on Xiaohongshu [a Chinese social media and e-commerce app], not so different from selling commercial products," she says.
However, Zhao has already been accepted by some galleries and art museums. She has participated in a couple of group exhibitions, and one of her paintings of a girl staring into a mirror was sold off at 160,000 yuan at Yongle Auction, a Beijing-based auction house with catalogues spanning from traditional Chinese artifacts to contemporary art, in a 2021 fall sale—the second year the auction house hosted a trend-art themed session.
Riding the waves of social media, Zhao also capitalizes on her ability to circumvent the barriers in the art industry to get straight to her audience. At the end of a video posted in December 2021, instead of the usual sad-eyed girl, an Audi sports car occupies her canvas. She shares with TWOC that the revenue supporting her creations mainly comes from brand sponsorships, in addition to releasing two or three paintings every year to be made into 100 to 150 prints each, which sell for around 3,000 to 4,000 yuan apiece.
When Zhao spoke with TWOC, she was taking a break from preparing for her first solo exhibition in Shanghai this October. "There will be more diverse forms of artwork, including sculptures and set designs," she discloses.
Although not personally a fan of Zhao's works, Qin sees the rise of influencer-artists as a wake-up call for the "traditional and closed-off" art industry, potentially giving it some competitive pressure to offer young artists more opportunities.
She also finds Zhao's conception of art ironic, given that the art market ultimately caters to demands, be it from the mass or elite. "If something created by one person is liked by many, and these people have enough of a say, then perhaps it indeed becomes art," she laughs. Perhaps there is an art to this definition, after all. – Additional reporting by Alex Colville
---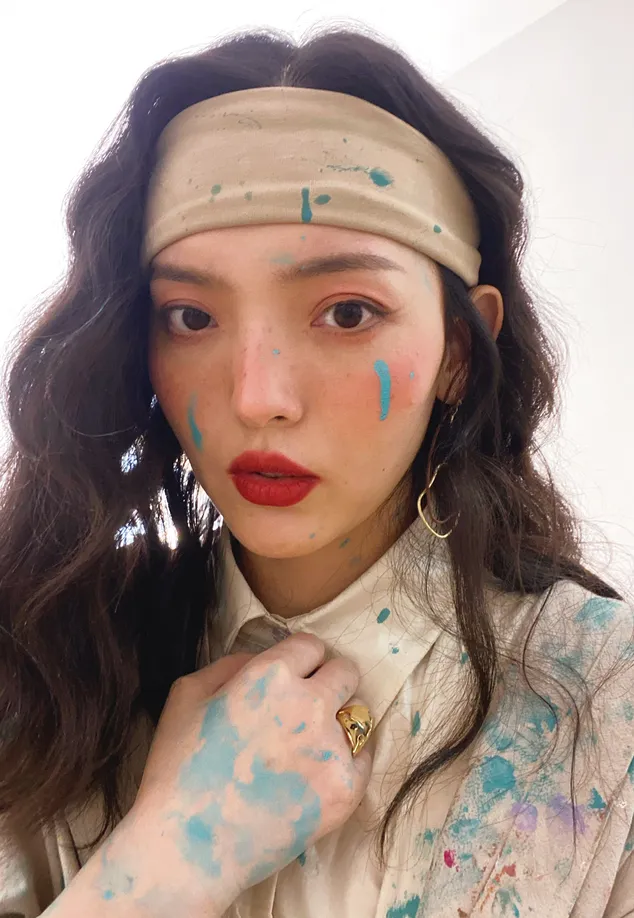 ---
Zhao Xiaoli 赵小黎
Born in 1990, Zhao Xiaoli is a trend artist based in Xiamen who has attracted widespread attention on social media platforms both in China and internationally. Using short video as an innovative way to communicate the creative process to a mass audience, she is the first female art influencer in the world to reach over 10 million followers. Her work mostly explores the emotions and confusions of growing up as a woman, and seeks a unique form of self-expression through the fusion of oil painting and moving images.
---
Zhao Xiaoli Blurs the Line Between Online Influencer and Artist is a story from our issue, "State of The Art." To read the entire issue, become a subscriber and receive the full magazine. Alternatively, you can purchase the digital version from the App Store.
---