Once shunned by Chinese youth as old-fashioned and overly formal, tea-drinking is becoming cool again
At 3 p.m. on January 2, the final day of the three-day New Year's holiday, Song Xianhe's teahouse is crammed with people. Customers, mainly young urbanites, are squeezed together at all five tables, in four private rooms, and at the bar counter where Song and her assistant normally sit to take orders—even crowded in the courtyard that normally serves as the waiting and smoking area.
Song's teahouse, named "Whatever" and located in a historic hutong of Beijing's Dongcheng district, is full of trendy young professionals. Zhou Jiang, a regular customer and Beijing local in her 30s, tells TWOC she took a 90-minute subway ride to get here, but failed to get a table even though she tried to book a day in advance. On Dazhong Dianping, China's most popular review platform, one consumer commented that they "waited for nearly two hours [for a table] and ended up taking the seats in the waiting area" on Christmas Day.
But the teahouse, which Song opened in 2018 after quitting her job in IT, does not serve the milk tea, coffee, or desserts that have become popular with young Chinese in the last decade or so and are normally responsible for attracting long lines and social media hype. Instead, Song sells "real" tea, the kind brewed with tea leaves on site, served hot, and enjoyed by Chinese since ancient times. From classic Longjing tea to the niche Oriental Beauty oolong from Taiwan, these teas, until recently shunned by young generations as old-fashioned and enjoyed almost exclusively by older customers with time on their hands or business to discuss, are enjoying a renaissance among youngsters keen to engage with traditional Chinese culture and to show off the tranquil tea-drinking surroundings on social media platforms.
"Our whole style…is quite simple and minimalist," says Song, "it's totally different from traditional teahouses." The minimalist décor (no "big, heavy mahogany table for tea" traditionally found in teahouses), simple menu, and few ceremonial thrills are meant to attract new, youthful clientele, even those who know nothing about tea. "We can do team-building events, meetings, and parties, none of which traditional teahouses can do," says Song. Song mainly sells pots of tea for between 128 and 388 yuan (far higher than a typical milk tea or coffee) to consumers aged 20 to 40.
Yet some are unconvinced whether "new style Chinese teahouses" like Song's are sustainable, whether young consumers' new love for tea is just a social media fad, or even if these new takes on revered ancient tea culture are desirable. Weilu zhucha (围炉煮茶, "boiling tea and sitting around a stove"), an ancient practice of gathering to chat or play games over tea and snacks which became a trend with young Chinese at the end of last year, has attracted criticism. "Weilu zhucha, which should mainly be about tea…is actually a product of consumerism in the name of traditional culture," Su Diandian, a user who is certified as a postgraduate student majoring in tea studies at South China Agricultural University, commented under the thread "Why has weilu zhucha gone viral?" on the Q&A platform Zhihu in December 2022.
Su criticized teahouses for their high prices (a common complaint online too, with packages often costing from 150 up to 400 yuan in Beijing) and inappropriate choice of tea and snacks (which proved difficult to roast on the fire), but also took aim at consumers for only taking photos for their social media feeds and showing no interest in the tea. At Whatever, several women in their 20s are busy taking photos and posting them on social media when TWOC visits, though none of them seem to stop to drink the tea.
But complaints like Su's haven't ended demand for these new style teahouses. According to Qichacha, an online business database, 20,000 teahouse-related companies were established in the first half of 2022. Social media has led the craze: by the end of December 2022, social media platform Xiaohongshu featured over 100,000 posts about weilu zhucha. On short video platform Douyin (China's version of TikTok) users viewed videos on the same topic over 3.6 billion times. Meanwhile, in 2021, Tea'stone, a Shenzhen-based tea brand was dubbed the "Hermès of tea," after the luxury accessories label. Tea'stone sells brews made at the counter for between 38 and F168 yuan a cup and has nine outlets nationwide, having received investment of over 10 million yuan from a private equity company.
At Whatever, as with many other new teahouses, Song tries to "lower the threshold of tea drinking" to make it more accessible for newbies like Zhou Jiang to enjoy without being weighed down by culture and ceremony, which has been honored and proudly exhibited in the country and even the world: The listing of China's tea culture in UNESCO's Representative List of the Intangible Cultural Heritage of Humanity in November last year has been widely covered by Chinese media and celebrated by the tea community and authorities.
"Tea is like an uncompleted artwork, 70 percent of which lies in the substance, and the remaining 30 percent in the process of making it…only with the right tea and techniques, can we be sure to have a good cup of tea," explains Fang Jing, founder and instructor of a training institute for tea specialists in Shantou, Guangdong province, emphasizing the importance of tea selection and brewing in traditional tea culture. There are more than 2,000 types of tea from the six categories (green, black, white, dark, yellow, and oolong) according to Fang, in addition to many reprocessed varieties with, for example, flower and fruit infusions. In her region of China, "almost every household drinks tea, especially the [local specialty] Phoenix dancong oolong tea."
Tea drinking and tea culture have been close to Fang's and many other Chinese people's hearts for centuries. Tea drinking in China is said to originate from the prehistoric god-emperor Shennong (神农), the legendary founder of agriculture and Chinese medicine, according to the Classic of Tea (《茶经》), the first definitive book of tea cultivation, brewing, and drinking by the Tang dynasty (618 – 907) connoisseur Lu Yu (陆羽). The earliest historical record of tea drinking is found in the "Servant Contract (《僮约》)," an essay by scholar Wang Bao (王褒) of the Western Han dynasty (206 BCE – 25 CE).
Tea became more common throughout the Tang period, and by the Song dynasty (960 – 1279), China's tea culture was flourishing. Southern Song dynasty (1127 – 1279) scholar Wu Zimu (吴自牧) writes in A Record of the Millet Dream (《梦粱录》), a book documenting life in the then capital city Lin'an (present day Hangzhou in Zhejiang province), "No household can live without firewood, rice, oil, salt, sauce, vinegar, and tea." Tea also became one of the "eight elegant habits (八雅)" for literary scholars, alongside music, chess, calligraphy, painting, poetry, wine, and flower appreciation, and was said to help cultivate one's temperament. A variety of tea games and contests became popular, such as "hundred tea plays (茶百戏)," the art of painting with tea foam.
The culture, which had been mainly popular among the scholarly upper classes as a symbol of "literary life (雅生活)," turned into an organic part of common people's daily routines through the Qing dynasty (1616 – 1911) and Republican period (1912 – 1949). Song Shilei, deputy director of the Tea Culture Research Center of Wuhan University, wrote about this history in his paper "The Formation, Development, and Influence of Chinese Tea Culture" published in the academic journal People's Tribune in October 2022. Tea drinking is a nationwide pastime now, though people in northern China (where tea mostly doesn't grow) may have had limited varieties, compared with their counterparts in the warmer southern regions. But over the last few decades it has become less fashionable with younger generations as coffee, milk tea, soda, and other beverages have become more widely available.
"When I was young, my family drank jasmine tea. Everyone had a big ceramic cup to make and drink tea by adding tea leaves and boiled water [throughout the day]," Zhou, a human resources manager who lived in a hutong as a child, recalls. "When going out, some people would take the tea with them in a glass flask."
But these memories didn't translate into a love of the old-style teahouses common across China for centuries: "Young people only care about whether the tea tastes good," Zhou claims, while older consumers at traditional teahouses, on the other hand, "will be strict and picky about the tea brewing…and then turn any conversation to tea knowledge." Zhou says she is drawn to the simplicity of places like Whatever, where visitors make the tea themselves after the staff make them the first cup and give them some tips.
"It's important to 'de-culturalize' tea to become [just] a tasty beverage," 29-year-old tea blogger surnamed Sun from Nanchang, Jiangxi province, tells TWOC. Sun, who has around 140,000 followers on social media platform Xiaohongshu and goes by her online name of Xingxing, attributes the previous unpopularity of tea among younger consumers to the industry and government emphasizing the cultural aspects of tea, including the recent UNESCO recognition of China's traditional tea processing techniques and associated customs, which may sound "antiquated" and too "heavy and serious" for young consumers.
Even Xingxing admits that she mostly drank water and sometimes milk tea that "all girls like," until she majored in Management of Cultural Industry (Tea Culture) at Zhejiang A&F University 10 years ago. She didn't like the "bitter" green tea her parents drank daily and prepared for guests while growing up, but then discovered many different tasty varieties in college.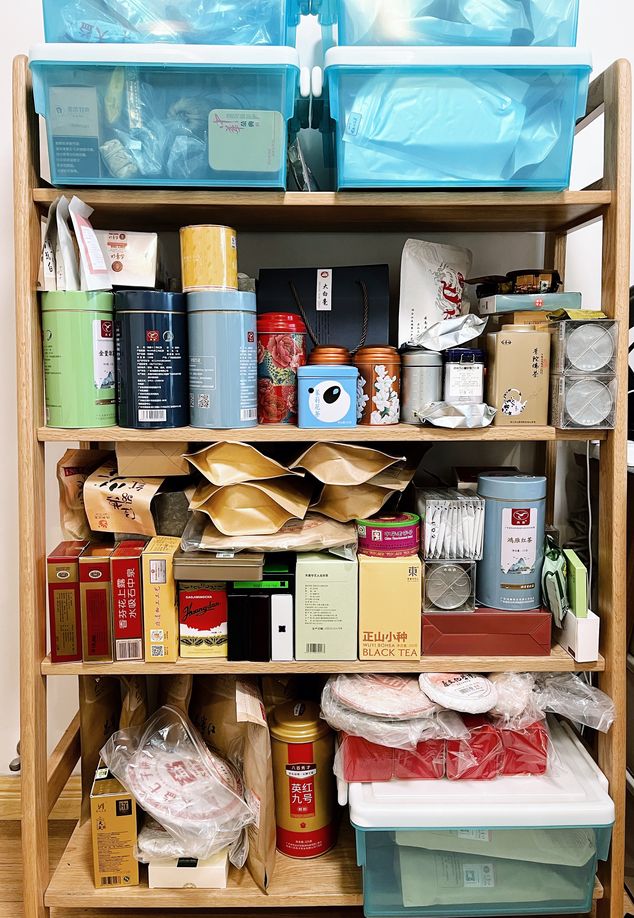 Xingxing's tea collection. The vlogger has tried over 3,000 types of tea that she reviews and recommends to her followers. (Xingxing)
Tea drinking also fits with the idyllic perception of traditional Chinese life popularized by the vlogger Li Ziqi, whose videos of tranquil village life and traditional customs earned her millions of followers in China and abroad.
New style teahouses like Whatever have tried to reform the industry accordingly. "Different from the heavy and magnificent decoration of traditional teahouses with solid wooden furniture, which is unattractive to or even deters young people, emerging teahouses have employed 'internet thinking' to create a space with a good look and atmosphere suitable for taking photos and sharing on social media," Professor Song Shilei writes.
Many more young people have also turned to the traditional drink for health reasons. In July last year, a survey by 30 media platforms including Zhihu and Weibo showed that 30 percent of young respondents drink tea for "health preservation," followed by "good taste" (28 percent), and "to quench [their] thirst" (19 percent), as cited by The Hedgehog, a technology and entertainment news platform. A 34-year-old customer surnamed Kang at Whatever teahouse, who was born to a jasmine tea-drinking family and wished to be identified by his surname only, tells TWOC that he has started to drink "healthier" tea instead of "stronger flavored coffee, soda, and alcohol" over the last two years, believing it's a natural change "with age." Kang, a bank clerk, also enjoys the quiet surroundings of Whatever teahouse for "some rest from a fast-paced life."
Zhou, too, drinks tea when she feels ill as it is "warm and soft…and it feels comfortable when you drink it." Likewise, Wang Jue, a 35-year-old tea drinker from Shenyang, Liaoning province, took up drinking tea two or three years ago after his girlfriend asked him to quit alcohol.
But Wang questions whether young tea drinkers are really engaging with Chinese tea culture or something new entirely. "Those who are real tea drinkers make it at home on their own or at traditional teahouses," Wang argues. He criticizes new style "internet famous" teahouses for their high prices imposed on consumers who have little knowledge of what they're purchasing and visit only to talk business or socialize, and don't care about the quality and value of the tea. He gives an example that a pot of Jinjunmei black tea which normally costs around 40 to 50 yuan can be over 200 yuan in new style teahouses. Furthermore, "two tea varieties of two very different qualities may sell at the same price," Wang claims.
Though Whatever attracts many who come to take photos, Song Xianhe, the owner, claims she never wanted it to be an "internet famous" spot: In early November, days after the teahouse launched its weilu zhucha service at 299 yuan, she shared on her WeChat Moments that she "felt a little sad," because the crowds brought by the service "all come for photos, but not tea."
Song Xianhe still believes more young people can grow to like tea for its taste, rather than for the social media-friendly environment of the teahouses themselves. "Many people don't like tea because they never had good tea to begin with…You'll [willingly] learn about the relevant history and culture once you like drinking tea," she argues, recalling how she only got her "first real taste of tea" in college.
The new trends on social media and elsewhere at least attract customers to Song's business, many of whom "basically do not drink tea or think about it." In the end, "It's always good to have people to drink tea for whatever reason…they may come again after the first experience."
Additional reporting by Sun Jiahui (孙佳慧)
---
Tea Total: Is China's New Social Media-Fueled Tea Craze More Than Just a Fad? is a story from our issue, "Kinder Cities." To read the entire issue, become a subscriber and receive the full magazine. Alternatively, you can purchase the digital version from the App Store.
---