Despite coming to Hengyang only 30 years ago, "lufen" has already become a symbol of pride for the locals who grew up with it
Lin Xi takes every opportunity she gets to visit her hometown Hengyang, a city of 6.5 million people in central China's Hunan province. Whether it's a public holiday or just a regular weekend when she doesn't have too much school work, Lin hops on the one-hour train from Changsha, the provincial capital where she relocated for college four years ago, to spend more time with family, reconnect with old friends, and most importantly, have a bowl of the local delicacy, lufen (卤粉, literally "brined rice noodles").
Even though Changsha boasts around 6,000 rice noodle, or fen (粉), restaurants, Lin can't find a bowl of lufen, usually made with a mixture of cooked rice noodles, master stock, and toppings like beef slices, that tastes just like home. "There aren't so many lufen restaurants in Changsha compared to Hengyang, and they're different in a subtle way that I can't explain," Lin tells TWOC over a bowl of the stuff at Zizhulin, a famous local lufen chain near Hengyang Railway Station. The restaurant is her first stop after getting off the train, and she has been coming here since she was a child. Despite not living in the city for the past four years, Lin still considers herself a regular at the restaurant.
Hengyang's affinity for fen is not surprising, since rice noodles have enjoyed a long history in rice-planting southern China, dating back at least 2,200 years to the Western Han dynasty—"rice noodles in the south and noodles in the north (南粉北面)," goes a common saying. Archeological findings from that period reveal that the process of making rice noodles has stayed remarkably consistent over the years: grind the rice with a mill, cook it with a steamer—or a zeng (甑) in ancient times—and finally cut it into thin slices with a knife. While rice noodle's exact place of origin remains unclear, many provinces and regions in central and southern China, including Hunan, Jiangxi, Sichuan, and Guangxi, have claimed to be "the hometown of rice noodles (米粉之乡)."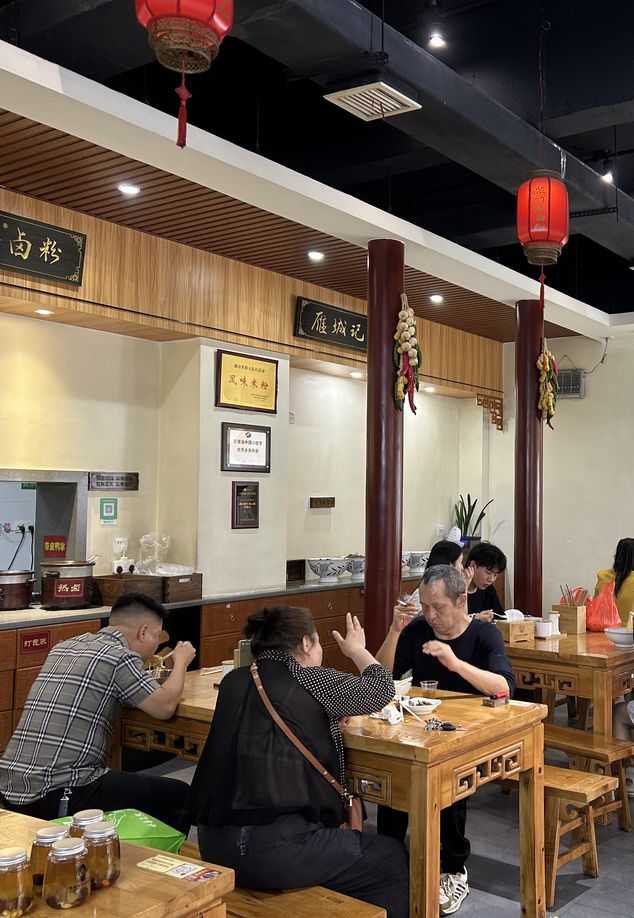 The Zizhulin restaurant by Hengyang railway station is open 24 hours a day for traveling locals and tourists to have a taste of authentic lufen (Tan Yunfei)
Historically, Lin's hometown Hengyang was better known for another kind of rice noodle dish called tangfen (汤粉), a general term for rice noodles served with soup and various toppings such as minced meat, black fungus, and other vegetables. It was not until the 1990s that lufen began to make its way into the local food scene as a staple breakfast food. Derived from Guilin-style rice noodles of south China's Guangxi Zhuang Autonomous Region, lufen quickly gained popularity among Hengyang locals for its strong aromatic flavor thanks to the use of the master stock, or lushui (卤水), which is typically made by simmering pork and beef bones with a blend of spices and traditional Chinese herbs. Served with the addition of cooking oil, braised beef slices, and fried peanuts, lufen has become a symbol of nostalgia for those born after 1980, including Lin who grew up eating the dish, despite its short history.
Under the thread "How does it feel like to have lufen in Hengyang?" on the online Q&A platform Zhihu, thousands of people who grew up in Hengyang have shared how much they miss the authentic Hengyang lufen and complained about rice noodles in other places. "I look forward to the Spring Festival and the National Day holidays every year so I can return to Hengyang and have as much lufen as I want," wrote one user under the handle Lei Wang.
Li Gaoxiang, the founder of Zizhulin, remembers opening her first store, the one that Lin still frequents, by Hengyang Railway Station in 1995. "The store was very small, only around 10 square meters. [We only prepared] around 100 bowls of lufen on the opening day and they all sold out," she says. Zizhulin was one of the city's first restaurants to specialize in the delicacy and has now grown into one of the best-known lufen brands, with over 30 stores in Hengyang alone.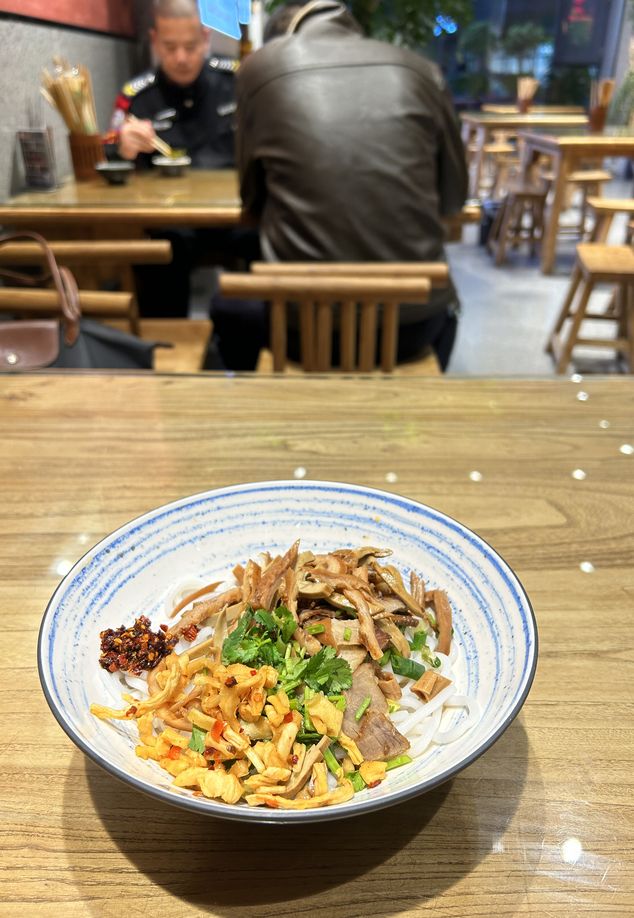 In some high-end lufen eateries, diners can add stewed pork tripe, crispy pork belly, and other toppings to their rice noodles in addition to the regular beef slices and pickles (Tan Yunfei)
By the late 1990s, almost all the existing rice noodles restaurants had added lufen to their menus, according to Liu Xiaole, a Hengyang local in her 30s who wished to use a pseudonym for this piece. Liu recalls that back in 1998, some stores even came up with a more affordable version of lufen for middle school students like her by removing the beef slices.
The hype over the dish shows no signs of fading even now. In Qidong county, an hour's drive from downtown Hengyang, Zhang Shuangqiao claims to have opened the county's first lufen shop 33 years ago with a recipe he brought back from Guilin. Even though his store is no longer in a prime spot (since the nearby railway station was moved to a different location in 2013), he still sells around 400 portions of lufen every morning.
Qiu Yufang, another lufen restaurant owner from Qidong county attributes the popularity of the delicacy to its "strong flavor," "quickness to serve," and "easiness to package for takeaway and consumption in the summer, as it doesn't contain much soup."
Though some restaurants, especially in counties and towns, still keep the "authentic Guilin lufen" part in their name and branding, most Hengyang people already consider lufen as part of their own local cuisine.
"People always tell me that they like to have a bowl of lufen with the 'hometown flavor' before and after a trip. Many locals who grew up with our rice noodles bring their children here now as well," Li, the Zizhulin founder, brags.
Li has made some tweaks to the original Guilin-style recipe: Her lufen is spicier and more aromatic so it caters better to the pallet of Hengyang locals. According to her, the lushui used in her restaurants is made with 20 different spices and boiled for 24 hours to give it a richer flavor.
Over the last decade or so, business owners have also tried to bring Hengyang lufen to a wider audience. Li tells TWOC that Zizhulin now has around 50 franchise outlets, some as far away as Guangzhou in Guangdong province. They've also set up a factory to produce packaged Hengyang lufen so more people can get a taste of the proud local delicacy without needing to visit a restaurant.
Qiu, who has opened five lufen shops since 2017, is also planning to expand her business to Guangzhou, a city with many Hunan migrant workers but much lighter and less spicy local food. "We'll localize lufen for the people there. But it won't be too light or it's not lufen anymore," she says.
Find more great stories on our app:
---
Noodle Nostalgia: How an Imported Rice Noodle Dish Became the Pride of a Hunan City is a story from our issue, "Small Town Saga." To read the entire issue, become a subscriber and receive the full magazine. Alternatively, you can purchase the digital version from the App Store.
---