"Chifa," a cuisine developed by Chinese immigrants to Peru, is comfort food for Peruvians across the world
You are what you eat they say, and, "I knew we were huaqiao," restaurant-owner Maria Esther Chía says in English, using the Chinese term for "overseas Chinese." "But I just thought of myself as Peruvian."
The same can be said of the chifa cuisine, which was among the many dishes she served at Pachapapi, the Peruvian restaurant she used to own in Beijing's bustling Chaoyang district. Like Chía, chifa has a complicated identity rooted in China, but is also a comfort food to Peruvians and a connection to the old country for the nation's Chinese diaspora.
The word chifa has been theorized to come from sik faan (食饭, to eat a meal) or ci faan (饎饭, to cook a meal) in Cantonese. In Peru it's a culinary tradition that fuses southern Chinese flavors and techniques with Peruvian ingredients and twists.
Despite its foreign origin, it is considered by Peruvians as part of their own identity. "My father said you cannot find the flavor of chifa outside of Peru," says Cesar Chang, a third-generation Chinese Peruvian chef who moved from his hometown Lima, Peru, to the US in 2002. "I've been looking around Chinese restaurants in the United States, but I just don't get the flavor of Lima Chinatown which I grew up with."
"It was a ritual for us," agrees Chris, a member of a Peruvian immigrant family who was born and raised in Illinois, and wanted to be identified by his first name only. Though the family doesn't have Chinese heritage, they visited a Chinese buffet every Sunday when Chris was growing up, just as they did back in Peru, showing up as a group of 10 to 15 and filling the small family-run establishment with Spanish chatter. "We went almost every Sunday after church, and grandpa always paid the bill." he recalls with warmth in his voice, "In keeping with our family's tradition in Peru, we called it 'going to chifa.'"
The evolution of chifa can be traced back to 1849, when the first influx of Chinese immigrants, over 100,000 males from southern China aged between 9 and 40, began to arrive in Peru as indentured servants, working in cotton and sugarcane fields to replace emancipated African slaves. The work was fraught with abuses like corporal punishment, withheld pay, and employers who made excuses to keep laborers beyond their four-to-eight-year contracts. Chinese who resisted, such as in one uprising in 1870, were violently crushed by armed Peruvian guards.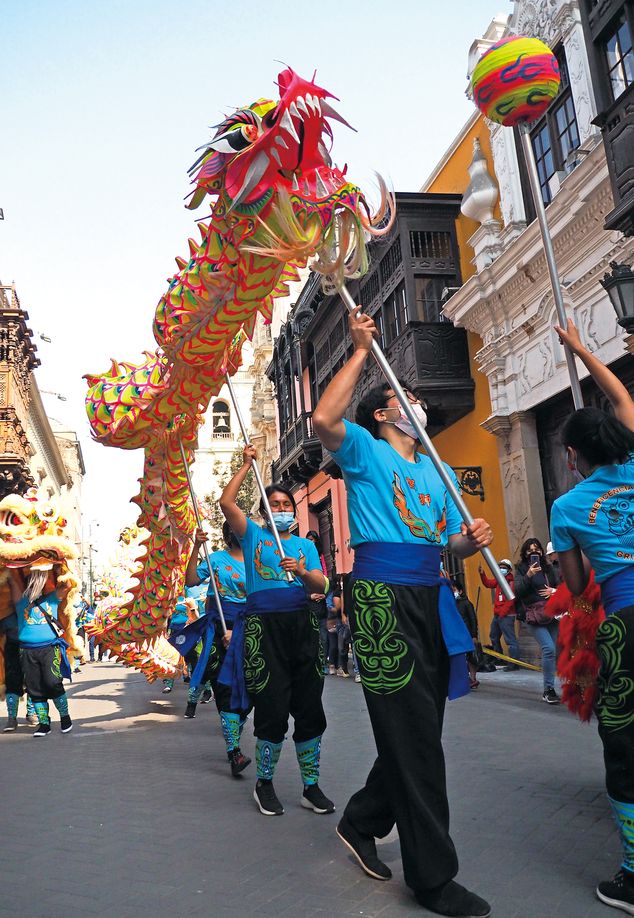 The Chinese Charity Society performs a dragon dance in the streets of Lima, celebrating the 72nd anniversary of the PRC in 2021 (VCG)
But accompanying these immigrants across the Pacific was the comfort of home cooking: soy sauce, ginger, scallions, all stir-fried together over a fierce fire. When these Chinese seasonings and techniques encountered native ingredients, like the choclo (a large-grained corn) or aji amarillo (a yellow chili pepper), a new hybrid cuisine was born.
Chifa has blended so completely into Peruvian culture that ingredients like ginger, soy sauce, and snow peas, instead of the Spanish jengibre, salsa de soya, and arveja china, are known in Peru by their Cantonese names: kion, sillao, and holantao. Various travel blogs claim there are 6,000 Chinese Peruvian restaurants, also known as chifas, in Peru's capital, Lima, alone. On the menus you could often find, for example, steamed or fried wontons; arroz chaufa, which is derived from caau faan, the Cantonese word for fried rice; and tallarin saltado, stir-fried noodles.
Luis Tay, a third-grade classmate of Chang's from Lima, is the grandson of a Chinese immigrant who arrived in Motupe, northern Peru, in 1925. By then, many Chinese had finished their labor contracts and taken up more settled jobs in Peruvian society. After years of work on the rice fields, Tay's grandfather set up a grocery store by the town's main street. Other emancipated Chinese opened restaurants or worked as servants and cooks in Peruvian households, which facilitated the spread of chifa cuisine.
As early as the 1850s, the Chinese community in Lima began to congregate around what would later become the city's Chinatown, located near the Plaza de Armas in the historic center of the city. In 1886, the Tong Huy Chong Koc, a Chinese Peruvian mutual-help society, was set up by Cheng Tsao Ju (郑藻如), an ambassador of the Qing Empire (1616 – 1911) to Peru. Besides giving financial help to Chinese immigrants, the society raised funds for China's war against Japan from 1937 onward, as well as disaster relief for Peru's 1982 floods.
Chang and Tay were both pupils at the Colegio Peruano Chino Juan XXIII in Lima, a school that opened in 1962 for children with Chinese heritage, where Mandarin is taught as one of the primary languages.
Tay, who has Indigenous Peruvian and Jewish heritage in addition to his Chinese one, and now lives in Switzerland, never met his grandfather, who passed away when Tay's father was only 13. Therefore, Chinese language or traditions did not play a big role in his upbringing, he tells TWOC. But he frequented chifas all the same in his youth: first with his family on Sundays in childhood, and later, with classmates in university, where he was the only person with Chinese heritage in his class (whom others referred to as "Chino Tay").
Tay has been unable to find chifa in Switzerland, though Peruvian food has been slowly popping up in festival food stalls and restaurants across Europe. However, once in a Chinese restaurant in Toronto, Tay sniffed out the owner's ties to Peru and found a hidden chifa menu when he spotted a few bottles of bright yellow Inca Cola, a signature Peruvian soda made with the plant hierba luisa and almost always enjoyed with chifa.
Tay and Chang are among the estimated 2.5 million Peruvians with at least partial Chinese heritage, known as tusans, derived from Cantonese for "native born (土生)." They make up 8 percent of the country's population. Early Chinese laborers, who arrived as groups of single men, frequently intermarried with local Peruvian women, weaving Chinese lineage into the pattern of Peruvian society.
When Yichen Lu, a Chinese tourist who visited Peru in 2017, found herself among plates of chaufa and wontons on the second floor of Chifa Chiu Wa restaurant overlooking Lima's Chinatown, she had a hard time figuring out which pedestrians' faces betrayed traces of Chinese heritage. "I was intrigued because many local-looking people set up stalls selling chifa next to the big restaurants." Lu recalls with TWOC, "But who am I to say about what's 'local' and what's 'Chinese?'"
Meanwhile in Beijing, Chía found herself having to educate her Chinese kitchen staff at Pachapapi on the subtle but important differences between chifa and Chinese cooking. For instance, compared to Chinese egg-fried rice, Chía believes Peruvian chaufa is more complex, usually packed with different flavors from meat, sausages, and vegetables.
According to Chía, one dish really upping its game on this trip to its ancestral land is the lomo saltado: beef chunks sautéed on high heat with soy sauce, tomatoes, onions, aji amarillos, and French fries. This is a dish that has broken out of the chifa tradition and merged into the mainstream, becoming one of the most popular dishes in Peru.
Expert stir-frying is key, so in the Pachapapi kitchen, the fire was always fierce, and the cooking noisy. Sometimes the team makes lomo saltado 30 or 50 times a day, as it had become so popular. "The security guard kept coming in to ask, 'Is there a fire in your restaurant?' He was so tired of us," Chía recalls with TWOC over the phone from Lima, chuckling at the memory.
Chía had started Pachapapi with her brothers, Francisco and Juan Carlos, who were all studying at Tsinghua University during the 2010s, and ran it for four years before closing during the Covid-19 pandemic in 2020, as the siblings weren't able to return to China from Lima. Though chifa is just a small part of the menu, which primarily consists of fusion and other Peruvian dishes, and is meant to serve as a window to Peru for residents of Beijing, the restaurant inadvertently became a means for the siblings to reconnect with their roots.
Chía's Chinese great-grandfather arrived in the cotton fields of Ica, southern Peru, from Guangdong province in 1916. Though Chía also went to the Chinese school, and ate her fair share of steamed buns (baozi) growing up, her family rarely talked about their Chinese heritage. "I never felt different in school [to other Peruvians], and I thought everyone was eating baozi in Peru," she says.
It was not until she came to Beijing to study in 2007, the first person in her family to enter China since her great-grandfather's departure, did she slowly begin to realize how much Chinese influences there had been in her childhood. Through her daily life she finally began to understand things like her father's emphasis on punctuality, or her grandparents' habit of early dinners.
Chía believes her great-grandfather would have been happy for her and her brothers, travelling across the world in search of fresh opportunities. "He had exactly the same journey, just in the opposite direction," she says. "I ended up doing what Chinese people usually do when they go abroad—opening a restaurant."
---
Introducing Chifa, Peru's Chinese Culinary Tradition is a story from our issue, "Sports for All." To read the entire issue, become a subscriber and receive the full magazine. Alternatively, you can purchase the digital version from the App Store.
---